Thinking of buying a reloading press? Heard a lot about its auto priming system? Then read the best Hornady Iron Press Review on the internet to find out if what you heard is what to expect from this single-stage reloading press.
I'm writing this review after using the Hornady Iron Press for more than 1 year on & off. And here I present the results of the experiments that I conducted with a controlled group of brass cases.
But if you are looking for a quick glance at the article, then I must say this press is resistant to applied pressure making it quite stable, and the heavy build makes it durable. And it has an operating window of 3.53″ long with Hornady's Lock-N-Load quick die changing technology.
If the short summary makes it seem like, it is not your cup of tea, then read my single stage reloading press review and find out which suites your needs best.
Hornady Lock-N-Load Iron Press
In my point of view, Hornady Lock-N-Load Iron Press is an upgrade to the Hornady Lock-N-Load Classic. It improves on the shortcoming of the classic reloading press while retaining some of the desired featured or improving them. The notable features include;
Hornady Iron Press Frame
Let's begin with the frame, as you open the box, at the first glance you will notice its unique triangular frame design and when you take it in your hand you will feel its weight, about 26 pounds (12 kgs). The weight effectively increases stability, durability, and makes it quite resistant to flux while using. The triangular frame provides obstruction less case view and case handling space, with an operational window of 3.53″ inches.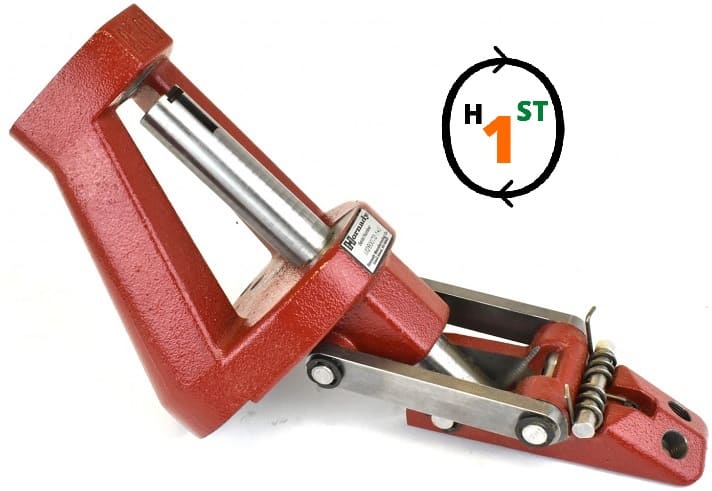 Unlike the Classic press, the Iron press has 2 handle mounting holes that are about 30o angled from the vertical axis making it ambidextrous, enabling equal leverage for both the left and right-handed reloaders.
Automatic Priming System
The priming system of the Iron Press is also unique as it automatically places the primers in the primer punch. You begin with filling up the priming tube, you can use Hornady Auto Primer Tube Filler to hasten the process. Then slide it in position. And screw in the external tube for protection against primer detonation.
It works in conjunction with the ram so no extra movement besides changing the brass case is required. You will need to buy this contraption separately if you are not buying the iron press kit. But If you do plan on buying the Iron press then definitely get this upgrade.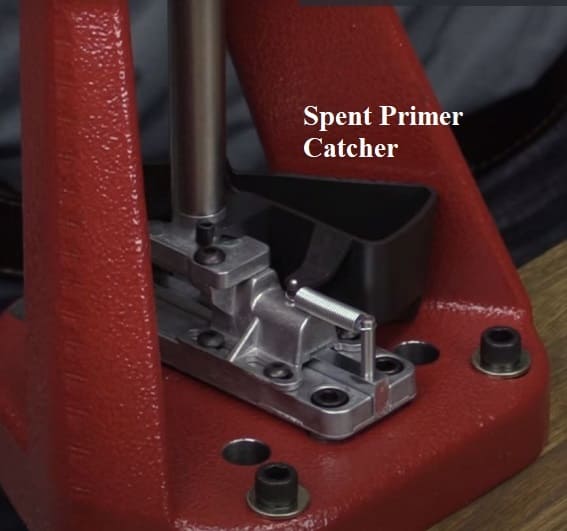 Read the instruction here or check the Youtube Video to find out how to set up the Automatic Priming assembly.
You can also deprime the cases using this reloading press by using a universal depriming die or depriming attachment with the full-length sizing die. The spent primer catch tray collects the removed primers but it is not 100% effective.
Lock-N-Load Bushings
Just like the previous model (Classic reloading press), this model is also equipped with the Lock-N-Load — Quick Change Bushing System (Simply, twist and change the die). With the Lock-N-Load system die change over is practically a task for which requires just 10 seconds.
Hornady made good use of the triangular shape and has plenty of empty space on top of the press, and Hornady did not let it go to waste, they made threaded holes, which can be used for securing prep tools such as neck brush tool & primer pocket cleaner.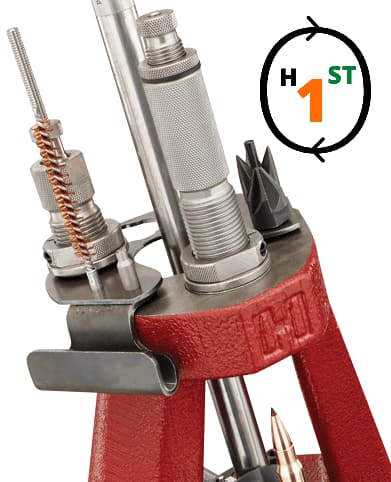 If you get the kit then you will also receive a die caddy, which let's place other dies just behind for quick access. You can also attach a powder measure or a case holder bin with the die caddy.
Hornady Lock-N-Load Iron Press Kit
Hornady has bundled some essential equipment for reloading and arranged a starting kit for new reloaders. I have listed down the items present in the reloading kit;
The reloading Press,
Die Caddy
Automatic Priming System
Lock-N-Load Die Bushing (3 pieces)
Digital Caliper with accuracy up to 0.001″
Bullet Comparator (set of 6)
Shell Holder set (#1, #2, #5, #16, #35)
Unique Case Lube
Powder Measure
Lock-N-Load Bench Scale
Powder Funnel (can accommodate 22 – 45 caliber cases)
Component Feed Bin & Bracket
Reloading Handbook
Chamfer & Deburr Tool
Six Neck Brushes
Large & Small Primer Pocket Cleaner
It is rare for any reloading kit to include a reloading manual. And depending on the time you order the kit, you may receive the latest reloading manual. I have compared reloading manuals in an article, read here.
The inclusion of a bullet comparator along with a digital caliper instead of a dial caliper was a good decision by Hornady, it enables precision reloaders to measure the completed round with ease.
The combination of powder measure along with powder funnel and powder scale is just perfect and Hornady even here did think through to include the best powder scale.
They sure did not include a case trimmer which is a must-have for any rifle reloader, but they did not forget about the case prep tools such as neck brushes Chamfer and primer pocket cleaner tools.
With the inclusion of all this equipment, you are almost ready to reload spent brass cases. All you need now are, die set, Gun Powder, Projectile, and a kinetic bullet puller. But if you are into precision reloading, then buying a case cleaning tumbler and case trimmer is a must. And to make life easier I suggest buying a loading block and Hornady auto primer tube filler to arrange the primers easily.
To summarize the Hornady Iron Press Review
In my Honest Opinion, I would say this reloading press is certainly one of the best in the market. And the reloading kit is also of top-quality product. It is also a well-needed upgrade from the Classic press What I Think about the Press?
What do I think about the Press?
Pros
Quick die change bushing
Automatic primer feeder
Spent primer catching tray
Cons
Heavy – But you are not going move it around
Relatively expensive
What about the Kit?
Pros
Powder Measure
Bench Scale
Digital Caliper
Cons
No bullet puller hammer
No primer flip tray
No reloading block
Is it a good beginner reloading press kit?
The Hornady Iron Press Reloading Kit includes almost all equipment a beginner reloader may need for reloading pistol cases, but if you are a rifle user you will need a case trimmer as well. The reloading press is simple to use with lots of functions, setting up the reloading press is relatively simple, and if you think otherwise you can always come back and check the video above.
The Hornady Iron press is also quite expensive for the single-stage class but it delivers that extra cost comes because of the excellent choice of equipment by Hornady and it justifies that price with the quality of the finished product.