Tired of cleaning your guns and cases the old-fashioned way? I was too, but then I entered the realm of ultrasonic cleaners and decided to ask my friends to lend their ultrasonic cleaners so I can acquire firsthand experience and choose the best ultrasonic cleaner.
It was a lengthy process and while experiencing them, I found out that they could be categorized into 3 types. Which lead me to find the best of each type and the best among the bests. Leading me to the best ultrasonic cleaner for brass and firearms.
Best ultrasonic cleaners for brass and firearm.
Best Small Ultrasonic Cleaner
RCBS Ultrasonic Case Cleaner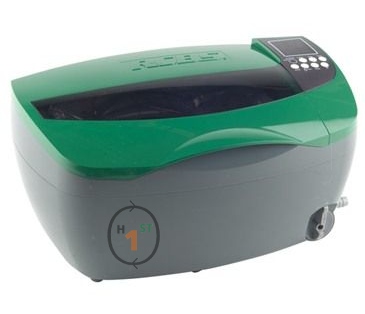 Best Large Ultrasonic Cleaner
Hornady Hot Tub Sonic Gun Cleaner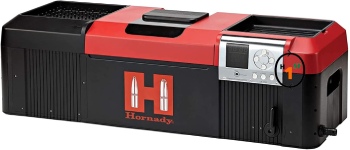 Value for Money Ultrasonic Cleaner
ACMESONIC 15L Ultrasonic Cleaner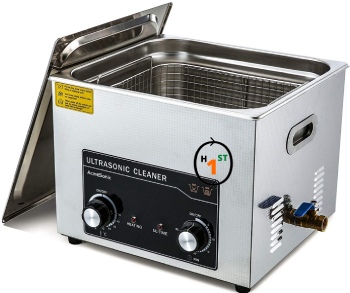 Each of the above is the best in its category. But which is the best among the best? Well, that can't be answered in one sentence, because everyone has unique needs and the best usually fulfills those particular needs. But even then in short;
If you are tight on budget but still want a dependable ultrasonic cleaner then RCBS ultrasonic case cleaner is for you.
If your need a cleaner that can clean almost everything, then Hornady Hot Tub Gun Cleaner is for you. As it can accommodate gun barrels as long as 25 inches long.
The 3rd option is a massive 15 liters ultrasonic cleaner which was built for any & all-purpose cleaning.
If you are not sure whether to get ultrasonic case cleaners or other types, you can read up on my case cleaner guide here. By the way, you can also take a look at the rotary tumblers here.
For best results only use the best ultrasonic brass cleaning solution with the best ultrasonic brass cleaner.
With that out of the way let's dive into some detailed review, and first on the list are the small ultrasonic cleaners.
Small Ultrasonic cleaners by bullet manufacturers.
The small ultrasonic cleaners were easy to get hold of as they are cheap and more people buy these types as they can be easily fitted into monthly budgets. For this category, I reviewed 3 products;
Hornady Lock-N-Load Sonic Cleaner 2L,
Lyman Ultrasonic Case Cleaner, and
RCBS Ultrasonic Case Cleaner.
They are popular because they require a small tabletop space, easy to carry, as they are light and quite durable. But keep in mind these are electrical products and can go bonkers the next second without any warning. But thankfully I did not face that.
1st Hornady Lock-N-Load Sonic Cleaner 2L Review
Let me first introduce the Hornady Lock-N-Load Sonic Cleaner 2L to my readers. This device is a two-liter capacity cleaner that can clean up to 300 9 mm bullets or small size gun parts. It has features like degassing, heating, and up to 30 minutes of a one-run timer. But it requires a 5-minute rest after 30 minutes of work.
Pros
Has Heating Function.
Includes degassing function.
30-minute uninterrupted run timer.
Cheapest in this category.
Cons
Small Capacity
Requires 5 minute rest time after 30 minutes of cleaning.
Short Power Cord
The unit is kind of small and requires small table space when in use or stored. It is best suited for people who reload small batches at a time. Due to its 2-liter tank size, it can accommodate up to 150 × 308 cases at once. It is a bit expensive when you consider the size and price. It has a nice shiny & smooth metallic finishing, which is easy to wipe and keep clean. 
This device only makes a low audible buzzing sound and it is very easy to ignore. So if you are in an apartment this unit won't make living hell while it is working, unlike the vibratory tumblers. 
The Hornady Sonic Cleaner is equipped with a degassing function. Which removes micro air bubbles, which increases cleaning efficiency & reduces chances of bullet rusting.
The heating function also increases the cleaning efficiency. But careful with the heating function as prolonged use of the heating function can damage the brass and reduce effective cleaning. The heating feature also helps in cleaning the tub itself when it has seen no use for a moderate unit of time.
The ultrasonic cleaner has a built-in timer for a maximum of 30 minutes of operational time. Users can choose anywhere from 5 minutes to 30 minutes. But after using the cleaner for 30 minutes, Hornady strongly advises letting it cool for 5 minutes to avoid damaging the device.
Results from Cleaning?
It cleans well, but the small quantity is a problem for people with large batches of brasses to clean. The cleaner cleans cases well, but small gun parts like pistol barrels do not produce the best of results. Small firearm parts, like the locking block pin, firing pin safety spring, etc. easily slides between the narrow space of the plastic basket provided. 
Next Lyman Turbo Sonic Case Cleaner Review
The Lyman Ultra Sonic case cleaner is another case cleaner that can be used to clean all of your cases. It has a heating feature but unlike Hornady, this one has no degassing option. So it is advised to use distilled water to avoid rusting and leaving water spots when done.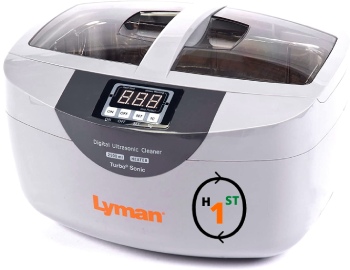 Cons
Small Capacity
Expensive
Maximum 8-minute cycle
This Ultrasonic cleaner has a slightly bigger tank capacity of 2.5 liters than Hornady's 2 liters. Hence, can accommodate a few more cases than Hornady. The Lyman Ultra Sonic Case Cleaner does not have any degassing function, which means there is a higher chance that the brass will get rusted if left inside the cleaner with water overnight.
I haven't fully tested the "overnight" part yet, but that is the logical conclusion I have at the moment. To increase the reusability of my brass, I used distilled water instead of normal tap water.
Like the Hornady, this unit makes barely any sound besides the buzzing sound of vibrating water. And along with the heating function, it cleans satisfactorily.
This Ultrasonic cleaning machine has a built-in timer for 480 seconds that's 8 minutes only. Then auto shuts down. And you will have to switch it on again to begin cleaning.
Results of cleaning.
It does a better job than Hornady. Maybe because of its bigger transducer and higher frequency. Even though the digital timer is just 8 minutes, it does a great job of cleaning the dirty brass.
RCBS ULTRASONIC CASE CLEANER review
RCBS has the biggest tank in this group of ultrasonic brass cleaners. This device has degassing function along with a heating function. On top of that, it has an extra timer that notifies the user when to change the cleaning solution. And a valve at the bottom to easily drain the solution without lifting the cleaner itself.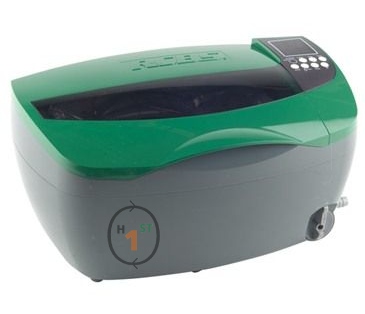 Pros
Has Degassing Function
1 to 30 minutes cleaning timer
3.2 quarts tank, largest in this category.
Timer for notifies when to change cleaning solution
Drain valve for draining the cleaning solution
Has 5 temperature settings.
Cons
Most expensive in this category.
Like I mentioned before this one has the biggest tank of the group. A massive 3.2 quarts (3 liters), that can hold up to 225 × 308 cases. I know it's not much but that's the biggest you can get from this group of cleaners. 
Just like Hornady, it has degassing & heating function. And on top of that, RCBS includes a second timer that keeps track of solvent usage. And an indicator coupled with that timer to notify the reloader "it's time to change the solution". 
RCBS also includes a 5 stage temperature controlling system, coupled with that you can operate the device anywhere from 1 to 30 minutes.
Results of cleaning.
The result is visually similar to that of any other ultrasonic cleaners of this size. But this unit is the most user-friendly because to drain the unit all you need to do is connect the hose pipe included in the package, place the other end in a bucket or sink and turn the drain valve. This practically stops spillage which may occur while tilting to drain the used solvent. Even though it has a solvent change timer & indicator, I visually check my solvent clarity to determine if it is reusable.
Comparison of Small Ultrasonic Cleaners
| Hornady 2L | Lyman | RCBS |
| --- | --- | --- |
| Has Heating System | Has Heating System | Has Heating System |
| Has Degassing system | No Degassing system | Has Degassing system |
| No Temperature Control | No Temperature Control | Has 5 steps of temperature control |
| 2-liter tank | 2.5-liter tank | 3-liter tank |
| No sound or flying dust | No sound or flying dust | No sound or flying dust |
| Cheapest | Moderate | Most Expensive |
| Need to tilt the system to pour solvent | Need to tilt the system to pour solvent | Has drainage system  |
| No solvent change timer or indicator | No solvent change timer or indicator | Solvent usage timer available. |
| Max 30 minute operation time | Max 8-minute operational time | Max 30 minute operation time |
| | | |
Small ultrasonic comparison table
The table above indicates that RCBS has an edge over other cleaners, but that comes at a bit higher price. If you have already decided to buy RCBS Ultrasonic Case Cleaner, I would advise you to read the last section on value for money ultrasonic cleaners before placing an order.
Large Ultrasonic cleaners by bullet manufacturers.
Here again, we have the same 3 bullet manufacturers that have brought a bigger version of the smaller ultrasonics case cleaner; Hornady, Lyman & RCBS.
Hornady Hot Tub Sonic Cleaner,
RCBS Ultrasonic Case Cleaner 2, &
Lyman Turbo Sonic 6000 Ultrasonic Case Cleaner
Hornady Hot Tub Sonic Cleaner Review
Hornady mainly targeted a rifle using customers with this large model. As seen from the image it's a long rectangular design that can accommodate rifle barrels that are smaller than 25″. The larger cleaner is easier to drain, as it includes a drain valve like that of Hornady.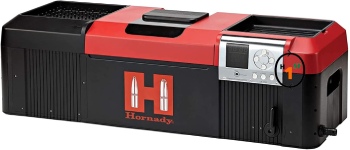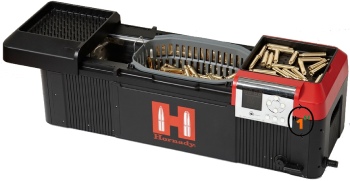 It also provides smaller 1 smaller tank, you can use up to 3 tanks but needs to be bought separately. And with this 3 tank option, Hornady makes pistol users work easy, as different solutions can be used simultaneously. It also gives you the option to use a small amount of solution for smaller batches using the smaller tank.
The control and display are the same as that of the RCBS but red in color. The button functions are the same as RCBS. Either way, I have Linked the instruction here.
The key difference with Hornady's small ultrasonic cleaners are;
A rectangular tank that can accommodate any firearm parts smaller than 25 inches long.
Compared to the 2 Liter tank this one has a 9 Liter Tank.
It has 4 transducers instead of just 1.
5 stage water temperature control system which was not present in the smaller model of Hornady.
4 separate tank heaters to fasten the heating process,
a much-needed drainage valve,
It can accommodate 3 smaller tanks for separate cleaning, with separate solutions. 
Compared to the smaller ultrasonic cleaner this one is much more powerful and has more functions. Even smaller batches can be cleaner using the smaller tanks to save up on the solution. Excellent in removing carbon residues due to the widespread ultrasonic waves produced from 4 transducers. 
This ultrasonic gun cleaning machine has cleaning power no other gun cleaning device can compete with. It even removes the lubricant from firearms. 
The display and button functions are almost as that of RCBS and some designs are similar. I'm not complaining but I'm curious.
RCBS Ultrasonic Case Cleaner 2 & Lyman Turbo Sonic 6000 Ultrasonic Case Cleaner.
These 2 ultrasonic cleaning devices are almost the same in functionality, performance & dimensions. Hence to reduce the reading time I'm going to compress them together without any loss of information.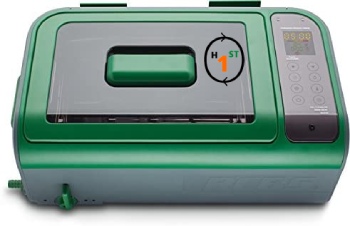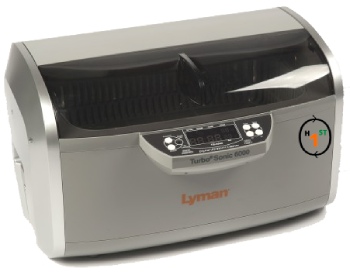 First the Similarities
Both this tank has the same tank dimension (12.7″ * 8″ * 3.9″).
The tank has a capacity of 1.6 Gallons (6 Liters), but the maximum usage limit is 1.3 Gallons (5 Liters) only.
 The tanks are made up of 304 stainless steel.
Their temperature ranges from 104 – 160 Fahrenheit.
Both use the same 35,000Hz ultrasonic sound wave for the cleaning process. 
The longest item that can fit in the tank is 13.4″ long.
2 high-grade transducers and heaters.
Has 1 – 30 minute full adjustable timer.
Have the same power consumption rate and,
Drainage valve and knob (but on opposite sides)
With that many similarities between these ultrasonic cleaners that the result is visually the same. But they also have some differences.
Difference between Lyman Turbo Sonic 6000 and RCBS Ultrasonic Case Cleaner 2
| Type | RCBS | Lyman |
| --- | --- | --- |
| The Ultrasonic Cover | Removable | Attached with the unit |
| Solvent Outlet | Left Side | The right side of the unit |
| Control Interface | Touch Control | Hard buttons |
| Basket Material | Metal | Plastic |
| Smaller basket | 1 present | None |
| Display | 3 Color LED | 2 Color LED |
| Net Weight | 16.5 lb (7.5 kG) | 11.9lb (5.4 kg) |
Besides these obvious differences, the RCBS has an extra digital timer for solvent quality. This solvent timer is the only extra feature that RCBS has over all the other ultrasonic devices in this list.
One question that might pop up in any reader's mind is the price difference. That's because RCBS Ultrasonic Case Cleaner 2 is almost $50 more than Lyman Turbo Sonic 6000.
Answering that query is easy if you have read this section attentively. It's in the differences. The major price enhancer was the touch control, 3 colors LED display, and a metal basket. One can easily live with these features and save an extra $50.
Best-One?
This is a bit difficult to answer than the previous one. If you are a rifle user then Hornady is definitely the prime choice because of its long tank, which can accommodate any barrel shorter than 25″ and we rifle users know the irritating & time-consuming task of cleaning the barrel.
But if you are a pistol user then Lyman is definitely the one I will suggest. Because of its price and capacity. The extra timer for the solution needs to be set by the user, the unit does not detect it. So it has very little use. The only usable extra feature is the smaller basket, which can be bought for much less than $50. 
Value for money Ultrasonic Cleaner.
This section will deal with ultrasonic cleaners that are meant for jewelry, tools, or carburetor but can be used nonetheless. And this section is here to show that you can achieve bigger units while saving hard-earned money.
Here we have some Chinese-made ultrasonic cleaners that were tested and reviewed. These cleaners are much cheaper for their big tank size, and due to their size, lots of brass can be cleaned at once. in the case of gun parts cleaning, it can accommodate most parts besides the long gun barrels.
One more thing these ultrasonic cleaners do not have any de-gassing function so expect lots of soap bubbles. And they do not have any specific brass cleaning solution. The 2 models that I tested are very similar in functionality, dimensions, and results.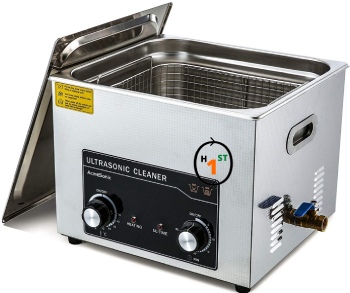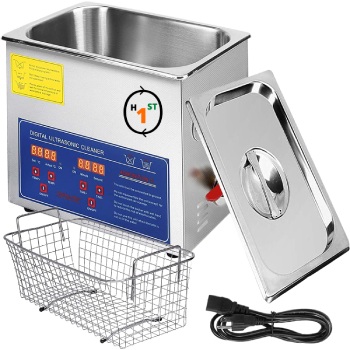 The models I tested were the 15L model by ACMESONIC and VEVOR 15L Ultrasonic cleaning device. Since they are mostly the same I'll tabulate the features for a quick decision.
| Features | ACMESONIC | VEVOR |
| --- | --- | --- |
| Capacity | 15L | 1.3L – 30L |
| Temperature Settings | 30 – 100 C | 0 – 80 C |
| Heating Power | 450W | 400W |
| Frequency | 42 kHz | 40 kHz |
| Numer of Transducers | 6 | 6 |
| Degassing Function | None | None |
| Basket | Metal | Metal |
| Operational Time | 30 Minutes | 30 Minutes |
| Warranty | 1 Year | None |
The price for ACMESONIC is a bit higher than VEVOR but with the included 1-year warranty it's a big yes for me. If I had to choose one of these 2 models, it's easy – ACMESONIC. Both the models had slow heating but ACMESONIC seems faster in heating and cleaning.
So which is the Best Ultrasonic Cleaner for brass?
Like I mentioned at the beginning, the best ultrasonic cleaner for brass is very subjective. In my case, I had a moderate budget, for which I could sacrifice some extra features, but I needed a big tank for my rifles and also able to clean my small batches of brass. With those points in mind, I got the Hornady Lock-N-Load Hot Tub Sonic Cleaner.
I categorized the ultrasonic cleaners with respect to their size and cost. And the best among them, and I believe you will find the one you are looking for.
At which stage is it best to clean brass?
To reuse brass for reloading, it is best to clean dirty brass right after inspection to remove the damaged brass & depriming to clean the primer pocket in one go. Though vibratory tumblers have little to no effect on the primer pocket rotary tumblers being the best and ultrasonic being somewhere in between.  
Why do they say not to put any aluminum components in any ultrasonic cleaners?
The molecular arrangement of Aluminum is such that, when ultrasonic waves pass through them, some molecules get too excited and move around. This creates pockets within the structure and when placed under immense pressure while firing, these pockets give up and creates fractures. Which can lead to injury or other damages.
is ultrasonic cleaners the best option?
Ultrasonic cleaners are excellent cleaners but to give them the position of the best is very subjective. Some will argue saying wet tumblers are better.
You can read up on my research on this topic here.
DO I need to Lubricate after ultrasonic cleaning?
You must lubricate after ultrasonic cleaning. Because while the ultrasonic cleaner does remove dirt and carbon residue, it also removes any lubricant that was applied, and to get more out of the firearm or case, you must thoroughly lubricate after ultrasonic cleaning.