Which is the Best Rotary Case Tumbler, and what particularly makes it the best? These are some of the questions that might pop into your mind when looking for a rotary case tumbler. Getting the best case tumbler for the money can be quite a tall order. There are so many available on the market, but ironically, choosing the best isn't that straightforward. That is why I have decided to step n and save you the trouble of looking for a rotary case tumbler.
This definitive guide will not only save you lots of time but will also assist you in getting the best there is. I have exhaustively looked at the best rotary case tumblers on the market and highlighted their strengths and weaknesses for your benefit. If you want to hasten your search for the best case tumbler for the money, read this review to the end.
Among all the rotary case tumbler, these two are our top picks
| | |
| --- | --- |
| | |
| | |
| Authors Choice – F.A. Platinum Series Case Tumbler | Hornady Rotary Case Tumbler  |
However, before I get to discussing the best rotary case tumblers,
Why do we need Case Tumblers?
When you shoot, the burnt gun powder leaves a dark-colored residue on the case. Sometimes the cases collect fine dirt from the ground. These residues if not cleaned and reloaded, can damage your gun barrel & can cause the gun to jam while shooting. Not cleaning your cases can also decrease the number of times any cases can be recycled.
Hence, cleaning brass cases is an integral part of reloading. And a case tumbler makes cleaning the cases 100 times easier. It makes the work easier for you as you can clean hundreds of casings in just a few hours compared to if you would have decided to do it manually.
There are three types of Tumblers: rotary case tumblers, vibratory case tumblers, and ultrasonic case tumblers. All of them have the same primary function: to restore the shine on brass casings in their own procedure.
And in this article, I'll only focus on rotary case tumblers (what are the benefits? – click here). And I'll begin by reviewing one that I think is the best.
Best Rotary Case Tumbler for The Money
The Frankford Arsenal platinum rotary tumbler might cost you quite an amount and it falls on the average cost range for these kinds of case tumblers. But there is no doubt it will be worth your every penny. With this rotary case tumbler, you will be able to set a timer and use any type of cleaning solvent which results in more efficient cleaning in a relevantly short amount of time. 
That's because it can clean as many as 1000 .223 brass cases at a time. How? It comes with a seven-liter cleaning capacity. With the inbuilt timer, it can automatically shut off when you are satisfied with the level of cleaning.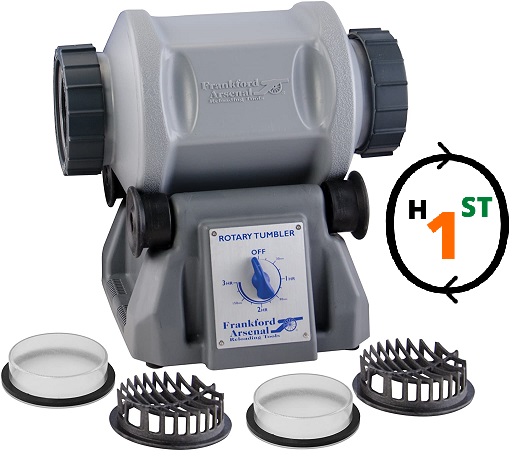 Additionally, the Frankford Arsenal will also be a versatile cleaner for you. That's due to its ability to work with other cleaning solutions apart from stainless steel pins. You can opt to use water and regular brass cleaning solution. the end result will vary depending on the mixture.
That's not all. The drive train is maintenance-free, and coupled with the inbuilt timer, will ensure you effectively clean brass cases. You can see the process of cleaning with transparent lids.
You can open the rotary tumbler from both sides which makes it easier to rinse after tumbling the case for hours.
Another thing I loved about this rotary case tumbler is the dual-layer rubber drum to cut out the noise, but just like any other wet case tumbler, it is not perfectly noise-free. The electric motor also helps to dampen the noise.
There are three types of Tumblers: rotary case tumblers, vibratory case tumblers, and ultrasonic case tumblers. All of them have the same primary function: to restore the shine on brass casings in their own procedure.
Pros
It is efficient and fast
Its drum has noise dampening rubber lining
It is compatible with various cleaning media
 The timer ensures more effortless operation
Works well with heavy loads
You can see the cleaning action through the transparent panel
Two openable panels make it easier to rinse the cases.
Cons
The tumbling is not completely noise-free.
Hornady Rotary Brass Tumbler Review
If you're looking for the best rotary case tumbler, you will be glad to bump into the Hornady brass tumbler. This tumbler is specifically made to tackle massive brass casings packages as fast and as efficiently as possible.
The 6-quart rubber-lined drum is sufficient for cleaning brass casing up to 17 pounds. You should take care not to exceed this limit as you can damage the drum. A quick compression seal lid capably covers the drum as it cleans.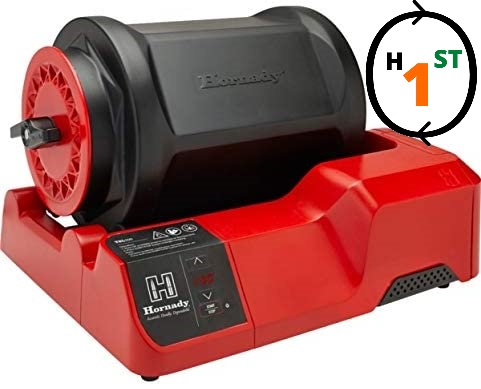 A feature you will love is the built-in timer that you can set to automatically stop cleaning at a specific time. If, for instance, it takes, say, eight hours to clean a certain number of brass casings, you can have it stop in precisely eight hours while keeping up with half-hour increments.
In conjunction with the Hornady case solution, this cheap brass tumbler's steel pin media will clean the brass to a brilliant shine. The steel pin media will also enable it to clean the cartridges faster.
It is also relatively easy to use. All you have to do is add about 5 pounds of brass cases into the six-liter drum, then set it to work for 8 hours with half-hour increments. The motor is powerful enough to power the whole process.
This tumbler's motor is also relatively quiet, and so you don't have to worry about making too much noise. That only serves to show you why this is among the best-wet tumbler for reloading.
Pros
It has a powerful motor that provides relatively quiet operation
The six-liter drum can hold up to 5 pounds of brass casings at a go
You can clean using the Hornady cleaning solution and steel pin media
The built-in timer enables you to set specific time with half-hour increments
Cons
The rotary action makes it too hot whenever you run it for too long.
The motor is loud
Extreme Tumblers Rebel 17 Review
The Extreme tumbler Rebel 17 is a quiet operating efficient type of tumbler for reloading that works with stainless steel media. Thanks to its considerable capacity, you can clean a significant number of brass cases with it. (2 to 4 lbs.)
These tumbler's features are what make it warrant its position among the best rotary case tumblers. For instance, it has a thick drum that is rubber lined to cut out the noise while cleaning and a durable powder coating on the inside.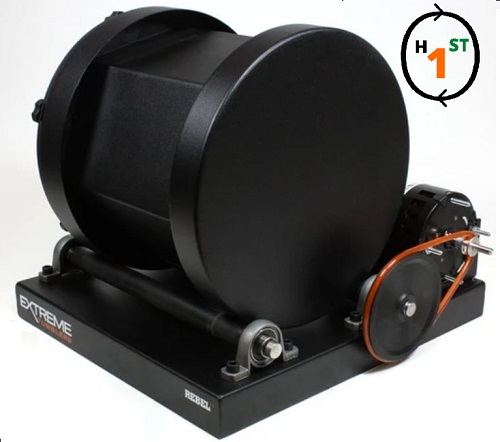 The powder coating prevents rusting and isn't the only thing that makes this tumble durable, though. It also comes with heavy-duty ball bearings and a robust base that has two motors support brackets. The considerably larger ball-bearing shafts enable it to hold more brass even though its capacity is 17 lbs. You will definitely love a tumbler that can hold more brass cases since it will speed up your task.
Additionally, it has a 300rpm motor that provides sufficient power for the unit and is relatively quiet. The convenient on and off switch can quickly switch off the motor whenever you need to check on something inside the tumbler.
Finally, you will own this tumbler for long thanks to the stout build it comes in. The heavy-duty steel barrel can withstand the rough treatment that comes with cleaning brass cases.
Pros
It is durable thanks to the robust material
The rubber lining on the inside of the barrel reduces noise when in operation
Its features make it easy to use
The large ball bearing shafts can hold a more significant amount of brass cases
Cons
It doesn't have a timer
The power conveyor belt wears out after prolonged use.
Tightening 6 lock nuts can be irritating
Lyman Cyclone Rotary Case Tumbler Review
Another rotary case you can consider for wet tumbling is the Lyman cyclone rotary case tumbler. This tumbler has an amazing capacity of 30 lbs, and like other tumblers, this too comes with a digital cleaning timer that lets the tumbler automatically shut off after hours of cleaning.
The Lyman Cyclone Rotary Tumbler is relatively easy to use thanks to the simple features it comes with. The Lyman rotary case tumbler also runs on a simple motor wired to produce as little noise a possible. Thus, you can clean cases for your reloaders even close to your house as you don't have to worry about excess noise.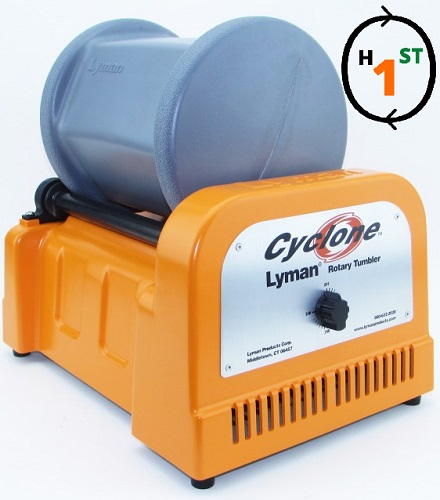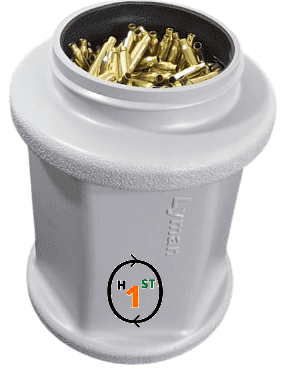 Lyman also claims it can accommodate 1000 cases of .223, And yes they can. But as you can see in the picture its almost full with 1000 of .223 cases.
It will operate but you won't get a satisfactory cleaning if you are going to have 1000 cases cleaning at once. For optimum results use a maximum of 700 cases of .223 only.
Lyman is associated with quality products, and this rotary case tumbler doesn't disappoint. On the negative side, though, the price could have done with a slight decrease. Cheap brass tumblers will always be on-demand, provided they don't compromise on efficiency.
Pros
The lid is easy to seal and prevents water leaks.
The countdown timer of 3 hours.
An electric motor which reduces noise.
Cons
Chances are some cases may enter the hollow rings that connect to the rotating shafts.
Quite expensive for a similar value.
RCBS Rotary Case Cleaner Review
With over 75 years of reloading history, nothing can stop the RCBS wet tumbler for reloading from being among the best rotary case tumblers. RCBS is renowned for its high-quality models of case cleaners that aim to ensure your reloading tools are in the best shape.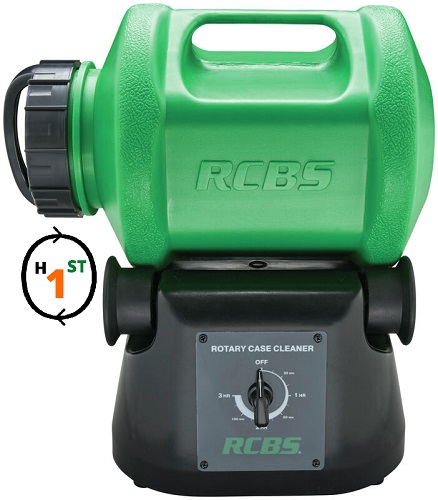 This case cleaner's tumbling action enables it to clean brass cartridges fast on the inside and outside. That's because the powerful motor offers the tumbler a speed of 60 rotations per minute.
A digital timer on the rotary cleaner also ensures you can set the cleaning for three hours. Also, with the rubber-lined drum, the motor's noise won't be at unacceptable levels.
It is relatively easy to use, especially with the handle it comes with. The handle makes it easy for you to load and unload the brass casings before and after cleaning. The quick locking lid will ensure you are safe from any spillages from the tumbler.
Additionally, the tumbler will come with 5 pounds of magnetic stainless-steel cleaning media. That, together with appropriate cleaning agents, should have you cleaning your brass casings faster and more efficiently.
Pros
The quick lock lid makes it safe to use
It is easy to use thanks in large part to the digital timer
You get 5 pounds of magnetic stainless steel cleaning media
It has rubber linings inside the drum that reduce the noise produced in operation
Cons
For all its efficiency, the noise level might be unacceptable to some people
Which Is the Best Rotary Case Tumbler?
Choosing the best of anything can be quite selective since what one person wants from a particular product isn't what the next person would wish to have. I have tried my best to choose from the best rotary case tumblers while keeping value for money.
Of all the rotary case tumblers I have provided here on my list, the Frankford Arsenal Platinum Series Rotary Tumbler is the best. This tumbler has a reasonable price, providing you good value for your money. Its a reliable tumbler, made of quality materials, and with the features on offer, you won't get to the times when you regret investing in this tumbler. It sure isn't a cheap brass tumbler, but it's well worth the price it comes at.
The Frankford Arsenal is quite a large tumbler, the unique 2 caps design, makes it easy to rinse and separate media from the cases without the need for any other tool.
What impressed us most about this rotary case tumbler is its maintenance-free drive train, it has solid contact with the tumbler which reduces the noise. But most of the noise comes from the tumbling action inside the case tumbler. Even with the dual-layer rubber on the inside, the noise is still quite loud.
Furthermore, the Frankford Arsenal tumbler's drum has a rubber lining that acts as a noise dampener. Granted, all tumblers will produce noise at times. This one, however, tries to reduce the noise to acceptable levels. You don't want a tumbler that makes it impossible to stand next to due to the noise.
All that said and in my Honest Opinion, I believe Frankford Arsenal Platinum Series Rotary Tumbler is the best case tumbler for the money.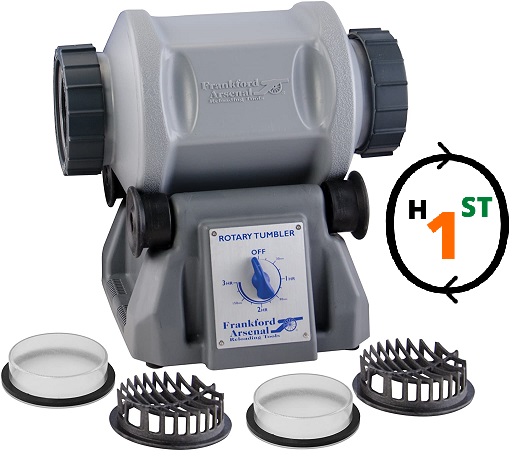 Are Rotary case tumblers better than vibratory case tumblers?
They both are used to being the shine back on used brass cases. Some people might deem vibratory tumblers faster, & it is, but in reality, it is the rotary wet tumblers that will give you better results.
That doesn't mean vibratory case tumblers wouldn't be worth your time. Of course, they are. It, however, boils down to preference and the one that best suits your needs. That is why you need to consider them all before selecting the best one.
How does wet brass case tumbler work?
The best rotary case tumbler isn't that difficult to use. That's because of the mechanism it uses to clean brass cases. The wet brass case tumbler works by a tumbling action that shakes the dirt or rust of cases inside its barrel.
The cleaning media helps make the process faster to avoid overdependence on the tumbling action. The tumbling action in conjunction with the selected cleaning media should make the brass casing have a brilliant shine.
Is a rotary case tumbler worth it?
Yes, it is. Although it isn't compulsory to clean casings, it doesn't mean you should reload without a rotary case tumbler. You might reload for a while without a tumbler, but at times what you need is a good rotary tumbler to get rid of the dirt they pick up.
That's when the rotary case tumbler comes in handy. Therefore, you won't be wasting your hard-earned money getting a case tumbler.
How long will it take to clean with a rotary case tumbler?
Cleaning brass casing with a rotary case tumbler won't take you that long. That's the advantage of the rotary case tumbler:  you to clean faster. It will most certainly not take you more than three hours to clean cases with a tumbler.
Final Thoughts
So, what is the best rotary case tumbler? I hope these reviews help you answer the question. Be on the lookout for the features I have discussed here to ensure you get the best possible option.
All the best reloading.