RCBS is known to make durable and trustworthy reloading tools, just like RCBS Rebel and Rock Chucker the RCBS Turret Press is also an example of an excellent build with 6 die stations, but it comes along with a hefty price tag.
Precision, stability, and what are the other features? Find out in this RCBS Turret Press Review!
Quick review
A quick look at the good and not-so-desirable features.
Pros
Durable cast iron frame.
6 Die Drum Turret Head.
Easy Changeable turret head
4″ ram stroke.
Ambidextrous handle.
Can prime on the press.
Ambidextrous Priming Assembly and Spent Primer Catcher.
Catches spent primer effectively.
Cons
Not a Cheap Turret.
Manual indexing only.
Poor Quality of Spent Primer Catcher.
The primer feeder tube is prone to rust.
The depriming and priming toggle get dirty quickly and gets stuck
Changing Turret Head may require removing the dies.
1. The Good Features
This section talks about the good features in more detail. The heading should be enough to give you a general idea of what the section is about. Take a glance;
1.1 Durable Cast Iron Frame.
RCBS has a limited lifetime warranty. That means you can't break it even if you wanted to and if by chance there is a manufacturer's defect you will get it replaced no matter when you take it back (as long as you are the original buyer).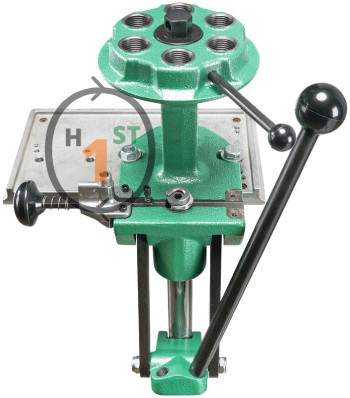 Just like any other RCBS press, this turret reloading press has an impressive design and is made up of solidified cast iron giving it an excellent rust prevention ability, increasing its durability as well as its weight. For the final touch up it is furnished with green paint to perfection.
The ram of this press is made of excellent quality steel and glides smoothly without much resistance giving decent feedback.
Overall the frame of this press will not disappoint you, as I could not notice any changes even after my rough use.
1.2 Changeable Turret Head with 6 die stations.
The RCBS is a six-station turret head system, which is not that impressive considering you can get the 8 die station turret press from Lyman for less cost. But the make quality of RCBS is far superior, it is made of cast iron and as durable as the frame. Compared with Lyman, you have more precision with RCBS for the same dies and same ammo group. To have better stability the turret head is also supported from the back. This support also houses the detent ball that performs the precise indexing.
In case you are a multiple caliber reloader, you may need more than 1 turret head, and swapping turret heads is simple but time-consuming. Though these interchangeable turret heads are expensive. However, it is of high quality.
But be careful not to interchange the turret head washers, because all turret heads require their own washer to have that perfect alignment with the ram.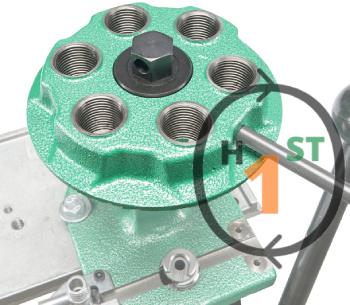 I do not have any complaints about the quality of the turret heads, just that they are quite expensive for a 6-die station turret head.
1.3 Massive Ram Stroke.
The RCBS Turret Press has the 2nd largest ram stroke of 4 inches just 0.4 inches short of the Area 419 Zero reloading press (4.4 inches). But with 4 inches of ram stroke, you can reload most types of caliber.
1.4 Ergonomic Ambidextrous Handle.
The high-quality design of the RCBS Turret Reloading Press is made for all types of reloaders. Because you have the ambidextrous handle. And due to the compound linkage and the length of the main handle, you have enough leverage to easily full-length size your cases, which is considered to be the most strength challenging task of reloading.
If you want to make it even better then buying the Ergo Roller Handle is your best bet. I was content with the simple handle but when I change it to Erogo Roller Handle, reloading became a much better experience with this press.
1.5 Ambidextrous On-Press Priming and Spent Primer Catcher System
The press has one press priming assembly. The priming assembly is ambidextrous and can be placed on either side of the press. The primer feeding tube is separated from the primer seating punch, hence if a live primer does go off, you are safe.
But if a live primer goes off in the primer feeder tube, you will still be protected by the protective iron tube.
But before priming, you need to deprime the case, and the spent primer catching system in this press is very efficient and can easily house about 60 to 100 spent primer before it needs to be emptied. And just like the on-press priming system this spent priming catching system is also ambidextrous.
With all this, you can reload about 120 rounds per hour if you are using it like those progressive presses.
2. The flaws of this reloading press.
Don't get me wrong, this is an amazing press but it has some design flaws, and for the price, I expected better. However, this section is just for that.
2.1 No Auto-Indexing Feature.
If you are surprised about the 120 rounds per hour in progressive mode then you can blame it on the manual indexing feature. Unlike the Lee Precision Classic Turret Press, this press only has manual indexing. Even for experienced reloaders, it would be hard to exceed the "120 rounds per hour" number.
2.2 The quality material of the feeder safety tube.
Well, the quality of the feeder safety tube's paint is excellent and that's the only protection against rust because if the paint accidentally scrapes off you can expect the safety tube to rust and will need to change them eventually.
2.3 Poor Quality of Spent Primer Catcher.
Though the spent primer catcher is excellent in design, the finished product is of poor quality. Occasionally it splits from the middle making it unusable.
For my case, I used gorilla super glue to keep it in shape. But I was not such poor quality from RCBS.
2.4 The primer channeling toggle gets dirty.
The simple design of the spring-loaded toggle channels the spent primer in the spent primer catcher and also helps in priming. But the spent primers usually are coated with burnt powder and other gunks. And when it clashes with the toggle some of these gunks fly up and fall all over the toggle and slowly (and surely) increase the resistance which leads to a stuck toggle.
I avoided this by removing the spent primer separately using Lee Hand Press but you can also use the Frankford Arsenal Platinum Series Hand Depriming Tool and sit in front of the TV and keep depriming without worrying. Though in my opinion using the Hand Depriming tool is better, cause using the Lee Hand Press requires some attention and strength, and eventually cleaning the Hand depriming tool by F.A. requires the least amount of attention and cleaning.
2.4 Hassel of Changing Turret Head.
The turret head bolt is in the middle and to unscrew the turret head bolt you will have to insert a lever (indexing lever) through the bolt. But this bolt is usually not aligned in between the dies hence you may have to remove 1 or 2 dies to unscrew the turret head.
While I begin to change the turret head I feel like it takes more time than a quick die change system by Lee or Hornady. In my opinion, sometimes it practically kills the purpose it was built for.
Detailed Summary
My experience with RCBS Turret Press has been a mixed one. I loved the fact that it has a massive 4-inch stroke and the fact that it is super durable. But that may be the only few things I like about this press.
But the poor quality of the spent primer catcher, repeated cleaning of the toggle to avoid it from getting stuck, and the fact that the primer assembly directly hinders me from indexing the turret head really puts me away from having a memorable experience.
To conclude my RCBS Turret Press Review, it's quite expensive for the product you are getting and I think if you are willing to spend this much I recommend checking out my Redding T-7 Turret Press review and reevaluating what you may want for your reloading. But this can be a beginner turret loading press because it lacks the auto-indexing feature and is quite easy to reload.
Setting Up
Setting up the press is quite simple, you can follow the instruction by RCBS or follow mine. It is actually quite easy
Mount the turret press on a table or where ever you like.
Next, screw the priming assembly on whichever side you like.
Place the spent primer on the other side of the press.
Screw in the handle
And that's all.
Precautions
You must be cautious whenever you are reloading. Some are general but I've listed here some precautions which are specific to this press.
Regularly clean the toggle to avoid having to pick up spent primer from the ground.
Careful not to bump your hand with the live primer feeder tube when you are indexing, you do not want to bend the safety tube.
Should be enough to begin your reloading process and you should be in a position to make an educated decision.