Here we present the ultimate showdown between the RCBS Rebel Vs Rock Chucker Supreme. And find out what has been improved and changed since the legendary rock chucker.
We all know the Rock Chucker Supreme, some of us have begun reloading with this single-stage press and still using it to this day. Its simple design, durability, and accuracy made it the standard other manufacturers had to outperform to even compete in the market. Read the full review here and get to know the Legendary Rock Chucker Supreme.
And in 2020 emerged the Rebel Press, a new Single-Stage reloading press by RCBS. It has similar but updated or upgraded fantastic features. Find out more about the Rebel in this article here.
Today we are here to make the 'Veteran' Rock Chucker compete with the 'Young' RCBS Rebel Single Stage Press. And find out who makes it to the top position. 
RCBS Rebel Press Vs Rock Chucker Supreme side by side Features Comparison.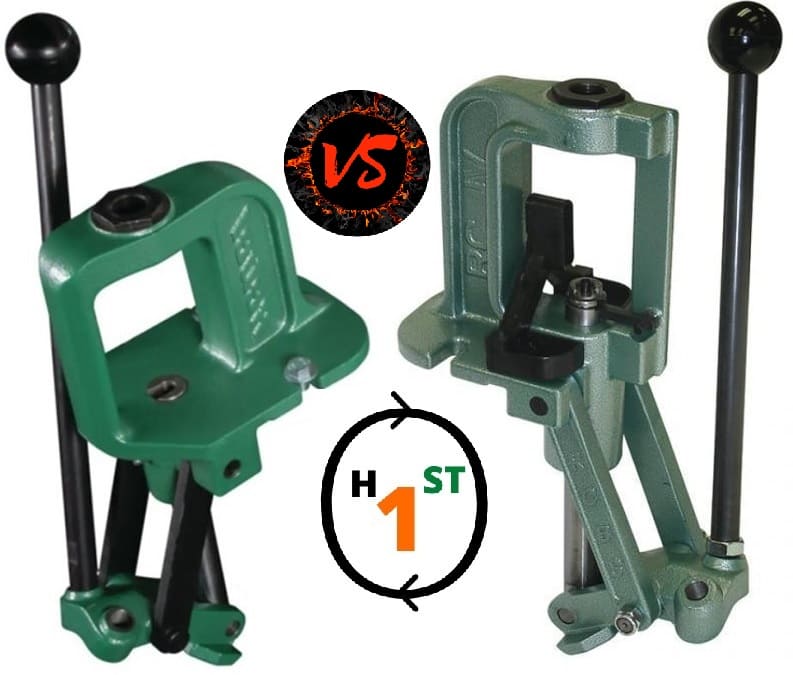 The Differences
| | | |
| --- | --- | --- |
| | RCBS Rebel Press | RCBS Rock Chucker |
| Case Opening | 4.5 inch | 4.1 inch |
| Weight | 22 lbs or 10kg | 18 lbs or 8.2 kg |
| Base plate | Wide base & Leveled | Multileveled and narrow |
| Stability | More stable | Standard stability |
| On press primer | Absent | Present |
| Spent primers channeling system | Through the ram, exits at the bottom | Through the ram, exits at the middle of the ram. |
| Spent primers catching efficiency | Can be collected directly in the bin (100% efficiency) | Spent primer catcher tray, efficiency decreases as it gets filled |
| Lubrication system | Zerk fitting | Standard system |
| Upgradation | None (yet!) | Can be upgraded with piggyback 4 to make a manual progressive press. |
| Convinced Yet? | Check Out the Rebel Press | Check Out The Rock Chucker |
Those were the main differences between the presses, One unique feature the rebel has over rock chucker is that the Rebel has a wide flat base around the shell holder for comfortable case operation. But, some similarities exist between the presses as well. Such as;
Both the presses are of US Origin, are of similar design principle, and have some heavy-duty cast-iron frames, resulting in their durability and weight.
Ambidextrous handle – RCBS has always kept the Ambidextrous handle design and its a good design that did not require an upgrade.
They both have very tight tolerances for accuracy and standard deviation between rounds, making them both reliable reloading presses.
They both use the same standard 7/8 – 14 bushing threading for die.
It is not equipped with any quick die-changing mechanism. But, can be upgraded to either Hornady Lock-N-Load die bushing system or Lee Breech Lock Die Bushing.
RCBS has compiled some starting kits for the new rebel press and they are quite extensive in helping out a beginner reloader with all the starting tools that are required for reloading. Few notable mentions the kits include are Uniflow III powder measure, the latest & most precise Powder Measure by RCBS. The Handloading manual Speer 15, Deburr tools, and other necessary items. To know more details about the rebel starting kits click here.
A few similarities between the kits are, they exclude any type of case trimmer, bullet puller (eventually any reloader will make mistake and will need a bullet puller), and case cleaning tumbler.
RCBS Rebel vs Rock Chucker Supreme in summery
| Rebel Press | Rock Chucker |
| --- | --- |
| Larger Case Opening and operational space | Case opening is a little less (only 0.4 inches) |
| It has more material to it making it heavier and a wider base to make it more stable | It has standard stability and almost equal durability but with less weight |
| Lubricating the ram is easier with zerk fittings. | Little disassembling is required for lubrication. |
| Has a wide flat base around the case holder making it easier to operate cases. | Small and multileveled space, making it harder to clean spills. |
Many of the features from the RCBS Rock Chucker Supreme has been added to the young Rebel Press. Some features like the on-press priming & how the spent primer exits the press have been removed or changed. But overall the Rebel is an amazing upgrade that most precision reloaders will love to include in their collection. 
FAQ
Do I need to buy the Rebel Press even if I have the rock chucker?
If you are already using the RCBS Rock Chucker Supreme then buying the Rebel press is not going to be a big jump from where you are in terms of precision reloading or reloading quantity. But the standard deviation between the rounds will decrease giving more accurate shots.
Is the Rebel Press better than Rock Chucker?
In short yes. It is more stable, has a better standard deviation from the bullseye, and an excellent upgrade to the Rock chucker and it is a good upgrade. Read buyer reviews here.