The Pro Chucker 5 has 2 unique features, unlike other progressive presses. Quick die plate changing system and upgradeable to a 7-die plate, put this press on a level of its own. It's durable and reliable. But these features make it expensive. To better familiarize this press read this complete RCBS Pro Chucker 5 Review on this article.
RCBS Pro Chucker 5 Review in short
Pros
Durable & Stable – with a Limited Lifetime Warranty
Aluminum Alloy Frame – Making it just 13kgs.
5 Stationed and Quick-change die plate system.
Auto indexing – which enables 600 rounds per hour
Zerk fitting for lubrication – to keep the system smooth.
Upgradable to 7 die plate system.
Cons
Expensive
Non-ambidextrous handle.
Primer Slide is weak
Indexing arm breaks easily
Requires a learning curve
Detailed Review for Those Who Have Time!
RCBS is very well known and has been with us shooters for more than 50 years in our reloading journey. Hence when I first got this press in my hand I was excited (that's about 5 years from now). And this article is my hands-on experience in this press.
Durable & Stability – Aluminum Alloy Frame
RCBS is known for its durability and this press is no different from the rest. The limited lifetime warranty proves the durability of Pro Chucker.
When you lift the press you will notice it is comparatively light, that is because of the aluminum alloy frame. The frame won't bend under high pressure or deform when dropped from table height (but don't try it). The frame is rigid and when reloading does not flex much, which is why you will get satisfactory cases for self-defense and practice rounds.
But there are a few parts which if you are not careful, can break quite easily. Mainly the primer slider and the indexing rod. But more on that is in its relative section.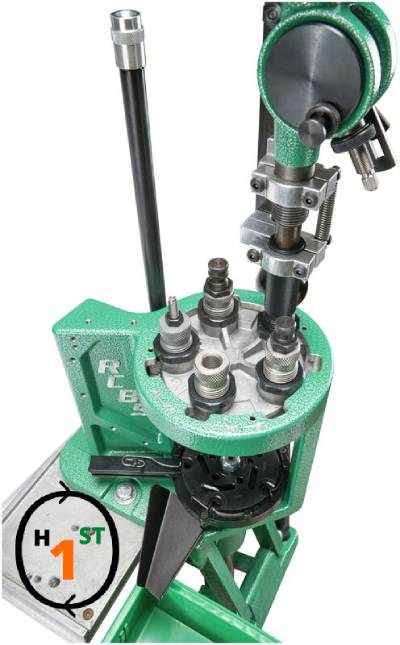 Quick Die Plate Changing System.
If you reload multiple calibers, changing and recalibrating 5 dies can be a major pain. RCBS quells this problem by designing an interchangeable die plate just like the turret head in turret presses. Changing the die plate is simple with just 3 set screws and a twist, check the instruction for details.
At first, I was not convinced to invest in another die plate, but once I did I regretted not buying it earlier. I really loved this concept. And this is one factor no other progressive press has.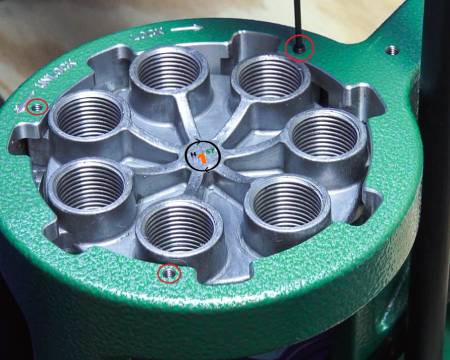 Zerk Fitting for Smooth Lubrication.
A properly lubricated press can make a whole lot of difference in the reloading experience. Lubricating can be a complicated time-consuming task. That is where the zerk fitting makes life easier, just take the grease gun one squeeze, if not overdone, should be enough.
Upgradeable!
Maybe the most amazing feature of this Progressive reloading press is that you can upgrade the 5-die station system to a 7-die station system, without changing the frame and at a fraction of the cost. So if you want a 7-die station progressive system but don't have enough budget, go for a 5-die station and later invest some more.
Well, some might find this superfluous because you can do almost all tasks on a 5-die plate that you would do on a 7-die plate. But I have to admit, with the 7-die plate the rate of reloading increases to the maximum due to added features of the case & bullet feeder.
In the 7-die station system, the dies are placed much closer to accommodate the die stations in the same frame. They usually do not interfere with other dies. If you are thinking of the powder drop system blocking the adjacent dies, you are not wrong – but the trick is to adjust the powder after the adjacent dies.
The durable frame with a quick die-plate changing system, zerk fitting, and upgradability, makes this press amazing, but are there no flaws?
Nothing manmade is without flaws, "we only need to understand and decide if we can live with the flaws". So now we will discuss the flaws of this press.
Looking for Flaws?
Well, the flaws are nothing major if you are ready to invest some time and intelligence in understanding this press.
Non-Ambidextrous Handle
The press can only be operated using the right hand. Making it difficult for lefty reloaders. But this is no major problem as we humans are creatures of habit and can easily accommodate to the given situation.
Weak Primer Slider
The Primer slider is responsible to bring the primer from the tube and place it right below the case to prime. It does its job well until it breaks while getting a new primer.
I went ahead and made a primer feed with metal and replaced the plastic pin with a metal pin to increase the lifetime. But it was a hassle to find the right person to make it accurately.
Weak Auto Indexing lever.
Auto indexing is a feature that automatically pulls your cases to the next station for the next operation in reloading. And this drastically increases the reloading speed. It is a common feature of all progressive presses, and RCBS has it too. But the material used for the auto-indexing is not very durable and if you are not careful you can break them quite easily. Some even break before they can reload the first round.
The only solution is to build a feeling for the auto-indexing rod and not apply too much pressure on it. That is why there is a learning curve in using this press. Besides that, the primer slide also requires delicate operation coz that too tends to break quite easily.
RCBS Pro Chucker 5 Review Summery
The RCBS pro chucker is a durable press meant to last a lifetime of any reloader and with their excellent and knowledgeable customer care representative it is not hard to imagine how they manage their limited lifetime warranty.
The die-plate changing ability makes reloading multiple types of caliber simple and hassle-free. It's reliable and durable except for the primer slider and indexing lever, but with practice and patience, you will be able to feel the press and understand what not to do to avoid breaking these parts.
And even then you may have the primer feed system will break on you. RCBS has not come up with a solution yet. And I doubt it will be out soon. And these initial breaking experience usually puts off some reloaders from understanding what this press can do for you.
Even with all the flaws and the pros, the RCBS Pro Chucker 5 is expensive. Even though you can upgrade to a 7-stage progressive reloading press and interchangeable die plate, its price is still quite high. 
What would I do after reading this RCBS Pro Chucker 5 Review?
In my case, the breaking would be a problem but given RCBS's excellent customer service, I might want to give it a shot. But then again given its price I would also check the other options I have, like Hornady LNL AP Press, Lee LoadMaster, and more. 
But I must admit After using the pro chucker 5 (and 7 after upgrading) I was satisfied with the investment and liked reloading on this press. I mostly had a smooth experience.