In this article, you will get the most detailed Lyman All American 8 Turret Press Review, to help you make the final decision "whether to invest in this turret press or look for better alternatives".
It is a unique 8 stationed turret press and only one of its kind. I haven't found any other turret press with 8 die stations. But the question arises; do I need 8 Stations?
Quick Summary
Pros
Durable Cast iron Construction.
Interchangeable Turret head.
8 Die Stations turret head.
Stable turret head to applied pressure.
Extra back support for the turret head.
Ambidextrous handle.
On-Press Priming System.
Catches spent primer effectively.
Cons
The shell holder floats when inserted.
The Primer tube & the Main Lever is in the path of the indexing lever.
Occasionally a spent primer will bounce from the spent primer catcher.
Setting up can be hard with the given instructions.
Defective Item.
1. Positive impressions
Here I'll go into detail on the good features of this reloading press.
1.1 Cast Iron Construction
The moment you pick up this turret press you will realize how heavy it is. The weight of this turret press comes due to its cast-iron body and turret head, which also gives it its durability and stability. Cast-iron is also rust-resistant and can not be easily bent or dented. The orange paint stands out nicely on the reloading table. 
Some may argue that the turret is heavy and not portable, but do you need it to be portable? If you are looking for a portable reloading press check out the LEE Hand Press.
1.2 Interchangeable 8 die station turret head
The 8 stationed turret head is responsible for some of the weight of this heavy reloading press. Because of the 8 stations, you can easily have 2 complete setups of dies for reloading 2 different kinds of ammo.
But what if you have more than 2 types of cases? 
You can remove or change settings for 3 or 4 dies or,
You can buy additional turret heads and reloading dies to ease out the process.
The 1st step is what you usually do with a single-stage press but since this is a turret press,  we opt for speed, which is provided by soluting number 2. And Lyman will happily sell you extra turret heads whenever you need them.
But with an extra turret head come extra steps of changing turret heads. It's actually simple to change the turret head. You just need to remove one large bolt and washer in the middle of the turret head. You won't need any extra tools to access the bolt, just use the indexing handle to spin the bolt open. But because of this design, you may have to remove one die to access the hole on the bolt while removing it.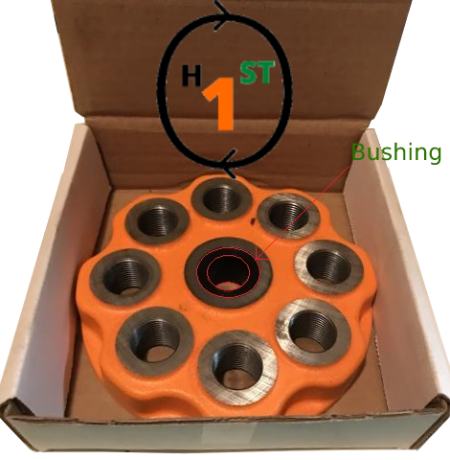 Careful not to mix the turret head bushings as each bushing is specific to their particular turret head and will not fit (tight or loose) to other turret heads and decrease accuracy.
The 8 die stations are of standard 7/8″-14 thread and have ample space between them to place your hand/tool to tighten or lose the dies.
1.3 Stable Turret Head with Back Support
The 8 stationed turret head is heavy and can easily misalign decreasing the accuracy of rounds produced. To overcome this issue Lyman has designed back support for the turret head to avoid this misalignment and stabilize the turret head to the applied ram pressure. This back support is made of durable cast iron and it prevents the turret head from moving upwards while performing actions using the lever.
The back support also houses the turret indexing detent and spring which performs the indexing mechanism for this reloading press. The indexing is quite smooth and accurate. 
1.4 Ambidextrous Handle with a 4″ Ram Stroke
The Lyman Brass Smith All-American 8-Station Turret press has a long ergonomic ambidextrous handle. Due to the handle length and compound linkage, it's easy to operate the 4 inches ram stroke with little effort for any strength-related tasks.
In my case, I was able to reload more than 100 cases before my hands even began to ache. I usually try to avoid reloading more than 250 in one go. hope with this info you can relate. 
1.5 Depriming & On-Press Priming System
Depriming on the press has made it simple with the spent primer catching system. When you deprime using this press the spent primer gets knocked and channeled through the ram to a small frontal opening just below the priming assembly. The mechanism works 100% of the knocked spent primers and has 100 primers capacity. But after 40 or so, primers are in the collection bucket, a few primers jump out of the bucket. And it becomes annoying when you have to pick up the spent primers from those hard-to-reach corners.
The Lyman All American 8 Turret Press also includes an On-Press priming assembly in the package. The priming assembly is included for both small and large primers and it's quite easy to assemble and begin priming.
2. Negative impressions of Lyman All American 8
2.1 Floating Shell Holder
The holder where the shell holder sits on the ram has float introduced to it by design. And due to this float, at times I had to guide the brass case through the die with my fingers to avoid bumping on the die and ruining the case mouth. 
This ruins the concentricity of completed shells and results in lesser accuracy. If you are into hunting or competition then you may not enjoy the speed that comes with a turret press because you will have to guide the case in the dies.
2.2 Hinderens while indexing
An amazing feature of this reloading press is the on-press priming system, but this feature comes with additional annoyance. The primer feeding tube blocks the indexing lever path. Not just that even the stroking handle blocks the indexing handle from a complete 360-degree rotation. 
2.3 Jumping Spent Primers
The spent primer catcher is 99% efficient if emptied before there are 50 spent primers, beyond this number the spent primers keep jumping off the bucket onto the floor & become a hassle.
I'm also expecting another major problem with the spent primer collection bucket to get dislodged due to loose-fitting with the press's body. At present it's a tight fit, but due to wear and tear I'm expecting it to become loose.
2.4 Heavy
This is one of the heaviest turret presses among the few turret presses out there. But in my Honest Opinion weight is not a major factor for selection, as you are not going to travel around with this in your backpack.
2.5 Defective Item
A couple of items you get with the turret press can be defective or damaged in some way, such as a dent in the primer feeding tube, slanted shell plate holder, or spent primer catcher with loose-fitting clips.
My problem was loose spent primer catcher and the other 2 problems were user reviews I read elsewhere. But most of the problems were solved with a simple call to their customer center.
3. Detailed Lyman All American 8 Turret Press Review
With a moderate price range, this heavy-duty Lyman Turret Press does satisfactory reloading and can even be used for reloading precision rifle ammo. With 8 die stations, you can perform all stages for rifle reloading even with safety checks and still have empty die stations.
Some call it an upgrade of Lyman T-mag and in some ways it is.
It has the same mounting holes.
Upgrade from 6 to 8 die stations.
But this Lyman turret press may ship with a couple of defective pieces. However, you can receive a replacement for most defective items with a simple call to their customer service but it's an annoyance.
In my Honest Opinion, 8 die stations are overkill and I simply do not use all 8 stations ever. Other than that this is a decent turret reloading press.
4. Setup
Setting up the press is not difficult. Most of the parts come assembled in the package. You will have to screw in the main lever, indexing lever, primer assembly, the spent primer catching bucket & the reloading press to solid ground.
Step 1 – Ram Linkage
Began by inserting the link pin through the linkage and the frame and securing the link pin in position by installing the lock clips. Before I installed the link pin, I applied some lubrication on the link pin (FP-10) to reduce the wear and tear.
Step 2 – On-Press Priming Assembly.
To assemble the priming assembly you need to 1st align the primer feed body with the frame and screw in the 3 10/31 hex screws (you will need a 5/32 Hex Wrench included inside the package).
Step 3 –  Levers & Spent Primer Catcher
The main lever – the Handle – is ambidextrous and can be easily mounted on the press and to place it securely just tighten the jam nut.
The indexing lever has a ball detent to securely hold it in position and can easily be inserted and removed as the user pleases.
And the spent primer catcher simply clips in the press and sits firmly, but I doubt it will stay firm throughout its lifetime.
Step 4 – The Press
Finally, secure the press firmly to a desk or mount. And if you are upgrading from the 6 Station Lyman T-Mag then you can use the same bolts and position. But in case this is your first turret press, you will need 3 * 3/8″ bolts to secure it perfectly on the bench or mount.
Or you can follow the given instructions.
Run some tests, preferably on rifle rounds to see if everything is smooth and rigid.
4.1 Precautions
Screw-in all 3 Bolts of the All-American Turret press with the table, or it may move forward the lever strokes and decrease round accuracy.
If you are having a problem with the priming tube. Check if it is feeding properly because I've seen a few dented tubes that block primers from feeding properly. But you can fix this with just a simple call to the Lyman and they will happily replace it for you. Though I use a separate priming tool to fasten the process.
Never forget to install the primer blast shield – even if the probability of a blast is near impossible it will still save your face from lots of scars and pain.
Always be careful with the spent primer bucket as it may get dislodged if pulled unintentionally and create a big mess of spent primers on the floor.