Reloading bulk amounts of bullets with a single-stage or turret press can be time-consuming. Hence we bulk shooters look for a progressive press. While in the market for progressive press, we can not deny how Hornady AP Press has left its mark on many many reloaders. Hence in this Hornady LnL AP Press review, I'll try to show forth every feature and flaw the press has that potential buyers need to know and understand before making this big investment.
Hornady LnL AP Press Review at a glance!
Time is precious, hence a quick glance at the pros and cons to get the overall gist of the press and decide if any further time investment is required.
Pros
Durable cast iron ally body
Reliable and satisfactorily consistent Press
Quick Die Change Technology.
Has 5 die Station.
Can Reload 500 Rounds per hour.
On-Press Priming System.
Auto indexes to the next round.
Cons
Priming Accuracy decreases drastically when the primer punch is dirty.
Non-ambidextrous.
Reloading Match grade precision ammo is difficult.
Indexing Cap screws (Pawl) can get chipped and stop auto-indexing.
Plastic Parts occasionally break and require replacement.
Getting into the Detailed Review!
I've reloaded more than 8000 rounds using the Hornady AP press and about 70% were pistol rounds and the rest were rifle rounds. I'll try not to beat around the bush and try my best for an unbiased details review.
Durable & Reliable besides the Plastic parts!
The cast Iron alloy of this press is rust-resistant and does not easily deform. Which gives it its rigidity, stability, and hence the weight. If you drop the press from table height chances are you will break your foot bones.
Because of the high build quality and rigidity, the press is stable and outputs consistent rounds with an acceptable range.
But within all this Hornady included some plastic parts to this press, that occasionally require replacements, especially the plastic primer tube support. But getting replacements is easy because Hornady always has some in stock (which makes me think). I Usually keep extras in hand just in case it breaks in between my reloading sessions.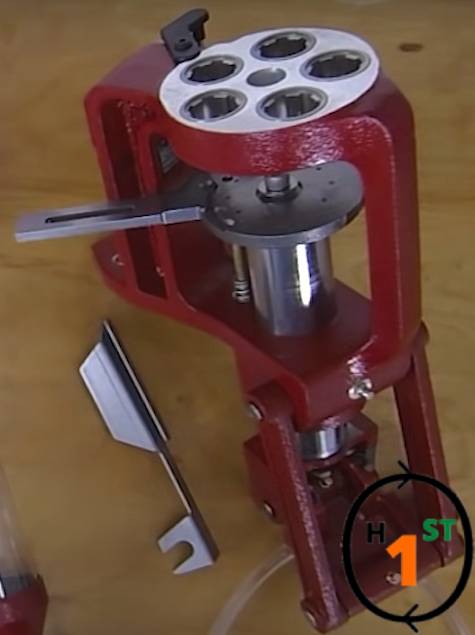 Usually, it requires cleaning after 500-700 rounds, particularly the primer punch and below the shell holder plates. And you will also need to lube the linkages and ram after about 1500-2000 rounds (depending on the lube). With these small maintenances, your press will reload smoothly.
Overall this progressive press is reliable & durable. And with low maintenance, you can reload accurately and smoothly for a long time. Ohh and Hornady provides a lifetime warranty for this AP Press.
Quick Die Change Technology!
For me changing and recalibrating reloading dies is a big pain; especially for turret & progressive presses, due to their multiple stations. But with a quick die change system the process does become simpler and the best available. But even then you may require some calibration if you are changing presses.
5 Die Stations!
The Hornady LnL AP press has 5 reloading die stations. In my Honest Opinion, it is just the right amount. I have given my set-up below.
For pistol rounds like 9mm, 45 ACP, and for all straight wall cases, I begin by Sizing & Depriming, followed by Priming. This all happens with one stroke of the lever. Then I flare and drop powder – Personally, for pistols, I use case-activated powder drop. The next step is roughly estimating the powder drop, Followed by pistol bullet feeder die and finally bullet sitting & crimping using only 1 die.
Hence with this 5 station Hornady AP press I do not have any redundant die stations.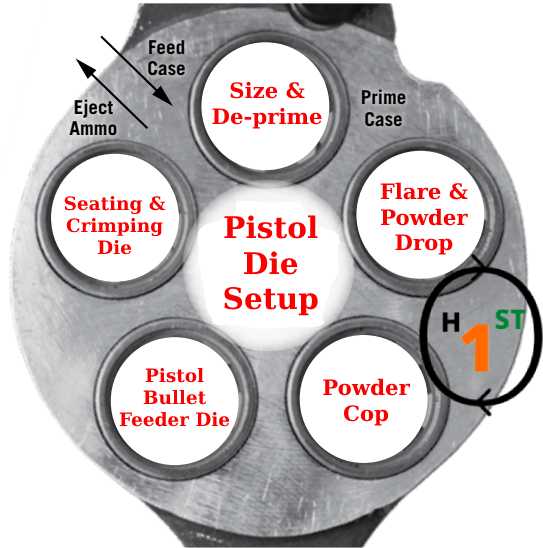 But when I reload bottleneck cases (almost all rifle cases), I will need to trim them and for that reason alone I can not perform all tasks in the AP press. That is why I first deprime and resize using a single-stage reloading press and prime cases using my trusty Frankford Arsenal Perfect Seat Hand Primer.
Then I move on to the Hornady AP Press – flare & charge my cases, powder check, bullet seating & crimping. For rifle cases, I leave one station empty.
Speed Reloading 
Due to 5 station working method, reloading speed increases drastically. You can reload 8 cases per minute. But that also means if you make one mistake you will need to track back multiple cases to find the beginning of the error.
When compared to a single-stage or turret reloading press, reloading with progressive is much faster but it is complex.
On Press Priming
Hornady LnL AP press has an automatic on press priming system, that is once you fill your primer tube and set it in position. if you have used 
Auto Indexing 
Auto indexing increases reloading speed drastically. It is the feature where the case rotates to the next station as you pull the lever. This is a must-have feature in any reasonable progressive press.
But be careful because if you are making mistake then you will be making many if you are not keen on it.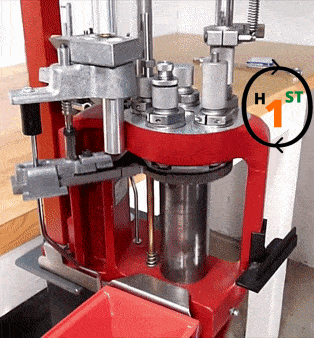 Unwanted features.
It is an excellent press but not perfect, which is why now we will be looking at the other side of the spectrum, that you will hate once you begin using the press.
On Press priming inaccuracy.
It's not the accuracy per se. But as you keep reloading gun powder and debris from brass will spill and spread everywhere – you will need to clean up after about 600 – 1000 rounds. But these gunks mostly affect the priming system and drastically reduce the priming accuracy.
By accuracy, I mean priming it flash to the case or in the right alignment. And for some reason, it does not improve if you risk and try pushing the lever further to prime the case. 
But if you manage to keep the priming punch clean, you will not have to worry about this. But I have noticed that for every 20 or so, one case gets primed in the wrong alignment. And I have tried multiple things but I was never successful to increase the accuracy.
Non-Ambidextrous
Not a major factor but this progressive press is not meant to be used using both hands. Not just the handle, the built design is not meant for left-hand reloaders. Even the case feeder is on the left which can't be changed.
Precision Reloading is a No-No Investment
Since you require speed you will have to sacrifice some precision. That is the general law of reloading. Especially with progressive presses, because you performed more actions per stroke. Usually, the accuracy decreases while you size and not trim, then the generic range of powder drops. 
This is true, especially for rifles where you may need to trim cases after every shooting. but pistol cases usually do not require trimming.
If you really want precision you will have to go through some extra steps which will slow the process, but still remains faster than a single-stage or turret press.
Indexing Screws can chip
The indexing system of the AP Press is amazing, just below the ram, screwed in with the handle linkage. The screws are very small but are tasked with heavy work. Even though they are made of high-quality material if for some reason the ram is stuck and you try to force the ram, the edge of the Indexing Screws chips and stop indexing.
Plastic Parts
Hornady Lock N Load Ap press has few plastic parts. Few of them require occasional replacement, which can be easily be obtained from Hornady. Especially the Lock N Load AP bracket, I usually keep extras in hand to avoid any reloading interruption. Even though cheap, it requires time to get delivered.
General Features
Shell Holders – It has universal precise shell holders.
The case ejection system is top-notch.
Has mounting space for cartridge bin
Upgradeable – you can buy parts, such as a case feeder and projectile feeder, these upgrades increase output.
If you are worried about how to set it up! Then hit youtube, there are tons of videos on that. And if you are looking for the manual click here.
Hornady LnL AP Press Review Summary!
Hornady manufacturing company makes good products and this is no exception. Its minimalistic design of 5 die stations meets all requirements. This press is reliable and can reload up to 500 pistol rounds in an hour. Just like any other Hornady presses, the press has quick die change technology installed, and it is one of the cheapest progressive reloading presses.
Upgrading is possible, which makes it even faster and along with that you get a lifetime warranty for the AP press.
But it comes with few complications! This press is for bulk reloading with moderate accuracy. But if you want match-grade reloads, you will have to use this press like a single-stage reloading press, which defeats the purpose of such a high price.
For any average reloader, it won't be a tough job, and I won't say it is not for beginners but if you are a beginner then definitely triple check all the settings before you bulk reload. Because correcting mistake is more time-consuming and risky. 
My Honest Opinion
I like using this press, I reload lots of practice rounds, especially for 9mm and .45 asp, and I'm satisfied with their accuracy. But for match grade ammo, I perform all steps one by one. Not rely on the powder drop and definitely trim my cases to my desired length.
Also, I bought extra primer pickup tubes so that I can reload more in one go. Without the need to reload primers.
I would invest in this press if I was practicing for self-defense, where long-distance accuracy is not a big factor, and I reload about 2000 9mm cartridges per year which I use for my practice and self-defense.
Reloading match-grade cartridges are not impossible and it definitely is faster than a single-stage reloading press. But I still have my trusty Frankford Arsenal M-Press Reloading Press. With that, I conclude my Hornady LnL AP Press Review.