After a long day at the range, it's usually tiring to clean even one gun. But we all know the importance of gun cleaning and how it can extend the life of any firearm. As I know a responsible gun owner will not take the risks associated with dirty guns. As the title suggests I will disclose which is the Best Universal Gun Cleaning Kit currently in the market. And how the chosen "Best Universal Gun Cleaning Kit" will help you easily and quickly clean your firearm.
Quick Recap
The best universal gun cleaning kit is manufactured by Otis Technology and it's the All Caliber Elite Range Box. And the best part of the kit is it includes a gun vise.
It has almost all the tools you will need to clean any firearm, whether it is a handgun, shotgun, or rifle. It is even equipped with 4 bore snakes for quick cleaning. And if you think the box is massive then you will be surprised, that the top section is separable and becomes a case by itself.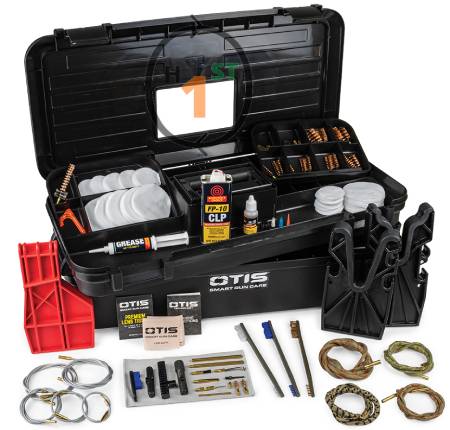 2nd Position
The second best of the universal gun cleaning kit has a competition between 2 products from the same company – Gloryfire.
Luxury Universal Gun Cleaning Kit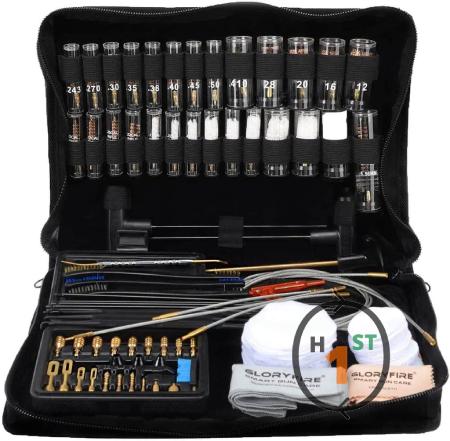 Universal Gun Cleaning Kit Elite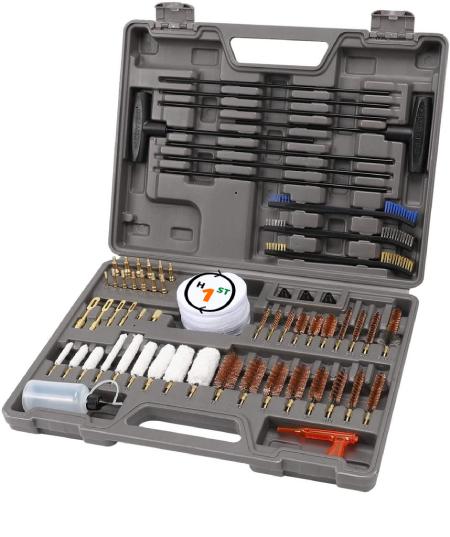 I'm in a very tough situation and even after trying to be biased on one side, I can't decide which is the 2nd Best Universal Gun Cleaning Kit. The Luxury or the Elite Kit, both has their own advantages and barely any disadvantages. They are not equal but are very competitive.
I'll leave the choice up to you, you can choose either and not feel bad about it.
Universal Cleaning Kits Reviewed in this Article
CLICK IMAGE TO VIEW DETAILS
---
---
Gloryfire Luxury Universal Gun Cleaning Kit Review
Well, the name did suggest luxury so right off the bat expect it to be expensive. Unlike the traditional hard plastic case, this kit is a soft case made up of waterproof 600D polyester. And as you unzip the case, you will be able to see and feel the luxury, because the inside is all velvet. To top that off all the tools have a case of their own, which ensures that the tools inside won't get damaged while traveling.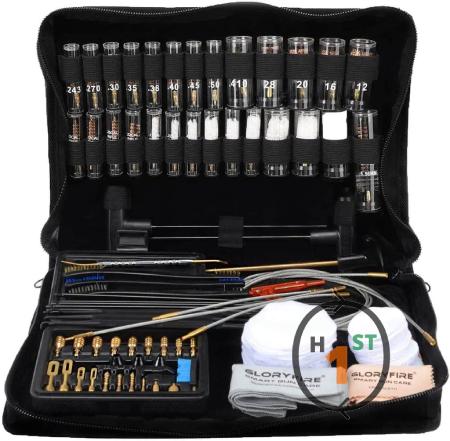 Things I Like about this Kit
Durable, waterproof 600D Polyester outed softshell.
Valvet and soft inside the case.
18 encased bronze bore brushes.
9 encased bore mops.
The 27 tools have dedicated space and are kept in position by an elastic band.
Top Grade cleaning rods, 37+ inches long.
6 Memory-flex cables with a maximum of 36″ in length.
2 microfiber towels.
The brass jags and slotted tips come in a separate box.
1 Brass pick and 3 double-ended AP-brushes.
Flaws
No bottle for gun oil.
Lack of dedicated space for solvent or lube.
Loose pouch where everything else goes in.
Soft carrying kit.
No bore light.
The very first time you open this Gun Cleaning Kit you will realize why it's called the luxury kit. Even though it's a soft carrying kit, it is waterproof unlike most kits out there. But since it's a soft kit you can't apply much pressure on the kit or you may end up with broken plastic cases. Which I had to be alert about constantly.
The Luxury cleaning kit also contains 17 bore brushes and one A.R 15 chamber brush. making a total of 18 high-quality phosphorous bronze brushes and they are all enclosed in plastic cases of their own.
Another feature I love about this kit is the inclusion of both the cleaning rods and flex cables. This means I can clean my rifles even without field striping them. The cleaning rods are more durable and do not bend under the normal pressure applied during cleaning, Gloryfire does mention that they have applied for the patent for the rod technology.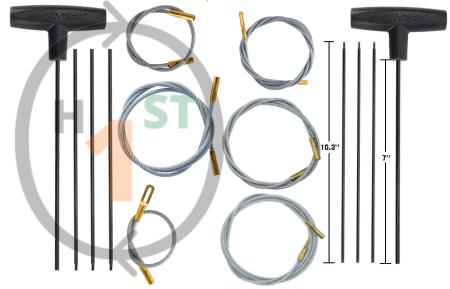 The package has 2 sets of cleaning rods made of high-quality brass with a handle for each type attached to a 7 inches rod and 3 separate 10.2 inches rods with the total length exceeding a little above 37 inches making it possible to clean almost any type of long barrel rifle.
The kit also comes with 6 variable-length flex cables. Of which 2 are 8″, 12″, 30″, 34″ & 36″, out of them one of the 8″ and the 34″ cables are pre-attached with slotted tips. And the 34″ one is specifically made for smaller rounds, for .17 – .22.
All the bore cleaning tool be it jags, slotted tips, mops, or brushes has their own case marking their size and useable firearm. The jags, slotted tips, brass adapter, and muzzle guards come in a hard plastic case of their own.
One rare inclusion is the brass pick. Brass picks are the best among other types of picks because they won't scratch like the steel pick and won't break like the plastic ones. You can apply pressure to reach and clean those tough gunks, without worrying about scratching the firearm or breaking the pick.

Being a luxury kit, I expected it to have all tools, but the kit does not have any dedicated cleaning solution space or bottles, and that could lead to spillage but it was not a major issue for me as I use the small FP-10 even when the other kits provide a bottle. Another thing it did not include is a bore light.
However, this is an amazing universal gun cleaning kit. And you know they are not just money-grabber when you see the brass pick or the inclusion of both cleaning rods and flex cables. Gloryfire was attentive to details and know what any gun enthusiast would need to clean their guns.
Otis Technology All Caliber Elite Range Box Review
This is the most expensive cleaning kit on this list. You may easily notice that it does not include any cleaning rods even though it is this expensive. But it is not just a cleaning kit but an elite range box. And this range box gun cleaning kit comes with one unique feature that no other gun cleaning kit has on the market.
This kit is a massive solid plastic box with 2 feet in width and 1 foot in depth & height. That is easily bigger than all universal gun cleaning kits on the market.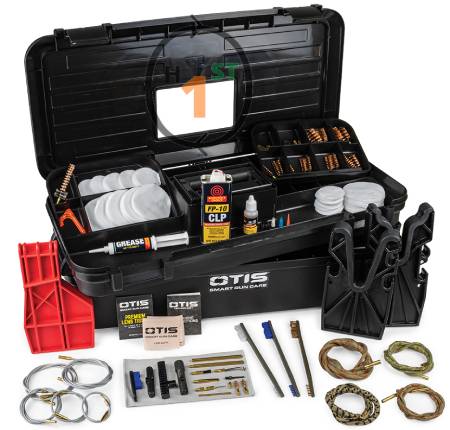 But the box is also a gun vice! Making use of the 2 feet to its advantage, and since it holds the gun in position, the gun cleaning process becomes much easier. Especially in ranges, where you have to make sure you are not pointing your firearm anywhere wrong while cleaning it, the gun vise in a situation like that feels like it is heaven-sent.
Things I Love about this Kit
The Cleaning Kit Box.
The Gun Vise.
The top part is separable.
17 enclosed bore brushes.
4 flex cables with a maximum length of 36″
4 ripcord/ bore snakes.
Shooters choice – 0.66 oz lube, 4 oz CLP, and 0.34 oz all-weather firearm grease.
Double-ended AP Brushes.
1 Microfiber cloth
Chamber Flag
2 obstruction remover tools.
Flaws
Big Box.
No Cotton Mops.
No Jags.
No Cleaning Rods.
No bore Light.
The box is a massive 2X1X1 cubic foot in dimension. One may think it's less portable, and I won't argue but when you realize the amount of freedom it provides while cleaning a gun, it made me free up space on my car trunk for it. Another cool feature is the separable top case. When separated the top becomes a cleaning kit by itself and can easily carry tools to clean at least 2 to 3 firearms, best shines when you go hunting and have limited space.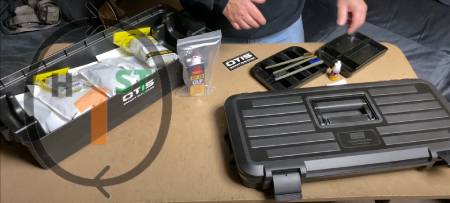 It has 16 bronze bore brushes and one bore brush with chamber cleaner to you AR-15. and all 17 of these brushes are enclosed in their own little plastic cases. But that's about it, they do not give you any bore mops or jags. They have replaced those tools with slotted tips and they stand by them.
I sparsely use the jags, but I used the bore mops when I feel lazy and the exclusion is more of a personal thing. But Otis has included lots of (200) cotton patches, where each can be used up to 6 times making a total of 1200 uses. Which for non-bore mop users is a big yes.
They also tackled the cleaned rod bend and breaking problem by not including them and instead gives you flex cables of aircraft grade. Which takes less space and also less worrying. But it takes a little bit more time because with flex cables you only have the pull action and no push.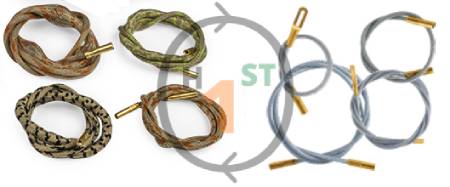 But the flex cables also allow you to quickly clean your gun without field stripping your firearm. But for that specific purpose, Otis has provided 4 ripcords in this kit. which can clean .22/.223cal, .30/.308cal, .38cal/9mm & 12 ga on the go.
Another lovely inclusion is my favorite cleaning solvent – CLP of Shooter's Choice. Other kits had bottles but this kit has 2 different kinds of lube and one all-weather firearm grease. But I think that is one of the reasons behind the price of this expensive kit. And this is the only kit that includes any type of gun cleaning solvents.
Some other mentionable tools are the chamber flag, nylon brushes, stainless steel brush, and brass brush – 3 types of AP-Brushes, obstruction remover, microfibre cloths, etc. But they excluded the bore light even though the kit is this expensive.
Overall I love this kit and even when I was testing other universal cleaning kits I always came back to this kit for its convenience. The major drawback anyone would find in this kit is its price and size. But I think the quality and quantity of tools that give a total solution to any gun cleaning problem is worth every penny I paid for this kit. And personally, I did not mind the size because it comes with vice and I usually don't keep it in my trunk when I'm not going to a range.
I would recommend this kit, especially for frequent shooters because they will require the excess space available with this kit.
Gloryfire Universal Gun Cleaning Kit Elite Review
When I first saw this elite gun cleaner, I was already hooked. But then I opened the kit, I was surprised at first glance, it had 18 bronze bore brushes and 3 extension cleaning rods making a total length of 37.8 inches. And it is in a price range that is highly affordable.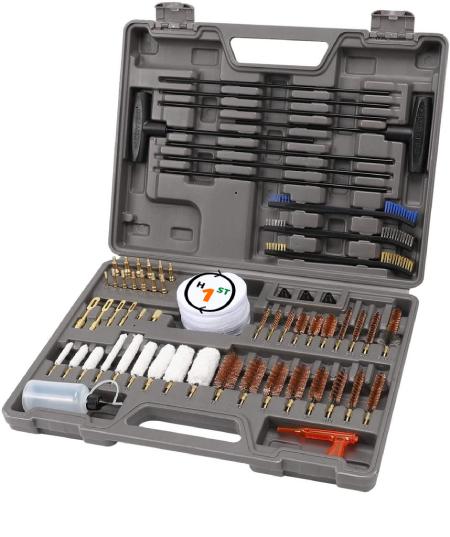 Good things about this kit
18 Bronze Bore brushes
37.8 Inches long, durable cleaning rod.
Durable tools.
13 Brass Jags
Complete set of bore mops.
1 pin top bottle with dedicated space.
Chamber Flag.
Flaws
Lacks bore light.
No picks included.
Doesn't come with ripcord/ bore snake
Quick gun cleaning is not possible.
This gun cleaning kit is in the elite groups of those universal cleaning kits. And it names itself properly. It provides a total of 18 bore brushes to clean any gun bore whether shotgun, rifle, or handgun. The 37.8″ cleaning rod can reach breech to muzzle of those long barrel rifles.
The cleaning rods are durable and will easily out service other types of cleaning rods. They are waiting for the patient to be approved by the government and they are not afraid to mention it.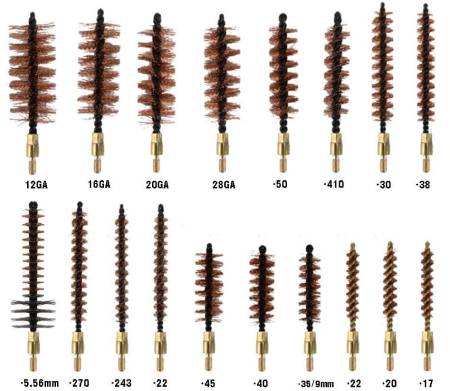 The brass tools have high precision and are of excellent quality. A total of 13 jags and 4 slotted tips to clean any type of gun. It also includes 3 muzzle guards for guns that have to be cleaned through the muzzle.
While using this kit for gun cleaning, I felt that this is not any basic universal kit, but it actually is a step up from those basic kits, in terms of quantity as well as quality. And the only major lacking this kit has is the lack of any bore snake or ripcord, for cleaning a gun without field stripping.
This kit is moderately expensive than the other kits on this list but it is worth every penny. And I would not hesitate to suggest my friends or you in buying this kit.
And this is the best universal gun cleaning kit for casual shooters for the price. But out the next contestant has a little surprise gift stored for us.
Iunio Universal Gun Cleaning Kit Review
Like many others in this list, this kit is a universal kit which on first look, it might look like an amazing cleaning kit, because it comes with a cleaning mat and cleaning cloth. To be honest, the Iunio Gun Cleaning Kit is great.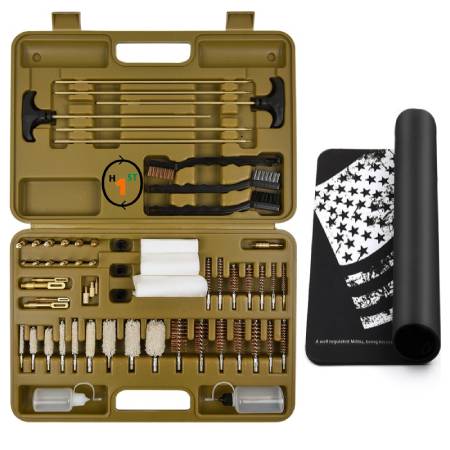 The Pros
There are 2 oil bottles in the kit.
Comes with cleaning cloths, which are washable.
The oil bottles have a pin top.
Comes with a gun cleaning mat.
Slim, Sturdy box which is easy to carry around.
All parts are made of brass.
The Cons
The supplied gun cleaning patches are extremely thin to the point that they can't be used
Doesn't come with ripcord/ bore snake
Cleaning rods extension adds up to 27 inches.
The case isn't secure and the tools move around in the case.
The case provides minimal protection
Does not include a bore light
The main attraction, the cleaning mat, let's discuss that first. The cleaning mat is an excellent addition, and it is of good quality, antislip rubber back, and absorbent top. The cleaning cloths come in handy more than one may think, and it's reusable because you can just wash once it is dirty.
The pin-top bottles are leakproof and hold a decent amount of liquid for many gun cleaning sessions.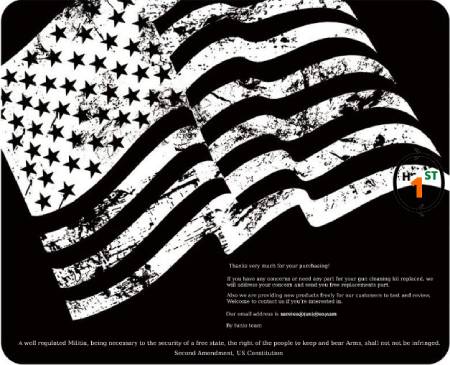 All the materials, such as jags, slotted tips, cleaning rods are made of solid brass making them durable and resistant to bending when pressure is applied. Be careful when buying this one because they have one with plastic tools as well and for just a few dollars less. But in my Honest Opinion, it is better to get brass tools instead of plastic.
The cleaning rods are just 27″ long when all the extensions are joined together and that will not be enough when cleaning some long barrel rifle. Another notable lackings of this kit is the bore light, ripcord, & bore snake. And I personally did not like was the cotton patches, they were super thin and it felt like I would rip them within the barrel if I try some rough cleaning.
Overall the kit is a decent inclusion, it's almost like any other universal gun cleaning kit of this price range. But the cleaning mat and cloth take it a lever higher than the rest on this list.
Allen Company 65-Pieces Universal Gun Cleaning Kit Review
If you want a heavy-duty universal cleaning kit and don't care about portability then this kit is for you. The tools in this kit are heavier than normals which shows that they are built to last. The big-box can hold all the cleaning tools that you may need but does not come with this kit. The kit also has 2 see-through compartments above the kit, allowing quick access to tools you may need more often than others.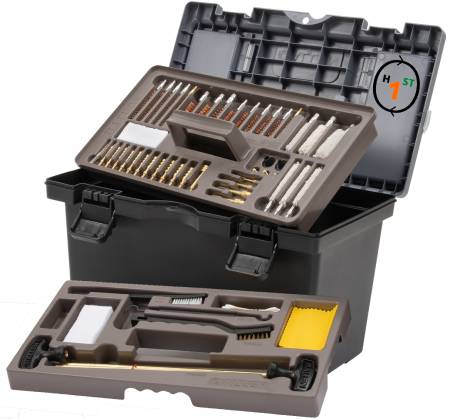 The Pros
The quality of every tool in this kit is durable.
Contains bore brushes to clean all types of gun
13 jags for all kinds of guns.
The Big package can be used to store other associated with gun cleaning.
2 see-through compartments.
The Cons
Not exactly 65 pieces.
Only 6 bore mops
The rods are not big enough
Rods do not have standard threading for an easier extension.
Doesn't come with any bottle.
Doesn't include a ripcord/bore snake.
No bore light included.
The case is huge.
The kit occasionally falls on its back when the case is fully opened.
I was a bit doubtful after looking through all the tools and telling myself there can't be 65 tools. Because after using so many universal gun cleaning tools, I got a knack for it, so I gave it a count and found out there are only 56 tools, did they misprint it (65 instead of 56)?
This massive kit includes lots of tools, but they certainly do not add up to 65 pieces. 14 brushes, 13 jags, 6 bore brushes, 6 brass rods, 4 slotted tips, 3 brass adapters, 2 muzzle guards, 2 sets of cotton patches, 2 AP brushes, 2 brass rod handles, 2 tool holding trays, 2 compartments, 1 set of cleaning cloths, 1 pick, 1 cotton cleaning swab set, and 1 toolbox makes a total of 61 pieces NOT 65. That including all pieces.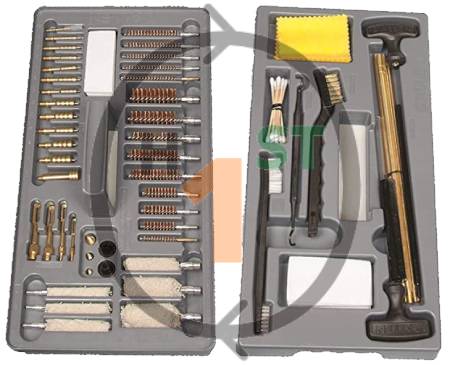 All the cleaning tools are durable besides the .17 cleaning rods, they bend easier than expected. Usually, most universal cleaning kits have 8 – 9 bore mops, but this has only 6. Given the size of the kit, Allen Company could have included a lot more.
The most attractive feature of this cleaning kit that made me buy this was its 2 compartments above the kit. They are maybe just half an inch in depth so not much can be placed there.
Overall, the kit is not that great and for the space it has it does not do justice to the number of tools included. Hence if you are in for your first universal gun cleaning kit, avoid this.
Firegear Universal Gun Cleaning Kit Review
The Firegear Universal Gun Cleaning Kit is a lot like Iunio's kit. It certainly is better than the Allen Company's Kit. It almost feels like an upgrade. The kit itself isn't that expensive for the wide range of tools it provides. But the length of the cleaning rods is up to 27 inches which will not be enough for some rifles.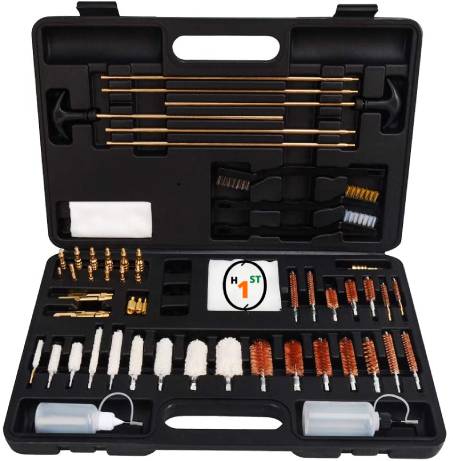 The Pros
Includes 2 pin-top bottles.
Durable cleaning tools.
3 muzzle guard for any type of gun.
2 different types of cotton patches.
The Carry box is sturdy and can take moderate pressure.
The Cons
No bore light.
The cleaning rods is just 27″ long.
No bore snake or ripcord for quick cleaning.
Without field stripping the gun you can't clean with the tools this kit has.
The case isn't waterproof.
Need to buy oil and lube separately.
The cleaning rods are made of brass which enables you to apply enough pressure while not worrying about scratching the barrel, but the total length of the brass adds to a bit over 27″ which is definitely not enough for many rifles.
The 2 bottles included are pin top type, which enables applying the cleaning solvent or lube much more precisely and also prevents overuse. The bottles are also leak-proof as I have tried shaking the case while they were filled.
But I could not help but notice some important missing tools, such as the bore light, ripcords, and cotton swabs. That means a quick cleaning session without field stripping the gun is out of the question.
Considering everything, I would avoid buying this because in my Honest Opinion it is simply a waste of money. But what if I was really tight on budget then? For that check out the last kit on this list, Pormucal Universal Cleaning Kit.
Marksman Precision Universal Gun Cleaning Kit Review
This kit had all the same tools and features as the Firegear Gun Cleaning Kit, except for some small differences.
The differences are;
Includes a bore light
No bottles, 
1 cotton patch roll.
1 microfibre cloth.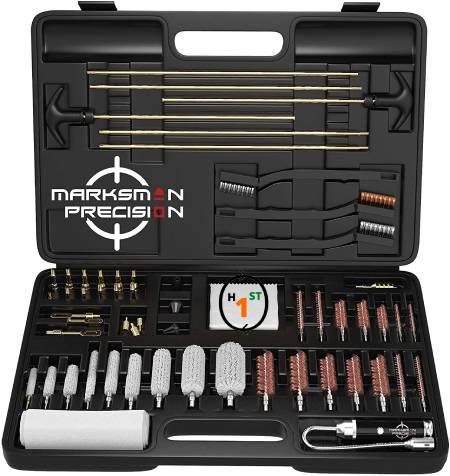 Just the inclusion of the bore light can't justify the price difference between the 2 kits. And just like the Firegear Gun cleaning kit, this kit is not well equipped to be called a universal gun cleaning kit. Hence calling it a universal gun cleaning tool is stretching it too much.
Pormucal Universal Gun Cleaning Kit Review
This kit is more like a marriage between the Firegear and Marksman Precision universal gun cleaning kit. And again this kit as well does not come with all the tools, which would enable it to be named as the universal gun cleaning kit.
But it is the cheapest on this list. And it cuts costs by giving plastic jags and slotted tips instead of brass ones.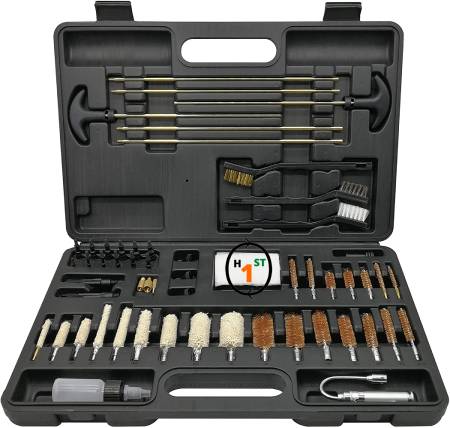 The differences are;
Plastic jags and slotted tips.
Only 1 oil bottle and that too is not pin top type.
Includes a bore light.
For being the cheapest on this list and at the same time including a bore light it does catch some attention. Even though the jags and slotted tips are made of plastic, they have some quality and do not break that easily. But the lube bottle leaks when handled roughly, which makes it harder to carry along with other tools.
And if I had not a long barrel rifle, I would actually buy this kit over Firegear or Marksam Precision. It has the most affordable price but includes all the tools and even a bore light for such a price. Don't get me wrong, I would swap the plastic jags for brass jags any day. And it could be the best universal gun cleaning kit for those on a budget and do not have a rifle with a long barrel.
Which Is the Best Universal Gun Cleaning Kit?
What makes a gun cleaning kit universal and best in its category? The short answer is "availability of all required equipment with satisfactory quality in a portable case for the optimum price". With that said, you will see that none of the "universal gun cleaning kits" is not that universal. You will end up buying something they don't provide in their kit, but it's a must-have.
But among them, I have found that the best universal gun cleaning kit is the Otis Technology All Caliber Elite Range Kit. But you will notice that Otis misses cleaning rods, and if you are like me, you will end up buying them separately.
And now I've lots of used kits that I can't give away and at the same time do not have much motivation to use because I already have the best universal gun cleaning kit taking that position. But I guess I'll be able to use some tools when the brushes degrade.