People had been asking me to review brass cleaning solutions since I have tried so many ultrasonic brass cleaners. So here I'm to find the "best ultrasonic brass cleaning solution" to clean those dirty brass.
In short – I found that RCBS Ultrasonic/Rotary Case Cleaning Solution is the best ultrasonic brass cleaning solution among the others I have tried. Bear in mind that, I've not included all the brass cleaning solutions I've used but only the ones I found worth mentioning in this article. Else the article would be massive.
1. RCBS Ultrasonic/ Rotary Case Cleaning Solution Review.
By far the most expensive ultrasonic/ rotary case cleaning solution. But they justify it by pointing out that it does not foam as much as other products. And the claim is true, I was surprised at how little it foamed.
Just like other solutions the mixing ratio is 1:40. and for testing out this solution I used the RCBS Ultrasonic Case Cleaner 3.2 quarts along with the heating function.
I first performed the degassing function, even though it says no foam. And set the timer to 30 minutes to begin the cleaning process.
The results were simply amazing and I expected nothing short of a renowned company that specializes in handloading equipment and case preparation. The brasses came out shiny clean with no foam in any of them.
It does not smell bad Even though it is a concentrated specialized cleaning solution, nor is it a flammable solvent.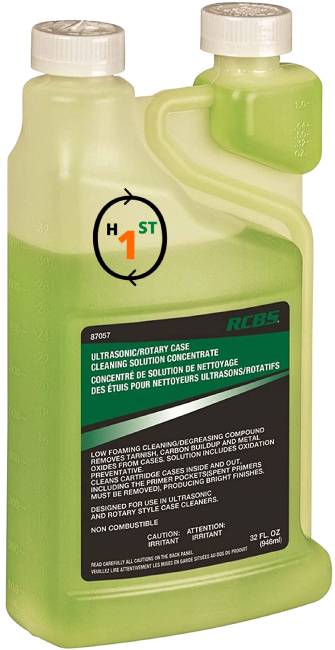 But this is the most expensive cleaning solution that I have used so far. And I think it is worth the price. In my Honest Opinion, RCBS Ultrasonic/ Rotary Case Cleaning Solution is the best ultrasonic brass cleaning solution.
2. Frankford Arsenal Ultrasonic Brass Cleaning Solution Review
Even though Frankford Arsenal does not manufacture ultrasonic brass cleaners yet, they have come up with their Ultrasonic Brass Cleaning Solution, which can be used with wet tumblers as well as ultrasonic tumblers. The concentration is the same as RCBS's 40:1 ratio.
I could not get my hands on EZ Sonic Cleaner by Frankford Arsenal, hence I used the RCBS Ultrasonic Case Cleaner 3.2 quarts.
The results on per with RCBS Ultrasonic Case Cleaning Solution but with more foam. The tough burnt powder residue was cleaned without a problem, giving the cases a better shine. It also removes tarnish & oxidation on a certain level.
It can also be used for a few cleaning cycles until the liquid mix is dirty. And it's cheaper than Hornedy.

3. Hornady One Shot Sonic Clean Cartridge Case Solution Review
I hope they don't sue me for using their trademark; jocks aside – Hornady One Shot sonic clean cartridge case solution is a decent brass cleaning solution. Hornady suggests using a 1:40 ratio for optimal cleaning with this specialized cleaning solution.
With everything checked – I must say the cleaning job was satisfactory. For this experiment, I used the Hornady Lock-N-Load Sonic Cleaner 2L.
The whole cleaning process took me about 45 minutes. I poured in 40 ounces of hot water and 1 ounce of Hornady one-shot cartridge case solution, then degassed it for 5 minutes. Then followed by 25 minutes of cleaning. And finally dried it using the Lyman Cyclone Case Dryer. And the results are shown in the picture.
The results were impressive, the primer pocket, the inner & outer walls were as clean as new. It's almost as if I have just bought them.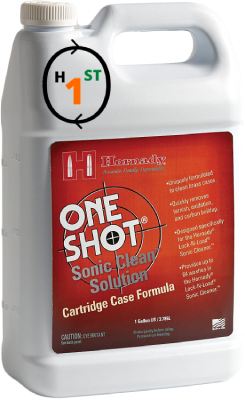 With closer inspection, I did find a few cases with little gunk still inside the case but overall I was satisfied. Though RCBS & Frankford Arsenal did a better job than Hornady.
I must say, the Hornady One Shot Sonic Clean Cartridge case solution does what it was made for. Though Hornady suggests using the solution once for each cycle for the best result. But I used it for 3 cycles and it still gave me decent results.
4. Lyman Turbo sonic cleaner solution Review
Lyman's label on the Turbo Sonic Cleaner states that it works best in conjunction with Lyman Turbo Sonic Cleaner. Even though all ultrasonic case cleaners work with the same frequency of sound waves, they claim theirs is the best. And being an engineer I find that hard to believe.
But we are here for the case cleaner solution. And just like the other solutions above, this too has a 40:1 ratio. I used the Lyman Turbo Sonic Case Cleaner as they suggested on the label.
The results are similar to Hornady's One Shot but not as shiny as F.A. Ultrasonic Cleaning Solution. Nonetheless, the cleaning is satisfactory. 
Lyman Turbo Sonic Cleaner Solution is cheaper than F. A. Ultrasonic cleaning solution.

5. iSonic Brass Cleaning Solution Review
The iSonic Company is all about the ultrasonic cleaning of ferrous metal & polymers & aging of alcohols. So my expectation immediately went higher with this product.
And it did a flawless job of cleaning the brass cases. For this experiment, I used the RCBS Ultrasonic Case Cleaner 3.2 quarts with a heating function.
This concentrated cleaning solution needs to be mixed with water with a 1:40 ratio like most other brass cleaning solutions.
It did clean better than Hornady and Lyman, but there was simply too much foam to visually check the conditions of the cases without first stopping the ultrasonic cleaner and taking out the basket.
It is also cheaper than Lyman's Turbo Sonic Cleaner solution – making it super affordable. And you can use the same solution multiple times before throwing it away.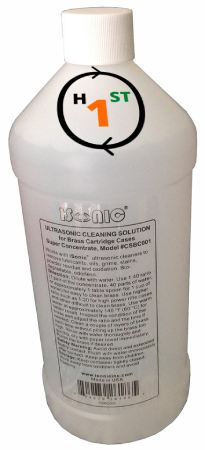 6. Lemi Shine For Ultrasonic Case Cleaning
I stopped using Lemi Shine after I damaged a gun barrel while shooting in the range. Long story short – after researching I found that Lemi Shine being citric acid dissolves copped and zink in the brass and slowly eats the walls and neck of a case. And it is not possible to inspect it visually without a microscope.
Lemi Shine or other detergents are acidic in nature hence they do clean the brass cases well. And since it was cheap I stuck with Lemi Shine for a while but after cleaning the same brass for 3 cycles I noticed a pinkish hue to it which came off upon wiping with a tower.
This is the result of brass reacting with the citric acid of Lemi Shine. If you do it once it should not be a problem but washing it multiple times leads to thinner brass walls leading to a catastrophe without prior warnings. Adding vinegar does not help because it just makes the solution even more acidic.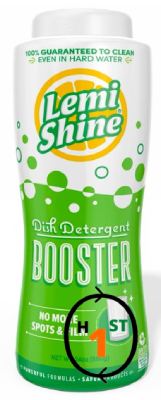 But don't get me wrong, the solution will clean your brass pretty well but will also eat away your cases. The best visual proof is the color of the solution after cleaning, which turns slightly blue due to the mixed copper.
Which is the best ultrasonic brass cleaning solution?
It was a tough decision for me to choose the best ultrasonic brass cleaning solution among the bests.
RCBS Ultrasonic/Rotary Case Cleaning Solution and Frankford Arsenal Ultrasonic Brass Cleaning Solution were almost evenly matched. They both cleaned without leaving a spot. And on top of that, there was a shine on the brass cases.
But for me, the deciding factor was the lack of foam for RCBS. This leads me to believe that RCBS Ultrasonic Case Cleaning Solution is the best ultrasonic brass cleaning solution.
But RCBS Case Cleaning Solution is also the most expensive. So if you do not mind the foam you can easily save a few dollars. "You get what you pay for".
What hurts the brass cases while cleaning?
Cleaning cases is not that difficult. Except with what you are cleaning.
After a head-to-head comparison of Ultrasonic VS Rotary VS Vibratory Tumbler I realized ultrasonic is the fastest, easiest and safest to clean with.
The only problem that comes with all these befit is selecting the right cleaning solution. If the solution is acidic, the acid will slowly consume the brass and the same occurs with a basic solution.
What is the End product?
Burnt gunpowder produces 56% of loose solid waste, 43% gas & 1% liquid waste. It is the liquid waste that is the hardest to remove, which also accumulates some of the solid waste of burnt gunpowder.
Not all cleaning solutions are made equally, some are best for organic gunk removal, some for loose dust, and some for polish. Our aim is to remove all types of gunk, carbon buildup, and dirt.
And please note that these solutions are for brass cleaning but not gun part cleaning. The brass cleaning solutions are more concentrated and will damage the gun paint and polymers.
Remember you spend 100s for self-defense, so spend some more to keep your gun safe.