Choosing a turret press is relatively easier than choosing a single-stage reloading press. Here I have a shortlist of the best turret presses I have used. I have only listed the ones I liked there were a few I felt were a complete waste of money and time. I condensed this review but the full version of the review is also available upon clicking details.
The Best of the Best.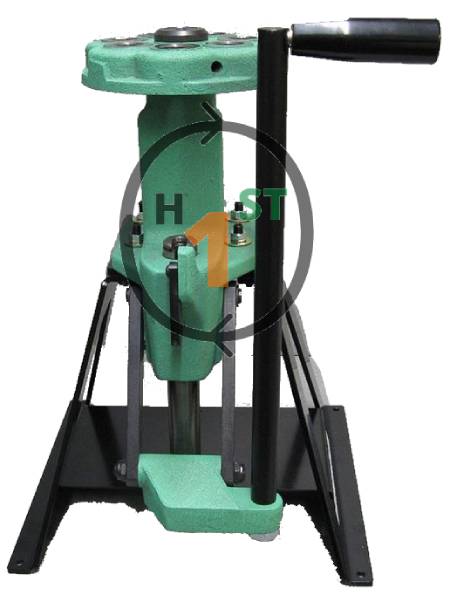 Redding T-7 is the best for precision, but it's expensive and slow.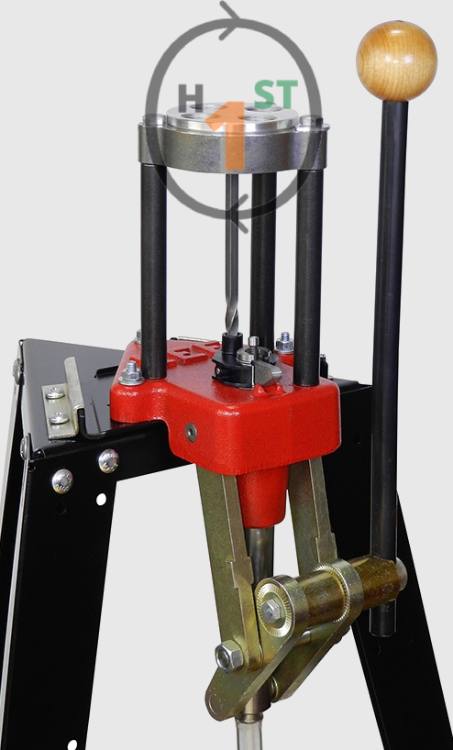 Lee Classic Cast Turret Press is very fast and produces very high-grade ammunition and the best part is it's super cheap.
Now we go into details about the presses.
Redding T-7 Turret Press
The Redding T-7 is a very stable, durable & trustworthy manual indexing turret press, and this results in precision match-grade rounds. I just love how smooth the indexing is with Redding T-7. And to apply icing on the cake, it has a 3.81″ ram stroke.
Redding T-7 at a glance
Pros
Stable and Durable Reloading press
Ambidextrous Handle.
3 indexing handle position.
On-Press priming.
Simple Interchangeable turret head.
Extra back support to stabilize the turret head.
Cons
Non-Ambidextrous ram handle.
Very expensive.
The press comes with a smart primer arm.
The Primer tube & the handle is in the path of the indexing lever.
The name, T-7 subconsciously tells you that there are 7 die stations, which meet most operational needs of reloaders. But if you load more than one type of ammo then Redding provided extra turret heads just for that. Though changing the turret head can be a little tricky, it's not very time-consuming.
While operating the press, a lot of pressure is applied on the turret head by the ram, but this pressure does not destabilize the turret head because it is supported from the back which doubles as the indexing. The indexing is also smooth and accurate and I was not able to wear it out after repeated use for the past 6 years.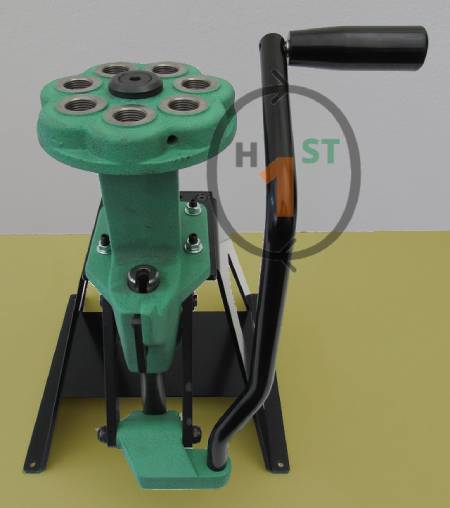 Redding has designed this high-quality turret press so you can deprime your cases while neck sizing and catch all the spent primer in the tube attached below the ram. And with the provided smart primer arm you will be able to prime on the press as well. effectively reducing equipment needed and space required.
But Redding has lost many customers because the handle is not ambidextrous and you can not adjust the angle of the handle. And you end up with a sore right shoulder after some time.
Overall, the press outputs quality precision rounds but the precision comes at a steep price, which all may not be willing to spend.
LEE Precision Turret Presses
Lee Precision has 3 turret presses, 3-hole & 2 4 – hole turret presses. But for time's sake, I'm going to only review the best Lee turret press which is Lee Classic Cast Turret Press (Full Review).
Lee Classic Turret Press.
Pros.
Dirt Cheap.
Durable Cast Iron Made.
Stable and consistent in reloaded ammo.
Changing the turret head is fast and easy.
Auto Indexing feature
Changing to manual indexing is easy.
The lever angle is adjustable
Auto Priming Assembly.
Cons.
The indexing assembly is made of plastic.
Nightmare for left-handy reloaders.
All case operations need to be performed with the left hand only.
The hardwood handle ball interferes with the priming assembly.
The Die holders are quite close.
Poor Quality turret Head
The cheapest turret press on this (any) list, and you would be surprised at how durable this turret reloading press is. Not just that, but it is very consistent with resulted ammo.
And the best part of this press is the auto-indexes to the next station and can be used as a progressive reloading press. Turret presses with double or triple the cost do not have this auto-indexing feature. But if you are not into auto-indexing, you can easily disengage this auto-indexing feature in less than 30 seconds.
The only flaw one may point out is the plastic components which are quite durable, but in case they do break you can easily replace them and it cost less than $10. So I have kept backups but I only changed only once while using this press.
Some may also point out the cast aluminum turret head as a disadvantage but cast aluminum is durable and even if it breaks it is cheap to replace.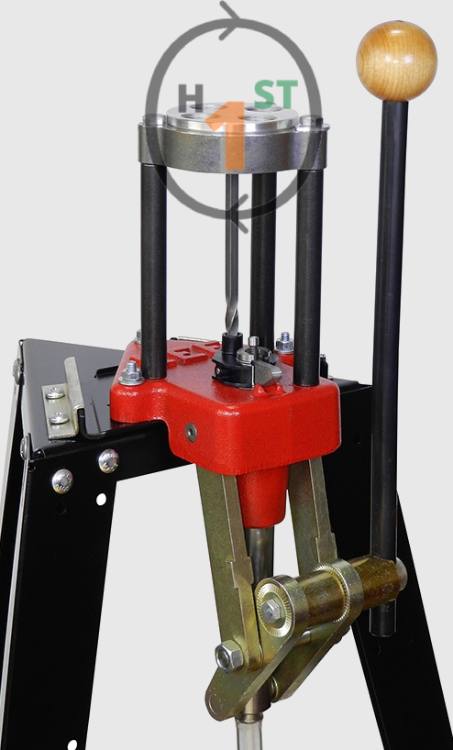 But, this press has more features than other expensive turret reloading presses. With an excellent spent primer catcher and auto-indexing feature, you will be reloading at lightning speed (minimum 230 rounds per hour).
I can't find a reason why any reloader will not want to experience this reloading press. And to be honest, the Lee Classic turret press is one of my favorite reloading presses. And I think every gun enthusiast must have this turret reloading press.
3. Lyman – Brand That Performs
Lyman is another well-known trusted brand by many reloaders and has 2 turret presses with 8 and 6 die stations. But the Lyman T-Mag is discontinued hence I won't go into details about that.
All American 8 Turret Press
The Lyman All American 8 Turret Press is considered a great turret reloading press by many experienced reloaders. It is a great choice for those who want everything in one turret press. It is one of the heaviest reloading presses with excellent durability. With an ambidextrous handle and 8 turret stations, the turret can be appealing to everyone.
Pros.
Durable Cast iron Construction.
Interchangeable Turret head.
8 Die Stations turret head.
Stable turret head to applied pressure.
Extra back support for the turret head.
Ambidextrous handle.
On-Press Priming System.
Catches spent primer effectively.
Cons.
The shell holder floats when inserted.
The Primer tube & the Main Lever is in the path of the indexing lever.
Occasionally a spent primer will bounce from the spent primer catcher.
Setting up can be hard with the given instructions.
Defective Item.
All components of this turret press, down to the last screw are made in America. The press is made of cast iron with a 4″ ram travel. It produces satisfactory rounds for pistol rounds and can be a nightmare for hunting and competition due to its complications.
With 8 die stations and an interchangeable turret head, this press has almost unlimited combinations, But do you need unlimited combinations?
The turret press is heavy and does not include an auto-indexing feature. And more often you might receive defective material, which the customer service center will willingly replace unless the frame has a problem.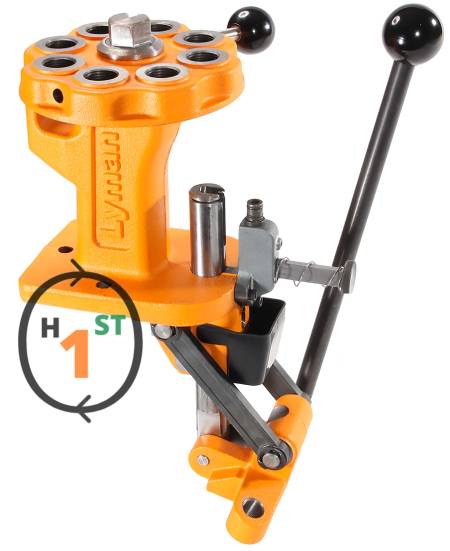 The major flaw of this press is the fact that the primer assembly and the main lever block the indexing lever which means you will have to reposition the indexing lever again and again if you want to use all 8 die stations (kinda kills the purpose).
Overall I think the manufacturer wanted to include everything in one press and they succeeded in doing so. But the end product is not user-friendly and is totally overkill.
To be honest I think Lyman should learn from this design and present us with something better in the near future.
4. RCBS Turret Press
RCBS is a trusted company, that provides accuracy, durability, and stability for most of its products. And RCBS has not disappointed us with their only turret press model. It has the largest ram stroke best for rifle cartridges and can be appealing to lefty reloaders the most.
Pros.
Durable cast iron frame.
6 Die Drum Turret Head.
Easy Changeable turret head
4″ ram stroke.
Ambidextrous handle.
Can prime on the press.
Ambidextrous Priming Assembly and Spent Primer Catcher.
Catches spent primer effectively.
Cons.
Not a Cheap Turret.
Manual indexing only.
Poor Quality of Spent Primer Catcher.
The primer feeder tube is prone to rust.
The depriming and priming toggle get dirty quickly and gets stuck
Changing Turret Head may require removing the dies.
This RCBS C-Frame cast iron Turret Press is heavy-duty, durable, stable, and resistant to applied pressure just like its predecessors. It's made of high-quality materials and to ensure its quality assurance to the users of RCBS, (like always) provides a limited lifetime warranty.
The notable features of this press are the massive 4″ ram stroke and ambidextrous handle, on-press priming, and spent primer catcher. Making it best for lefty reloaders.
But the RCBS Turret Press is relatively expensive and it is not an auto-indexing turret press, which makes the reloading process slow. But, it outputs accurate ammunition.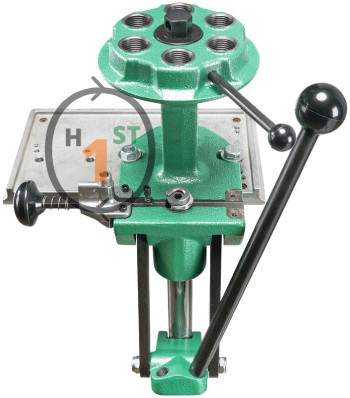 Overall this turret press is definitely will increase your reloading output over a single-stage reloading press, but with some added complications and lots of manual indexing.
Best Turret Press for Reloading?
Most of the reloading presses in this list are made of solid cast iron and have solid steel linkage for the lever to act upon and all of them are durable turret presses. There are a lot more turret press options in the market but these are the best 4.
But if you are into precision reloading (like me) then you will need to trim the cases and for that step, you will need to use a case trimmer. To overcome this problem I use my F.A. M-Press to resize, followed by trim & case condition, and then use the Lee Precision Classic Turret Press to finish reloading it. For me, the Perfect Turret Press is the Lee Precision Classic Turret Press because I use one cast aluminum 4-hole turret head for one type of caliber and use another head for another caliber.
Lee Classic Turret Press is the best turret press for beginners, it is also a budget turret press, and it is efficient with its automatic indexing feature, which drastically increases the number of rounds per hour you can reload, with high-quality ammunition as the end product. And I think every reloader should experience Lee Classic Turret Press in their reloading journey.
Useful Information
The turret press is a happy marriage between the auto-progressive and single-stage reloading press. The turret press performs tasks on one case with one stroke of the handle, just like the single-stage but unlike the single-stage, the turret press has a 4-8 die holding turret disc (drum, dial – it goes by a few names) depending on the brand. This means you can resize, set primer, powder charge, seat bullet & factory crimp the bullet without removing the case from the case holder, which increases output for bulk ammo reloading.
And you can buy additional turret heads (& dies) to accommodate other calibers without changing the setting in any of them.
FAQ
How many stations do I need on my turret press?
It depends on your needs. But generally, for pistol or rifle rounds, you will only need 4 die stations. 1 – resize deprime, and prime, 2 – powder charge. 3 – seat bullet & 4 – factory crimp. Though you may want to add some checks if you are reloading precision rounds.
What is the difference between the turret and single-stage press?
There is only one major difference – the turret press has multiple die-holding stations, which can be easily switched to decrease the time taken for die changing. And with the single-stage press, you will only be doing bulk operations one at a time
Does turret press increase reloading speed?
It does increase the reloading speed but by just 40 – 60 rounds per hour more over the single-stage press. If you have a quick die change system on a single-stage press then I bet you will find a turret reloading press not as advanced as others make it sound.
Should I get a Turret press instead of a Single-Stage Reloading press?
Lee Classic Turret Press is cheaper than a few high-end single-stage reloading presses. For a beginner, the turret press can be a bit too much. But new reloaders can disassemble the auto-indexing feature and use it like a single-stage reloading press. In my opinion, Lee Classic Turret Press is better than any Single-Stage reloading press.
What are the advantages of a turret press?
The major advantage of a turret press over a single-stage reloading press is the fact that you will not have to set the dies again and again. Which saves quite a lot of time and hence increases output.