Looking for the best Single Stage Reloading press for the money? Look no more, coz I got the good and the bad of all presses lined here with details, just so you can find the perfect fit for your needs.
I know, out of nowhere I ranked Frankford Arsenal M-Press as the best single stage reloading press for the money. But if you keep an open mind, I promise, by the end of the article you will look at it differently.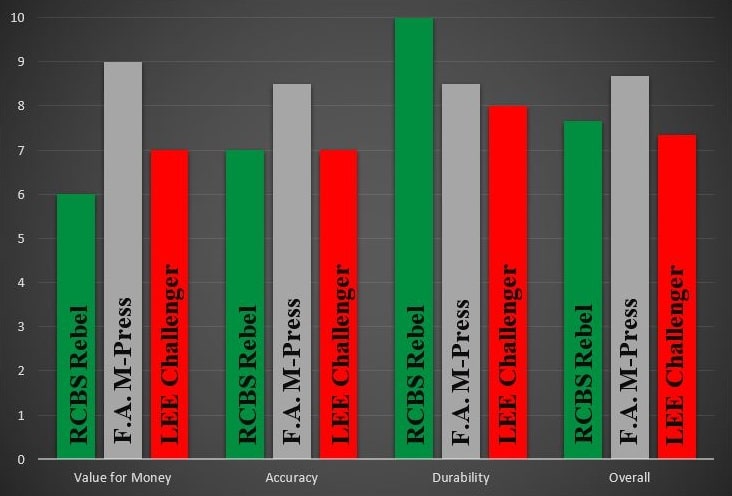 To evaluate these Single Stage Reloading Presses I had to create a comparison chart to better visualize and understand each press. For comparing and creating the chart I considered the following factors;
The Accuracy of the Reloading Press

The Stability, durability, and resistance to applied pressure flux.

The size of the case the reloading press can accept

Value for Money
Other factors such as on-press priming, weight, bushing changing system, frame type, ram stop type, etc. are not considered as they are just binary options and are usually subjective.
To read the detailed review for the Single Stage Reloading Presses click on "detailed review".
Best Single Stage reloading press
Pros
Huge 4.75″ case operational clearance.

Equipped with Quick Change Die block system.

it has an 

ambidextrous handle.

It has a high-quality LED light for clear viewing of case operation.

The reloading press is durable and since it is made of stainless steel, it is rustproof.

The Universal Shellholder design is one of its kind.

The spent primer catcher is 100% effective.

The X-axis & Z-axis Float results in better alignment and in 

high-quality ammunition

.
Cons
No 

on-press priming

 system.

Occasionally bumps the case mouth with the die.

Can not be used with case activated powder measure.
Most Durable Reloading Press
Pros
Very Durable, it can outlast the reloaders lifetime.

Amazingly stable due to the wider base which also provides ample hand rest.

Lifelong guarantee on any deform or breaking for the buying user.

A 

Standard O Frame

4.5 inches case operational opening.
Has an 

Ambidextrous Handle.

The bushing can be upgraded with Hornady or Lee quick die change system.

Zerk fitting for easier lubrication.
Cons
Relatively expensive.

On-press priming

 is excluded.

No quick die changing system.

The press is heavy.
Best Cheap Reloading Press
Pros
The press is lightweight, durable & stable.

Equipped with 

Breech Lock Quick

Die Change System. 

The Spent Primer channeling system can direct the spent primers directly in the bin.

This press is Relatively Cheap.

Has an 

ambidextrous handle.

Available with few starting kits which includes almost all equipment required for reloading.
Cons
The case operating opening is relatively small.

It has a 

sturdy O frame

 of only 3.75″ case operating clearance.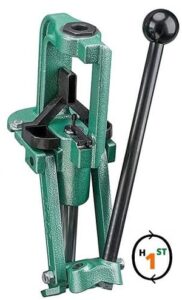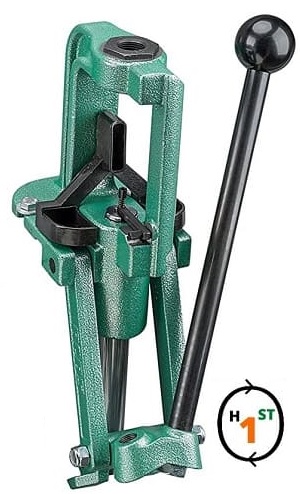 RCBS Rock Chucker Supreme Master Reloading Press
The RCBS Rock Chucker Supreme reloading press is one of those that stood the test of time. Its simple & durable design can outlast the lifetime of any reloader.
Pros
Built to last a lifetime of any reloaders.

The Cast 

iron O frame

has a 4.1 inches case operation space.
A long 

ambidextrous handle

 reduces the strength required for sizing.

Die busing can be upgraded with Hornady or Lee's quick die changing system.

Can be transformed into a turret press by using piggyback. 
Cons
The spent primer catcher is not very efficient.

No quick die changing technology.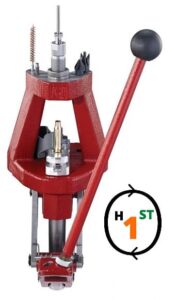 The Hornady Iron Press is a very rigid, durable, stable, pyramid style & the most expensive reloading press on this list. To avoid any viewing disruption during case operation, Hornady designed the horizontal O frame rather than the usual.
Pros
Durable, Stable, and resistant to flux due to heavyweight.

Has Quick Die changing technology.

Automatic Primer Feeder.

Has an 

ambidextrous handle

.
Cons
Very Expensive.

One of the heaviest Press.

Has only 3.5 inches of case operational clearance.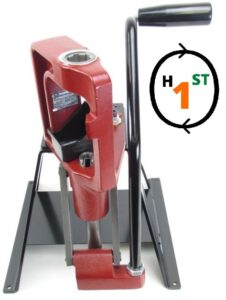 Hornady Lock-N-Load Classic
The Hornady Lock-N-Load Classic has a unique frame design, as its frame is shifted by 30° to the left for maximum visual case clearance. But the design is a nightmare for lefty reloaders because of the shift and fixed handle.
Pros
Amazing for right-handed users as the frame is shifted by 30°.

The press has few kits to choose from for new beginners.

Very light press.

Lock-N-Load quick die changing technology.
Cons
Not built for any left-handed users.

Just 3.75″ case operational clearance.
FAQ - Frequently Asked Question
Q: Does the weight of the press matters?
You are not going to move your press every minute. And it is usually going to be mounted on a sturdy, stable workbench. But the weight usually means more stability and durability as literally more material was used for manufacturing.
Q: Where should I install my reloading press?
The reloading press is one of the most essential tools to begin the precision reloading process. Hence, the reloading press should be easily accessible with plenty of room on both sides of the press for case operations. Do NOT install the reloading press on a corner of the workbench.
Q: Is a single stage reloading press more accurate?
Single-stage reloading presses are usually more accurate because you have more control over each round that you create. You can size the brass, trim it, deburr it, drop charge and sit projectile all systematically. However, accuracy usually decreases with the auto progressive and turret press, due to vibrations and friction, during multiple case operations.
Which is the Best Single Stage Reloading Press for the Money?
There is no straight forward answer to this question. It takes years even for professional reloaders to begin understanding which suits their needs best. Beginners and experts will have different opinions on which reloading press to choose.
For beginners, a reloading kit is a better option, as it usually has most of the required items to begin reloading. For more expert reloaders, a single stage reloading press can be used for initial depriming and sizing before starting the whole procedure.
To understand better which reloading press fits you best read my article on types of reloading press.