I know firsthand the importance of being prepared for any emergency situation. The risk of break-ins is constantly increasing, and in times of crisis, it is crucial to have quick access to your trusted handgun to protect yourself.
In a dangerous situation, having your handgun readily accessible can mean the difference between safety and harm. However, if your firearm is stored in a different room, you may not be able to reach it fast enough.
But storing firearms unprotected near the bed or in a drawer is dangerous and can also lead to unrepairable damage if accessed by children or unauthorized individuals. To ensure safety, it is essential to invest in a gun safe that provides quick access to your firearm in emergencies while remaining discreet and not drawing attention to itself."
Best Quick Access Gun Safes.
Best Quick Access Gun Safe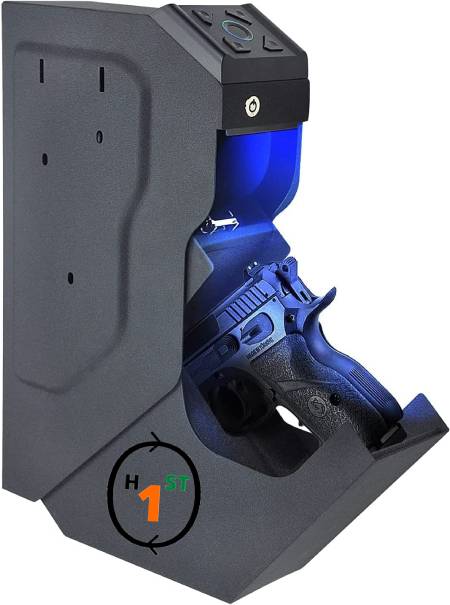 Best Portable Gun Safe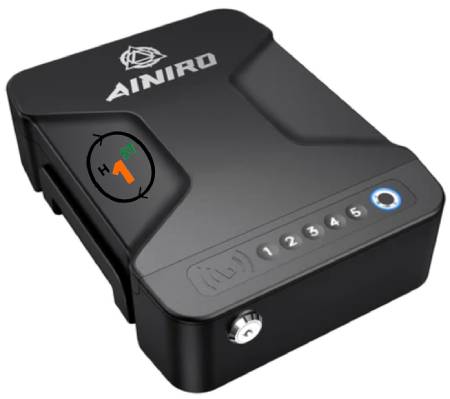 Why Handgun?
It's a difficult task to hide a massive safe in your bedroom but a handgun safe is small and does not attract much attention. Hence it can easily be stored in a bedroom or kitchen.
AINIRO Quick Access Biometric Protable safe.
All safes on this are portable but this one has a nice handle to carry it around. But it's a compact safe to make sure your handgun fits before you buy it.
Pros
Durable Die Cast Aluminum.
Retractable handle for portability.
Very Quick Access – takes just 2 seconds to open
has 4 modes of access.
Rechargeable battery – with charging cable provided.
Internal Battery Compartment.
Battery included.
Voice prompts to ease setup.
Sound indication before opening.
Sound can be turned off.
LED lit inside
Cut out foam to place your handgun.
Has RFID authentication system.
Low Battery Warning.
Cons
Not fire resistant.
Cutout foam can be arranged only once.
This gun safe is built with mobility in mind. It's constructed out of die-cast aluminum and weighs just 3 pounds. While at the same time making it secure. Has a nice pull and retractable handle to carry it around.
This safe comes with a rechargeable battery and charging cable to directly plug it into the grid. Hence you will not have to worry about the battery. In case the battery dies, you can simply charge it using a power bank and use it again.
It's equipped with voice prompts to aid in its use. It helps you to set up the code and fingerprint, warn of low battery and deny access if unauthenticated. It also plays a robotic sound while opening the safe. But like me, many users can live without these sound effects. And thank god that the sound can be turned off.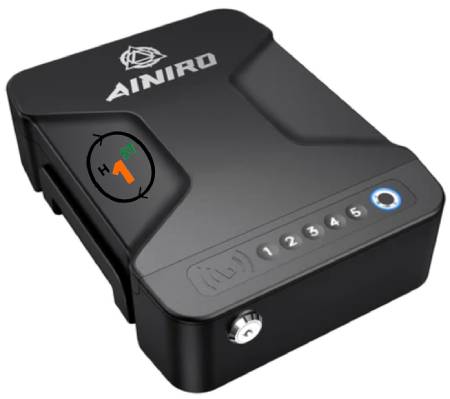 The safe grants access within 2 seconds of authentication, and you can grant authentication in 4 different ways;
Code
Fingerprint – works almost 90% of the time
But the safe is not fireproof and the cutout foams can only be arranged once. And the space inside is limited. This means you will have to be sure that your handgun can be stored in this safe before buying it.
This gun safe is designed for portability and security. Made of die-cast aluminum, and has a retractable handle for easy carrying. It is powered by a rechargeable battery. The safe has voice prompts, and multiple authentication methods. However, it is not fireproof and the storage space is limited, so it is important to ensure that your handgun will fit inside before purchasing.
Maxsafe Under Desk Drawer Gun Safe
A unique approach to the gun-safe mechanism. opens like a drawer and has vain recognition biometric authentication.
Pros
Vain recognition system – unique mode of access.
Very Sturdy gun safe.
CA DOJ drop & pry-resistant
Lifetime warranty.
Quick access gun safe.
Alarm system upon 5 unsuccessful tries.
The reset button is well-secured.
LED Lit inside
Secure Opening Mechanism.
The sound can be turned off.
Cons
No low battery warning.
Not fire resistant.
Has a low-tension spring.
The biometric authentication system of this gun safe utilizes veins rather than fingerprints, which means sweat, dirt, and oil won't affect authentication. And human tends to sweat during a stressful situation. But the position of veins changes with a slight rotation of the finger. I have provided multiple vein scans at different angles and positions of the same finger. This ensures the effectiveness of the authentication system in all.
The MAXSafe gun safe is constructed of 16 gauge carbon steel, making it a highly durable and reliable option. It has also been tested and verified by California's CA DOJ drop and pry test. But if that does not convince you, MAXSafe stands by its safe with a lifetime warranty.
The reset button for this gun safe is well-concealed under a blend-in latch to enhance security. Additionally, the safe is equipped with an alarm system that activates after 5 unsuccessful attempts to open it. These features make this gun safe highly secure and reliable option. This safe also has a very secure latching system, and it's impossible to unlock from the outside.
While this gun safe has some notable features, it also has some potential limitations. One issue is that the battery can be accessed from the outside, and there is no low battery warning system. Additionally, this safe is not fire-resistant and may not provide adequate protection in the event of a fire. The thick carbon steel conducts and radiates heat, potentially compromising the integrity of the safe. While I have not personally tested the fire resistance of this safe, it may not withstand high temperatures for an extended period of time.
Overall, this drawer-type safe is well-suited for use in an office or personal table. Its compact size allows it to be discreetly placed under a table and easily accessed in times of stress. It is a convenient and secure storage option for valuables and personal belongings besides guns.
MAXSafe also has a drop-down type pistol gun safe. Besides the vain recognition technology, it's just like all other drop-down pistol safes.
VERPROOF – Biometric Quick Access Handgun Safe
The Bestseller in amazon in its category. This safe is fast and secure. It comes in 2 designs, first with a fingerprint sensor and second without.
Pros
Durable Corrosion-Resistant Steel.
Very Quick Access – takes just 2 seconds to open
LED lit inside
Sound indication before opening
Programmable LED and Sound
Internal Battery Compartment.
Low Battery Warning.
Cons
Not fire resistant.
The container opens with gravity, no spring.
Does not have a dedicated magazine space
Installation is not the simplest.
The gun safe is made of corrosion-resistant matte-black painted steel and has a sturdy, heavy construction that can be felt when lifting it. Its simple and elegant design adds to its durability and security. It is large enough to fit a "Glock 19X" with the magazine inside, providing secure storage for your firearm.
The fingerprint sensor allows for quick access to the safe, with the gun chamber opening in just 2 seconds after placing your finger on the sensor. However, if you prefer, the safe can also be opened using a key or password. The small size of the keys is convenient for carrying with you.
The battery compartment of the gun safe is located inside the safe, adding an extra layer of security. One 9V square battery has lasted me approximately six months, and the low battery warning signal ensures that I am alerted to replace the battery in a timely manner."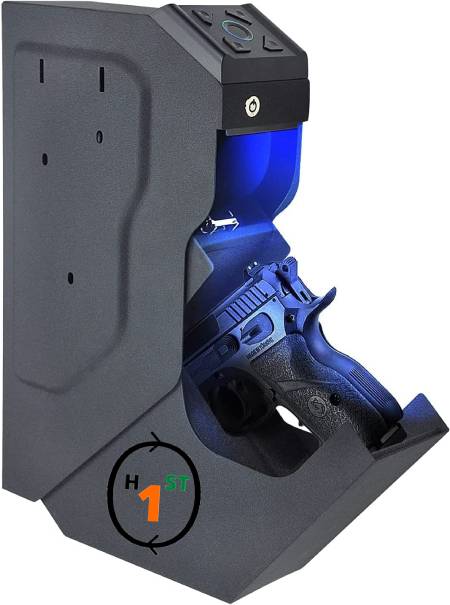 Features like LED and sound are programmable. So you can switch them off for longer battery life, but I suggest keeping the LEDs on. The rubber stopper minimizes the sound it makes while dropping the enclosed chamber, but the unlocking mechanism is the loudest part of the process.
The gun compartment opens swiftly, aided by gravity, but it must be mounted in an intended manner to function properly. While the company claims that mounting the safe is straightforward (not so). But the provided instructions are sufficient.
One potential limitation of this product is its fire resistance duration of 30 minutes. While it includes foam to reduce radiation heat, it is unclear what class of fire it can withstand. In the event of a prolonged fire, it may not provide sufficient protection for the gun.
Overall the safe provides decent protection for your firearm. It is a secure storage solution made of corrosion-resistant steel, with a fingerprint sensor and key/password access, programmable LED and sound features, and an inside battery compartment. It has a limited fire resistance duration of 30 minutes.
RPNB – Quick Access Handgun Safe
RPNB has 2 quick-access handgun safes models. One model is the same as the VERPROOF (except for how the number keys are placed) & the other one, we are going to review here.
Pros
Non-Crossive thick carbon Steel.
Very Quick Access – takes just 2 seconds to open
LED lit inside
Sound indication before opening
Programmable LED and Sound
Has dedicated magazine space.
Spring tensioned opening system.
Low Battery Warning.
Cons
Not fire resistant.
The unlocking mechanism is loud.
External Battery Compartment
This gun safe has a solid construction and easily blends in where you mount it. And if you program the LED and sound in off-setting it becomes quite stealthy. It only makes sounds while unlocking the gun chamber. 
The gun safe has a fast response time to fingerprint and code authentication, allowing for efficient and secure access to the firearm stored within it in under 2 seconds. The spring-loaded chamber fully opens to ready the firearm, which can be stored with a magazine in a dedicated space.
However, it is important to note that the fingerprint and code authentication system can be easily disabled by removing the batteries, which are accessible from the outside of the gun safe. It is recommended to keep the gun safe in a secure location, but still within easy reach in case of emergencies.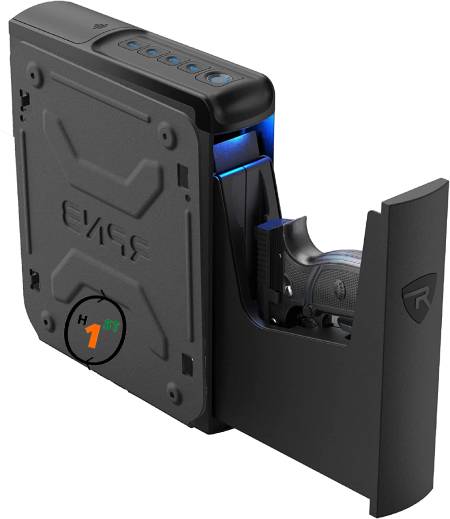 Furthermore, the gun safe is not fire-resistant. Even small fires can cause damage through heat and smoke. It is advisable to choose a gun safe with some level of fire protection to ensure the security and integrity of the contents.
This gun safe has some major drawbacks that make choosing this gun safe less likely. But if you are really tight on the budget this might just fit your need. 
ONNAIS Gun Safe
This is one of the cheapest top open-type gun safes in the market. The first impression was really good. But read on to know where they cut the costs.
Pros
Durable Corrosion-Resistant Steel.
Very Quick Access – takes just 2 seconds to open
Sound indication of any action.
The add/delete/reset buttons will not function if the safe is not properly open.
Internal Battery Compartment.
Cons
Not fire resistant.
No light inside.
The top does not completely open
The locking latch is entirely made of plastic.
The key lock is useless.
This safe is cheap but they have cut the cost in places where it mattered most. I mean how can you make the locking mechanism of plastic? Simple heat will destroy the safe. That itself should be enough to steer clear of this gun safe. 
It sure is made of corrosive-resistant steel (but very thin steel). And opens in just 2 seconds with a battery compartment inside. But you can't program the light or sound.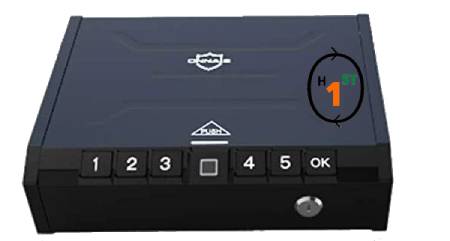 The unique feature this gun safe has is the checking circuitry which defines that you can not reset, add or delete without properly opening the safe. But then again if you can open the case with a simple screwdriver who needs to reset the system.
Overall I would honestly advise steering clear of this gun safe. The only thing it can protect your guns from is insects. Though it's the cheapest gun safe in its category. But To me, safety comes first.
Which is the Best Quick Access Gun Safe.
After using these gun safes, I clearly knew which safes I didn't like but I was confused about which to keep in my house for emergencies. But even then it was a tough choice between VERPROOF and MAXSAFE.
So I kept them both. The VERPROOF was perfect for my bedside safe. Tucked it between my bed and mounted by my bedside table. Well hidden but easily accessible. Thankfully I didn't have any use for it but now I'm confident.
The MAXSAFE drawer type was for my garage table. nicely tucked in under the table. And finally, I gave the AINIRO to my wife to always keep with her in her daily life.
Best Quick Access Gun Safe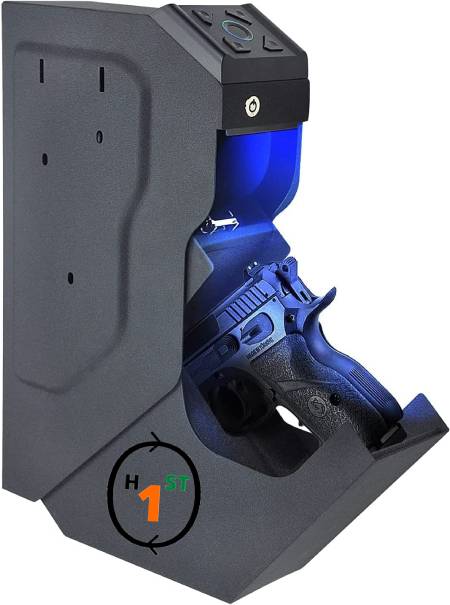 Best Portable Gun Safe