Want to watch TV while reloading? In a tight budget but want to try reloading? Then just maybe LEE Hand Press is the best choice you have, read the best Lee Hand Press review on the internet to find out how this single stagehand reloading kit is the best portable reloading press you need now and how it will stick with you even when you are an experienced reloader.
What do you mean by Best Portable Reloading Press?
You don't need to be confined to a bench when using the LEE hand reloading press. You can perform certain tasks while you swing the baby cradle. It is light with the size of full-grown papaya. But I strongly advise not to seat projectile while watching TV, as it may lead to gun powder spilling.
Find out how it compares to other reloading presses.
LEE Hand Loader Review
The Lee LEE hand loader is made up of aluminum and the ram is of stainless steel, which drastically reduces the weight to around 1.75 pounds. The moving handle and ram are held tightly with the body by 2 connecting good quality steel rod links. The performance of these rods can compare to high-end single-stage reloading press. The device is durable and can perform for years if not decades.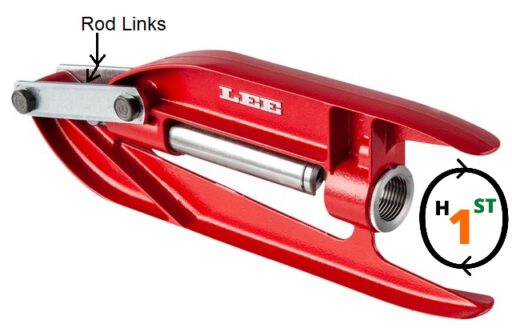 The stainless steel ram also acts as a 100% efficient spent primer storage. And can hold up to 25 large and 45 small primers before it needs emptying. Though this makes the inside of the ram dirty after a while and requires cleaning, which is not that big of a hassle. The shell holder which sits on the ram is kept in place with the spring-loaded shell holder retainer. LEE has made sure that it accepts all standard shell holders.
The C-Frame design of the press has an operational opening of 3.65 inches and the die bushing is the standard 7/8 14″ threading. Which can be used together with LEE's Breech lock quick die changing system, but should be avoided if the budget is tight. 
LEE hand press requires minimal space on any table and after use can be folded up and kept in a desk drawer. Even though small it is accurate and has almost all features any bench-mounted single stage reloading press has. 
In one sentence "LEE Hand Press is the best portable reloading press in the market".
One of the downsides of this press is that it is as stable as you are. The bench-mounted single-stage presses are quite stable and require very less force while you pull the lever. But on the LEE hand press, you need to exert all the pressure on the body and the handle while keeping it stable to avoid spilling gun powder all around you. Believe me, I have spilled a few times even when I was all focused.
The second issue would be that you will get tired faster on this press when compared to a mounted press. But hey with the tight budget we began, we need to cut the press at least that much slack.
Finally, when reloading on any press, one must be careful and while reloading on LEE reloading hand press you need to be extra cautious with the fingers. As there is a high chance of smashing the fingers especially while sizing the cases.
LEE Hand Press Kit Review
LEE has not stopped just with the reloading press but has also arranged a kit that fits the reloading press while staying within the budget. The Lee Breech Lock Hand Press kit includes;
Lee Hand Press.
Ram Prime Unit.
Powder Funnel.
Resizing lube.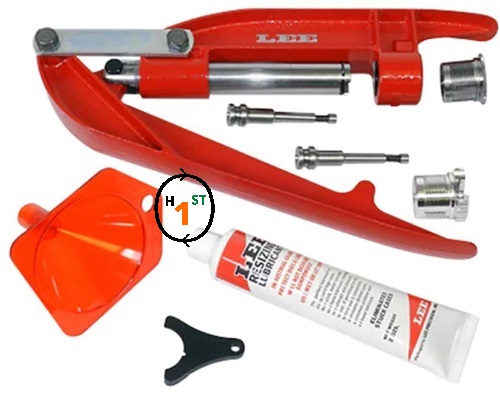 The Ram Prime unit is unique to this press only and has 4 parts, The ram primer, small & large cup for small & large primers & one shell holder adapter. To prime cases on the press follow the steps here;
Remove the shell holder on the ram (if you have already placed it).
Choose the right primer cup and insert the primer punch on the ram where you would put the shell holder.
Now screw in the shell holder adapter where you screw in the die.
Insert the shell holder on the shell holder adapter.
Insert primer on the ram prime unit and case on the case holder and begin priming.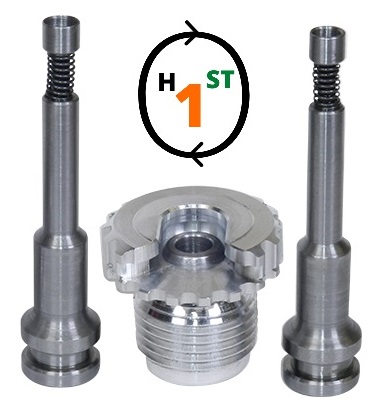 Even though the on-press priming is slow, it is still a nice addition for those on a tight budget or people who want to reload on the shooting range.
What else do I need?
To begin reloading, you just need to buy dies specifically for your type of ammunition. But buying the LEE Delux carbide 4 die set, which comes with 4 dies and lockrings to help avoid calibrating every time. It does not do what a Breech lock would do, but an effective low-budget solution. The die set contains;
Carbide full-length sizing die with decapping rod.
Powder through expanding die – perfectly expand & bell the case mouth, it can also be used for charging the case but AVOID CHARGING IT because there is a chance you will spill the powder.
A bullet seating die.
Carbide factory crimp die.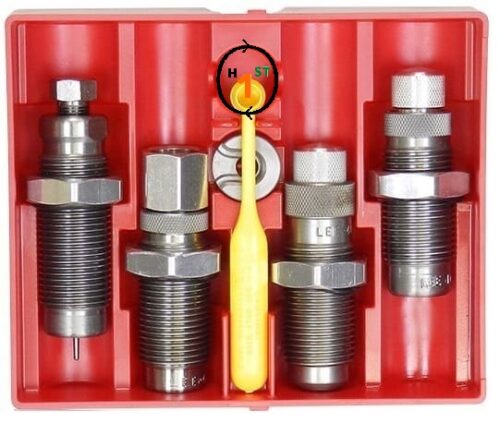 While buying the LEE die set, make sure you are buying the die set for the cases you are going to use. It is easy to make mistakes in the beginning.
Who can benefit from this reloading press?
Beginners with a low budget will flock to this press, and it is a good option too, but won't be able to expand from this. It will also not be a very good first impression. A budget-oriented desk-mounted reloading press (LEE Breech Lock Challenger Press) would be a good place to start with. 
Precision reloaders would love this press, as they can take this press to the shooting range and try out different combinations of powder weight & case length to find out which combination best fits their gun. For multitaskers who would like to have a conversation and get some decapping & resizing at the same time. It could be a great reloading press as it does not confine you to a fixed spot.
Lee Hand Press Review in summery.
Lee Hand Press Review in one sentence – " it is one of the best portable reloading press in the market". But like all presses, it has its up and downs. And below we tabulated the goods and the bad.
Pros
Does not require mounting on a bench.
Easy to carry around.
Can reload while watching tv or in a shooting range.
Excellent spent primer catcher.
Easy to use.
Very cheap but still reliable.
Cons
Require a lot more strength.
Gun powder will spill if not careful.
There is a chance to injure the finger if not careful.
So have you made up your mind?