If you are into hunting or competition then you know the importance of long-range precision. And depriming before cleaning cases cleans the flash hole which, controls the spread of ignition as it was intended.
This is a time-consuming task, and compared to the time it takes the output is minimum. This is why many reloaders skip this step. But you understand the importance and searching for an easy way to deprime while watching sports. And I'm here to help you!
The short answer to the Best Hand Depriming Tool is the Frankford Arsenal platinum series hand depriming tool. But that's not the only option in the market.
Frankford Arsenal Platinum Series Hand Depriming Tool.
Harvey deprimer
RCBS Berdan Decapping Tool
I've used these 3 hand depriming tools. Below you will find my first-hand experience with these hand depriming tools and why I chose Frankford Arsenal's depriming tool as the best hand depriming tool.
1. Frankford Arsenal Platinum Series Hand Depriming Tool
This deprimming tool is like a single-shot handgun, you have a massive trigger and it fires the spent primer from the brass case in the collection tube.
Pros
After setting up its fast and no-brainer.
Cheapest hand deprimming tool in the market.
You will not require anything besides the tool.
Removable catch tube ensures no spilled dirt or primer to clean after.
Deprimes both pistol and rifle cases.
All-in-one package.
Cons
Pulling the trigger requires some strength hence hand may sour after 300 deprimming.
If not positioned correctly it will not deprime.
Only deprimes boxer primers.
This is the fastest hand-depriming tool I have used and it can be used while watching tv. It is almost a no-brainer. It is also the cheapest hand deprimming tool available in the market. The best part of this hand deprimming tool is the fact that you will not require anything besides 2 case bins.
Unless of course, you are deprimming more than 100s in that case a trash can to occasionally empty the removeable spent primer collection tube.
What I like most about this depriming tool is the fact that it will not spill any dirt anywhere on my table or floor while I'm depriming and watching sports.
Did I mention you can deprime without even looking? Yes, it's that safe, you won't hurt your fingers even if you are not paying attention. But to reach that stage you will first need to set up the deprimming tool. Which is not a difficult task but requires some attention.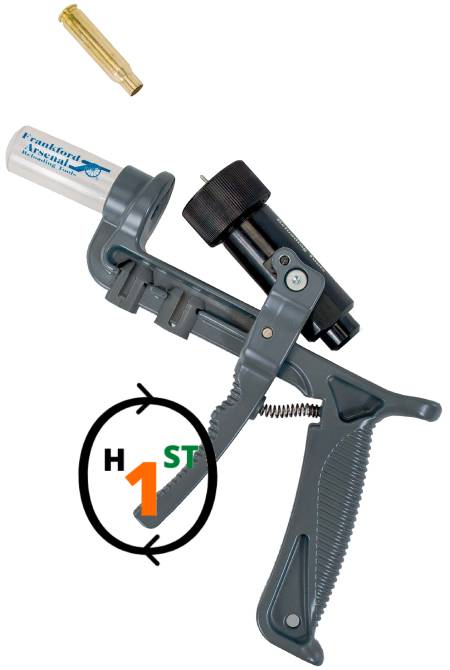 Setting up the depriming tool is simple, really;
you unscrew the big hollow screw cap, pick a collet that best fits your cases,
Insert the collet into the place where you just removed the screw and screw the cap back on partially.
Insert a case, then slowly screw the cap with the case inside and occasionally wiggle the case.
Keep screwing the cap till the case stops wiggling but can be easily inserted and taken out.
Make sure the rubber o-ring is set at the inside end of the cap screw for a tighter fit.
Done with the setting; unmute your tv and begin deprimming.
Occasionally you will get some cases that just won't deprime, no matter how hard you squeeze the trigger. In that case, check if the case wiggles and adjust accordingly.
But don't go deprimig Berdan primers, as this handy tool is only meant for boxer primers.
2. Harvey Deprimer
This tool is more like a grip strengthener tool except that it does not require that much pressure and has no spring to push it back open. Requires some attention while inserting the case in the depriming tool.
Pros
Compact & elegant design.
Feels expensive in hand.
Cons
Can only deprime boxer primers.
Does not have a container to hold the ejected spent primer cases.
You can't prime large cases.
The Harvey Deprimer is an excellent designed depriming tool made of cast aluminum construction. It fits perfectly in the hand and has an elegant design. It's designed for ease of use.
Its only flaw is the absence of ejected spent primer catcher. For that, you will need a small container or trash bin. It ejects the primers with a decent force, so if you are not careful, the spent primer may jump off any shallow container.
One thing to keep in mind is that if you shoot large caliber, you may not be able to deprime with this tool. Cause it can accept cases whose maximum length does not exceed 3.075 inches. That's almost all bullets except some exceptional ones.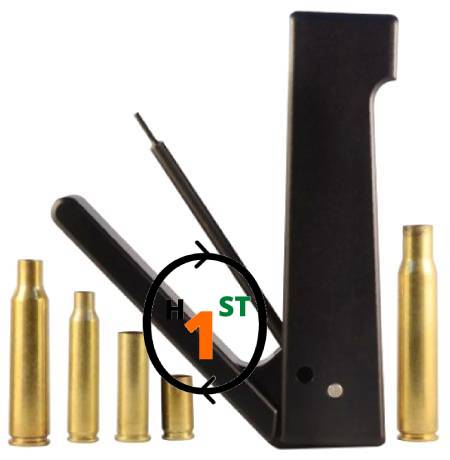 But using this depriming tool is as simple as using the grip strengthener, no setup is required.
3. RCBS Berdan Decapping Tool
As the name suggests, it is meant for Berdan primers as the previous depriming tools can't be used for decapping Berdan cases. RCBS has focused on these cases specifically because even a reloading press can't deprime Berdan cases.
Pros
Can deprime all kinds of cases.
Simple lever mechanism.
Cons
Expensive.
Requires full attention.
Can deform the neck and mouth if the holding rod does not fit the case mouth.
Sometimes damages the rim while extracting the spent primer.
Can puncher the primer.
The spent primer and dust go flying.
Sometimes misfires.
Other hand deprimer fails in depriming Berdan cases but the RCBS decapping tool can deprime all types of cases. With its simple lever mechanism, it can be deprime without much effort.
But you will need your undivided attention for this hand deprimer, as you need to hold on to the case with a handle and the rim of the case with the hook. Improper placement will not apply enough force for depriming.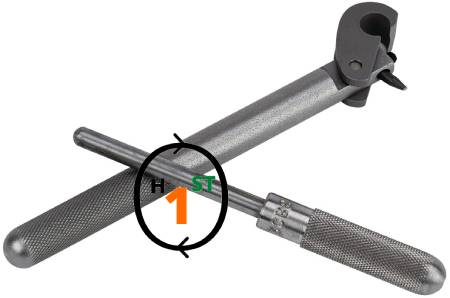 But the major flaw of this depriming tool is that it can damage the case in 2 ways, it can deform the mouth if the handle does not fit securely and can deform the rim of the case while applying force.
But that's not the end cause the ejected primer has no fixed trajectory and can fall on the floor instead of the targeted place.
Overall get the RCBS Berdan decapping tool only if you are using Berdan cases. But at this day and time, Berdan cases should be avoided unless absolutely necessary.
Which is the best Hand depriming tool?
In my Honest Opinion, Frankford Arsenal has the best depriming tool. It controls the ejected primer and dirt, simple loading and unloading, and you can watch sports while depriming.
Harvey Deprimer is a decent depriming tool as well. It is more compact and elegant than Frankford Arsenal's depriming tool and deprimes just as well. Except for the fact that you will need a disposing bin for the ejected primers.
Dry/ wet tumbling or ultrasonic cleaning, whichever you do, depriming first cleans the flash hole and primer pocket, which results in better control of the ignition of the primer. Hence if you want to deprime while watching tv, use these handy tools.
All-in-all Frankford Arsenal is the Best Hand Depriming Tool.