A gun cleaning mat is a great investment because it helps somewhat cushions accidental drop of the firearm and saves your table from spills of gun oil and gunks. Sure you can use a towel but towels leak and can easily slide off the table with all the tiny important pieces to the abyss to be never found again.
Real Avid makes the best gun cleaning mat for pistols and for rifles the goes to Philsky.
Best Gun Cleaning Mat – Buying Guide.
Must be leakproof to avoid staining the table underneath.
Must not absorb any type of solvent.
The mat should be able to grip the table and not slide easily.
The mat should not be inclined.
1. Real Avid Universal Gun Mat Review
Pros
Leak-Proof does not stain the table beneath.
Does not absorb oil or water.
Neoprene Rubber – Grips the table firmly.
Flat on the table.
Can be rolled for portability and saves space.
Slightly shockproof.
Has a small magnetic tray for small parts.
43′" long mat for rifles and 19″ short mat for Pistol.
Cheap
Cons
Easy to puncture with a sharp object.
Screws below the parts tray will scratch the table and other soft surfaces.
Creases may be present when you unbox the gun cleaning mat.
1/8 inch thickness.
The Company Real Avid has been around since the early 2000s and still going strong. This probably is the best gun cleaning mat out there. It ticks all requirements boxes.
Its leaf-like technology does not absorb any liquid, which makes cleaning the mat easy – just wipe it with tissue paper. The unrolled mat lies flat on the table surfaces and the non-slip backing material grips firmly on the table. The neoprene rubber also reduces accidental drop damage on the firearm.
Then there is the parts tray, which helps organize opened parts, just so that you do not drop and lose the smaller parts (like screws and springs), it has a small magnetic compartment to hold just those.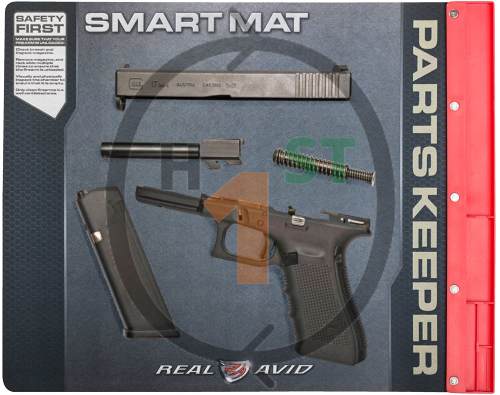 This high-quality gun cleaning mat comes in various sizes for pistols & rifles, so you can get one that fits your need. But this cleaning mat can be easily be punctured with a knife or a sharp object. So, if you don't poke the gun cleaning mat with your knife, it should last you a long time.
There is one other problem with this mat that is easy to miss at first glance, it's the screws underneath the parts tray. The screws are well made and will scratch soft surfaces such as wood or glass tables. And the easiest fix to these is tape to the screw ends permanently.
You may also notice some creases when you first unbox the mat, which formed due to mishandling the mat when it first arrived at the seller. Again the easiest fix is to hang it with its tray side down, which will pull on the neoprene mat and straighten it out.
All these features cost just less than $20 and in my Honest Opinion, it will be an excellent investment for your kitchen table and your gun.
2. PHILSKY Gun Cleaning Pad Review
Pros
Leak-Proof PU Leather Material.
Do not absorb any solvents.
The leather does not slip on the table.
The PU Leather does not cease.
Beautifully stitched.
Grey Color makes it easy to see what you are working on.
Biggest Cleaning Pad.
Cons
Can be damaged with a knife and sharp object.
This is a unique gun cleaning mat, made of PU leather. The PU leather is not easily scratched, it is heat resistant, does not absorb any solvent, and has lots of other features not related to gun cleaning. But just that does not mat it the best gun cleaning mat for rifle.
The PU leather does not slip on the table but does not tightly grip the table as well. But it's enough to clean your firearms. To bring everything together PHILSKY stitched the edges with a perfect finish.
What I liked the most is the grey color, because visually it has a nice contrast to most of my firearms. Hard to lose any parts with the color contrast but I still kept my magnetic boul close by when I cleaned my guns.
And it is one of the largest cleaning mats I got my hand on, which doesn't mean it's not portable because you can simply roll it and put it in your backpack.
Overall this is very unique and durable gun cleaning mat. And I'll recommend this as well.
3. GLORYFIRE Gun Cleaning Mat Review
Pros
Leak-proof material
Water and all solvent resistant.
Rubbery underneath prevents sliding on the table.
Flat on the table
1/4″ thickness which saves accidental drop damage.
Can be rolled up and stored in the cylinder case provided.
Includes 4 complimentary plastic picks
Cons
No dedicated space for smaller parts.
Easy to puncture.
Mishandling can end up permanently creasing the mat.
The cylinder case is made of cardboard.
The Gloryfire gun cleaning mat is also leak-proof and does not absorb Oil or Water. Well, it too has a rubbery underneath to prevent sliding, but not neoprene rubber. Non the less it's a high-quality rubber.

When unfolded the cleaning mat does lay flat and can be rolled for easy storage and carrying. And the best part of this mat is its thickness, 1/4 inches which will save your firearm from deforms when accidentally dropped.
Well, this cleaning mat does not contain any dedicated space for keeping parts, but it has oil-resistant dye-sublimation printing. The detailed diagram of rifles makes it easy to follow if you are using a similar rifle on it. You can choose if you want the drawing or not.
The mat comes in a cylindrical case, but the cylindrical case is made of cardboard and will not last forever. When unboxed you will get a nicely rolled mat, sometimes creased permanently. And finally, the mat can be easily punctured with a knife or sharp object.
You will get some complimentary plastic picks, but we all know how far a plastic pick will get us. But it cost more than the Real Avid, and I'll justify that by pointing out that the gun cleaning mat by Gloryfire is thicker and will further protect against accidental drops.
But thick mat and the plastic picks do not completely justify the cost. And you will eventually need to through away the cylindrical away. But the major put-off for me was the permanent creases. But it is something I can recommend to all gun cleaners.
4. Raiseek Gun Cleaning Mat Review
Pros
Leaf-proof, made of neoprene rubber.
Does not absorb any solvent or dust.
Perfectly grips the table.
0.24″ thickness which protects against accidental drops.
Has 4 magnetic compartments.
Has a total of 10 large and small non-magnetic compartments.
Can be rolled up for easier transportation.
Cons
Easily breaks around the edges.
Leaves Stain upon oil spills.
May have air bubbles within the rubber.
Extreme bending will leave permanent creases and may end up breaking.
Some gun oils or cleaning CLPs will react and bulge the point of spillage.
This neoprene rubber cleaning mat might look perfect at first glance and use. It is leak-proof protecting your bench from chemicals and being rubber does not absorb any solvents, and tightly grips the table. It has a total of 14 compartments to place your gun parts when cleaning, 4 of which are magnetic.

Having 0.24″ of thickness in rubber cushions accidental drop damage. But this thickness also causes the rubber to break when rolled up extremely tight. Even if it does not break it may leave permanent creases or not lay flat on the table. I've also seen some air bubbles underneath the mat, which does not hinder gun cleaning but speaks about its quality control.
What surprised me the most was when I sprayed "Strike Hold", which reacted with the neoprene rubber and caused it to bulge on the spilled space.
Even though it is an amazing Gun Cleaning Mat, it is not very durable, not meant for harsh cleaners and since I was not able to clean my guns at least 30 times on this mat it's definitely not worth it.
5. Drymate Gun Cleaning Pad Review
Pros
Leak-Proof saves your table.
Absorbs solvents and dust.
Non-slip bottom.
Easy to wash.
Cheap.
Cons
Dirties easily.
The rubber back is thin and can be easily damaged.
Arrives folded like a napkin, which causes creases.
Crease never goes away.
Creases cause it to not lay flat on the table.
The top fabric is like velcro, which catcher on springs and screws.
This cleaning mat is hyped and in my argument, it's not worth the cost. It absorbs the gun cleaning solvents, which causes dust to accumulate. And the top fabric is like a dust magnet. Out of all the types of mats I have used this is another unique one.

Well, it sure is leak-proof but the rubber is like a polyethylene bag thin and it's much easier to damage it even without a sharp object. But the rubber does grip the table and prevent sliding. But due to the way it was shipper (folded), it ends up with lots of creases, especially towards the middle sections. And these creases may cause the solvent to overflow at the edges.
Though it is easier to wash, just through it in a washing machine but washing the mat results in more creases and eventually to the point where it can't be used anymore. Washing also removes and at places gathers the top fabric together. Which is unpleasing to look at and dirties up the firearm with lint.
This gun cleaning mat is one of the cheapest, but you will spend more if you do buy this mat. It should not be on the Best gun cleaning mats list. I would not recommend anyone to use this gun cleaning mat.
6. Falko Tactical Gun Cleaning Mat Review
Pros
Leak-proof durable material
Water and all solvent resistant.
Anti-Slippery Rubber Material underneath.
Lays flat on the table
1/4″ thickness which serves as shock-absorbing protection.
Cylinder case provided for rolling up and storage.
Cons
Wrong details on the exploded gun parts.
No dedicated space for smaller parts.
Easy to puncture.
Mishandling can end up permanently creasing the mat.
Flako used high-quality material in this AR-15 gun cleaning mat. I mentioned AR-15 because it has an exploded AR-15 diagram (with a few wrong details). As long as you do not follow the diagram for training or reassembling your gun, you should be just fine. The prints are not as clear as shown here in the picture.

Besides that, it's made of non-absorbent materials, with non-slip material back with a thickness of 1/4 inch it saves the gun from scratches against the table.
But like all other mats, it is easy to cut and puncture and can be permanently creased upon folding tightly. But to avoid that Flako provides a somewhat durable cylindrical case for storage.
Well, this is made of non-absorbent neoprene material and it is of high quality. It is great for gun maintenance but not for training on how to disassemble and reassemble an AR-15 rifle for cleaning.
7. Ultimate Rifle Build Gun Cleaning Mat Review
Pros
Leak-Proof outer material.
Solvent-resistant non-absorbent material.
Non-slip surface underneath.
Lays flat on the table.
Do not cheese easily.
Comes with a magnetic tray.
Reinforced edge stitching.
Cons
False advertising of lifetime warranty
1/8 inch thickness
Easy to puncture or cut.
Can be permanently creased.
The leak-proof mat protects your table from harmful chemicals and it does not absorb any liquid when it's new but as you use it over time it slowly loses that resistivity. But the natural tree rubber backing of this mat is surprisingly durable and grips the table to prevent sliding. They make the mat more durable, they reinforced the edges with more stitches.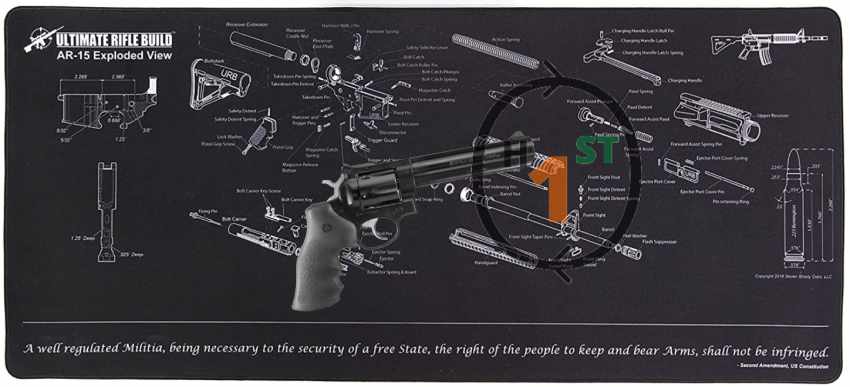 It is shipped in a rolled form which does not leave any creases on the mat and lays completely flat on the table-top. But they also ship it with a false advertisement of a lifetime warranty. And since it is made of rubber you can easily cut and puncture with a knife or sharp objects.
I got the largest mat of 16″ by 36″ long which comes with a magnetic tray for easier storage of small gun parts. Overall this is a good mat but there are better options available in the market.
So which is the best gun cleaning mat?
I did recommend more than 1 cleaning mat in this article, so if you are confused about which to buy, I won't judge you. But it all boils down to your needs.
Whether you clean rifle or pistol is not the issue because all of these mats also come in pistol sizes, except for Philsky. I also did not take cost into account, they were relatively close to each other in terms of price.
But particularly for pistols, I felt the Real Avid pistol cleaning mat was the most useful. Especially because of the parts tray but besides no other feature does not shine to the point that makes it the best.
For rifles, I had mixed feelings, but since I have to choose the best I will go with Philsky. Because it is the largest in size, durable, and does not crease easily like Gloryfire or Real Avid. And the grey color really points out where all parts are. Why not give it a go and see how you like it.
What to look for when buying a gun cleaning mat.
Not all gun cleaning is made equally. There are factors you must consider before investing in a gun cleaning mat.
Size.
You must understand that you can clean your rifle on a pistol size gun cleaning mat but it's so must easier if you do it on a larger mat. Hence you must check the size before you.
Construction Material.
Like I mentioned earlier, the mat should be leak-proof, solvent resistant, and grips the table well. To fulfill those you must check how the mat was made. A rubbery back usually holds the mat in place.
Accessories.
Some of the cleaning mats come with extra accessories. Real Avid comes with a parts tray, which comes in handy for small parts. But extra accessories life picks or brushes should not be the decision-maker.
Thickness of mat
The thickness of the mat is another crucial factor. If it's just a cloth then it's not going to save your table or your firearm, any gun cleaning mat should be at least 1/4 inch thickness if made of normal material but that can be reduced to 1/8 inch if it's made of synthetic leather.
And that should be all.