Looking for the best gun cleaning kit for 9mm you just bought? Well look no further coz I got the hands-on results and compiled a list of them to help you make the best choice. Maybe not the best choice but the optimal choice depending on your situation.
My Top Picks
Best 9mm Cleaning kit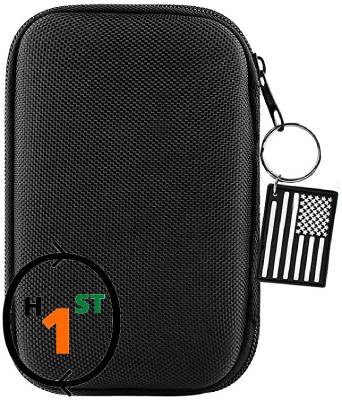 ---
Cheap 9mm Cleaning Kit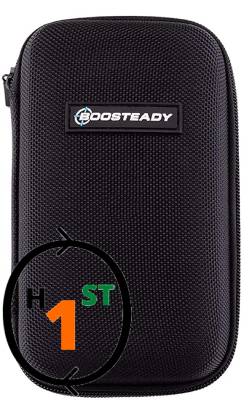 ---
Most Portable
---
Yes, I know, Klola & Boosteady look the same from the outside besides the insignia. But the details are on the inside. To find out quickly click on the details below the picture.
Disclaimer: This article will focus only on the 9mm cleaning kits (pistol cleaning kit only) that I personally used, and you will find my Honest Opinion only, such as, the lacking these kits may have and the best possible solution. I'm going to assume when you bought the gun you only received the gun, magazines & manual, no specific cleaning tool.
But if you have an ultrasonic cleaner, then you won't need all the tools a kit provides, just specific once but do be careful not to submerge wood, polymer, or aluminum parts in the ultrasonic cleaner while cleaning your gun. Read more about ultrasonic cleaner here.
The Beginning
Just like you, I began my search online for the potential candidates for the best 9mm cleaning kit. And I was surprised by the lack of information, so I poked and asked around. And found out the following pistol cleaning kits.
1. Boosteady Universal Handgun Cleaning Kit.
The first Handgun Cleaning Kit I came across during my extensive search was the Boosteady universal handgun cleaning kit. I was very skeptical because it was cheap, and my first impression was that I might be just burning my money, but I thought why not give it a try.
The clamshell case is just 6.5 inches by 3.6 inches and only 1.6 inches in thickness including the nylon padding. The bag is padded but will not be able to handle heavyweight. The case is rainproof but if submerged underwater it will leak water inside.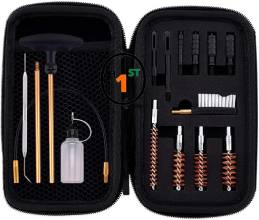 This tiny bag that fits into your pocket holds 18 items in a hard cutout foam. The foam is of good quality and I expect it to last. The items included are;
4 * Phosphor Bronze Bore Brushes (9mm/.357Cal/.38Cal, .22Cal, .40Cal & .45Cal).
4 * Black Nylon Jags (9mm/.357Cal/.38Cal, .22Cal, .40Cal & .45Cal).
Small & Large Nylon Slotted Tips.
One 30ml nibble bottle.
Nylon Brush.
Stainless Steel Pick.
2 * 5.25″ brass rods that can be screwed together to get 10.5 inches rod for barrel cleaning.
One Nylon coated flex cable
One Handle &,
Lastly 50 cotton patches.
At the time of writing this review, I have already used this cleaning kit for more than 2 weeks. And my initial expectation (which was burning my money) was completely wrong. Because after using this 6 times in the past 2 weeks I was convinced that it is worth every penny.
The tools are durable, I've not used slotted tips or the cleaning pick, but besides that, the rods are rigid enough for my rough use. The handle that connects with the rod provides plenty of leverage. I have made use of the provided brush, but I think I'll need to replace that.
They did provide 50 cotton patches, but those are expendables and will need to be bought again. On topic of expendables, users will need to replace the brush, get some Q-tips, Cleaning Oil & Lubricating Oil to actually begin cleaning your handgun.
The Only lacking I find in this pistol cleaning kit is that they only gave 1 bottle, but you can carry up to 3 bottles in the bag. But then again the carrying pouch will cave in upon applied pressure which may coz spillage and ruin the day. Besides that, the cleaning kit is small and can easily fit in your pocket or your range bag. But I would avoid cleaning my handgun at the range if I do not have a cleaning mat and tabletop space with proper lighting.
2. GloryFire 9mm Gun Cleaning Kit.
The Gloryfire gun cleaning kit is almost as same as that of the Boosteady. The major difference is that this 9mm cleaning kit includes 2 bottles (20ml & 15ml) instead of one, does not include a flex cable, and the cleaning rods are a little shorter.
Usually, I do not use a flex cable, because I think using a flex cable without a muzzle guard can damage my muzzle, I haven't tested it yet, just a logical assumption. But I do like the fact that they provide 2 needle head bottles over the Boosteady one bottle. I can use one for cleaning and one for my gun oil.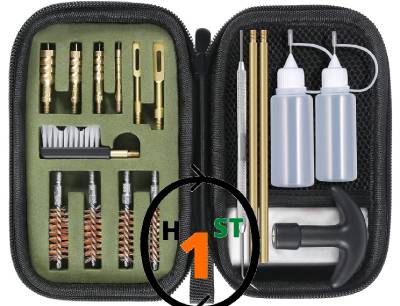 Personally, I like the brass jags over nylon jags, because brass will not wear out upon continual use. Totally there are 18 items in small clamshell bags that have a semi hardcover. The dimensions of the bag are almost the same as Boosteady.
This Gloryfire 9mm handgun cleaning kit is the cheapest on this list. But it did not eliminate any necessary tools to offer this price. In my Honest Opinion, you won't get a better 9mm pistol cleaning kit for the same price. Gloryfire has the cheapest 9mm handgun cleaning kit.
3. Allen Company Rugar Universal Handgun Cleaning Kit.
This cleaning tool kit is bigger than the 2 we already reviewed. It comes in a plastic base with a transparent plastic cover. I was always afraid to put this kit in my range bad because I had a feeling it would break. This kit is best suited for home use.
I was kinda impressed that Ruger has such a cheap cleaning kit, the kit though was disappointing. It contained;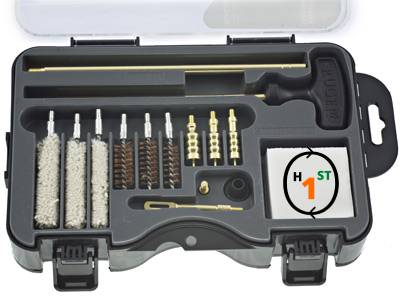 3 * Bronze bore brushes (9mm/.357Cal/.38Cal, 10mm/.40Cal & .45ACP).
3 * Brass Jags (9mm/.357Cal/.38Cal, 10mm/.40Cal & .45Cal).
3 * Cotton Mops (9mm/.357Cal/.38Cal, 10mm/.40Cal & .45Cal).
One Muzzleguard
Large Brass Slotted Tips.
2 * brass rods with adapter makes a total of 18.25 inches rod for barrel cleaning.
Lastly 20 cotton patches.
That's all? I expected more just like you. But Rugar has more in store for us. So stay alert!.
The bore brushes, jags, or bore swabs, none fits on the 4-inch brass adapter, and you will need to attach them on one brass rod and then attach the brass rod to the adapter to a total length of about 11 inches long. Handguns do not require that big rod. And it becomes irritating to use one.
The Muzzle-guard is an excellent addition to the kit, but if you are going to use it for a 9mm barrel after disassembling the gun, then I find it of little use.
Lastly, the kit included ONLY 20 cotton patches. What I'm stressing about is the fact that they could have allocated space for more consumables in such a big box.
The exclusion of Brush (not cotton swab), metal pick, and bottle space are heartbreaking for such a price. I expected more, but I guess the name of the brand costs more than half of the actual price. My final verdict would be to avoid this because not only it is not worth the cost, but it also comes with some design faults.
4. Otis Technology — 9mm Pistol Cleaning Kit.
This kit by Otis is meant for only 9mm (and similar bore diameter) barrels. This is an extensive cleaning kit, most kits come with more than 3 gun cleaning tools. But Otis focused on 9mm, and 9mm only. This allowed them to put the essentials in a small package.
The clam bag contains the following tools;
9mm Bronze Bore Brush,
9mm Mop (washable)
Aircraft grade flex cable 8″ long, one end permanently affixed with slotted tip.
Small Brass Female thread rod.
T-handle for extra leverage for pulling the flex cable.
Pistol Obstruction Remover.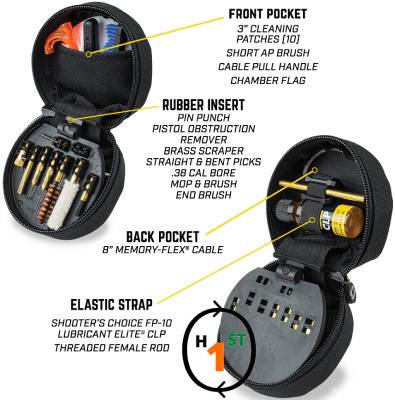 Chamber Flag

Pin Punch

End Brush
Brass Scraper
Straight & Bent Pick
Short All Purpose Brush &
0.5oz cleaning solvent.
3″ Otis cotton cleaning patches
Otis Technology Pistol Cleaning Kit maximizes the use of the available space and fits all the above items in a small soft bag which is just 4 inches in diameter and 2.5 inches in depth. It has a front pocket containing the cleaning patches, AP brush, T-handle & chamber flag. In the middle is a rubber platform that holds all the small items. And behind the rubber platform is an elastic strap where you can store your cleaning solvent, gun oil & one more item of your choice. Finally, in the back pocket is where you have the flex cable.
The 9mm (or .38 caliber) bore brush & mop are of excellent quality, it lacks jags but the slotted tip or the mop can be used as a substitution, and it does a great job.
The All-Purpose brush is wear-resistant and can help you remove some gunk, and the inclusion of the end brush helps you reach places where it is hard to reach with the AP brush.
They also included straight & bent picks for the tough gunk, and along with the brass scraper and obstruction remover, it helps you perform a total cleaning job on your 9mm pistol.
Otis has a "No Nonsense Warranty", which protects the customer from any missing, defect, or broken parts. And it is a warranty for life. Though you won't most probably need it because of their durable components.
This super-compact cleaning kit is very portable and can be taken to the range for quick cleaning, but the above 4 reviewed 9mm cleaning kits all lack 1 item that you must have if you plan on cleaning your gun on the range, which is a cleaning mat. And out next kit on this list has a mat;
5. Real Avid Handgun Cleaning Kit, Mat & Parts Tray.
Okay so if you are one of those shooters who shoot at the range and also clean their handgun at the range then the Real Avid Handgun Cleaning Kit with Cleaning Mat & magnetized parts tray is just for you.
Let me first introduce you to the mat and the parts tray because that is what makes it a top-notch, yet cheap field cleaning kit. The Mat is 19 inches by 16 inches (that is plenty of space for both your hand and elbows) and it is made slip-proof using rubber padding.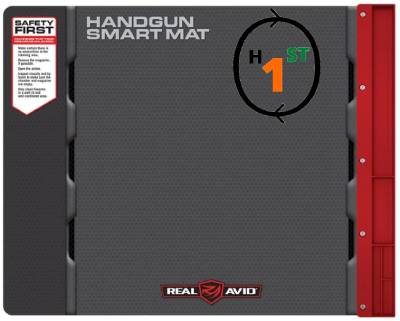 The top surface is lube, oil, or water-resistant, which means if you mistakenly spill some liquid, it is easy to clean. The mat is attached to a part tray where you keep parts of your disassembled handgun without fear of losing even the small pieces because of the magnetized section of the tray.
The kit comes in a nice weatherproof clamshell zipper bag, which is small and almost the same size as that of the Boosteady 9mm cleaning kit in this list. The bag holds 250 large cleaning patches and 250 small patches a total of 500 patches, and;
4 * Phosphor Bronze Bore Brushes (9mm/.357Cal/.38Cal, .22Cal, .40Cal & .45Cal).
4 * Red Nylon Jags (9mm/.357Cal/.38Cal, .22Cal, .40Cal & .45Cal).
Small & Large Nylon Slotted bore Tips.
2 * 4.7″ brass rods that can be screwed together to get 9 inches rod for barrel cleaning &
One Handle.
The bore brushes and slotted tips are placed in a rubber tray that resists deformation. The jags are placed along with the handle in woven pockets. Basically, none of the items will fall if you hold the opened bag upside down. And together they can clean any handgun calibers from .22cal to .45cal.
The kit does not include any cleaning brush or metal pick, the metal pick is something you will use sparsely if you maintain your gun regularly, but a brush is something you will need almost for every cleaning session. The fact that they did not include a brush seems to me like its lacks planning.
The bag and tools are durable and will easily fit in a range bag, and if you plan on carrying the mat, you can clean your handgun right at the range.
This kit by real avid does not include any bottle either, but that is not what I'm complaining about, but it does lack space to fit an oil & cleaner bottle. And carrying them else were in the range bag can lead to spillage.
Overall this kit is a good bargain, but you still need to buy a brush and metal pick, besides the consumables. But is it the best gun cleaning kit for 9mm? Find out a bit later.
6. Klola Universal Pistol Cleaning Kit.
While reviewing the last one on this list, I'll try not to get overexcited! But, did I keep the best for last? Ahem.
The carrying case is semi-hard of size 6.7″ by 4.3″ with a depth of 1.6″ when all the tools are in the bag. What tools does it have? Well, it has 24 tools in that small package, all grooved to precisely place the tools in position without worrying of losing them.
4 * Bronze Bore Brushes (9mm/.357Cal/.38Cal, .22Cal, .40Cal & .45Cal).
4 * Brass Jags (9mm/.357Cal/.38Cal, .22Cal, .40Cal & .45Cal).
4 * Cotton Mops (9mm/.357Cal/.38Cal, .22Cal, .40Cal & .45Cal).
2 Slotted tips, 0.22 Caliber & 0.3 Caliber.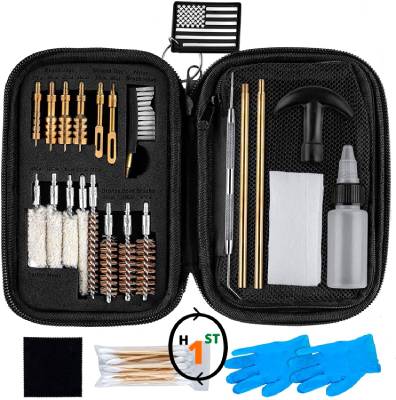 One All-Purpose Brush
Cleaning Swab.
Reusable Cleaning Cloth (black)
A metal pick with bent and straight pick
1 empty bottle
2 Solid Brass rods with one handle
50 Cotton Patches &
Gloves (why not).
None of the other 9mm cleaning kits has this many tools for thorough cleaning in this price range. Here cheap does not mean bad quality. Because after exhausting all the supplied cotton patches because out of the 6 kits I have, I usually take this with me, when I'm not experimenting with other kits.
The bore brushes have higher bristle density, the jags are made of brass, and the cotton mop does what its name suggests. You can use slotted tips with cotton patches as well. From .22 Cal to .45 Caliber handguns can be cleaned using these bore brushes, mops, and jags.
The only change Klola should do is include a white reusable cleaning cloth instead of a black one. But I bleached mine, so I'm fine. And maybe 2 small bottles instead of one large.
The AP Brush, metal pick, solid brass rods are all great quality and can last a long time if handled properly.
The Gloves and Q-tips are extras, and I would not mind if they were missing, but it is a nice inclusion.
Overall this is an extensive cleaning tool that would fit in your pocket, but avoid putting it in your pocket, it's not comfortable. The bag being small, is very portable and easy to store away. The included gloves make it easier to not get oil contamination on the skin. I like how everything fits together tightly, and there are no loose parts or anything that will fall off during transport. And it's Cheap, you get the best for your buck.
Which is the best gun cleaning kit for 9mm?
It is actually not so simple to choose one, because everyone has unique needs and circumstances. Some prioritize portability, durability, nobility, or price. And I have tried to cover all sectors.
Most Portability
Otis Tech
---
Most Durability
All Cleaning Kits
---
Price
Gloryfire / Boosteady
---
Proper maintenance of any firearm increases its lifetime & accuracy. And hope my experience with the kits helps you choose the one that best fits your needs.