Proper primer seating ensures proper ignition of gunpowder in order to achieve that desired velocity and accuracy. If you want your reloaded ammunition to be just as good, if not better than factory-made cartridges. Then it is important to know how to prime your cases to maximum performance out of every shot. And in this article, we talk about the Best Bench Priming Tool to reach that desired perfection.
If you are actually looking for Hand primer instead then click here.
Best Bench Priming Tool Table.
Priming is a dangerous step and you should always take extra steps to minimize the chance of an accident. And, NEVER forget to wear ear & eye protection. There are not that many bench mounted priming tools in the market. So I'll try to cover all with – cheap – medium price range in this article.
Bench Mounted Priming Tool covered in this article.
RCBS Auto Priming Tools Review
The 1st section of the article will consists of RCBS Auto Priming Tools. And in this section we will review both RCBS auto priming tools.
Both of these are suppose to be automatic, as their names suggests. And I will show you why they are misleading.
1: RCBS 9460 Auto Priming Tool Review.
Even though the name mentions auto, you will find out exactly what it meant by that. The device here is "RCBS Auto Priming Tool" and it works in a similar technique to that of the Hornady Iron Press Automatic Priming System. The "Auto" in the name comes how you charge your primer punch from the primer rod. In most primers, this function is performed by gravity.
Pros
A very durable and stable priming system
Excellent leverage on the handle.
Fast and accurate priming system.
Cons
In the high price range
Shell holders not included in the set
You will need a primer tray which is not included.
Feeding the feed tube with a primer is time-consuming.
This tool has the trademark green color of RCBS. It is also durable and by weight, it is a bit on the heavy side weighing slightly more than 2 pounds (about1 kg). It has 4 mounting nuts. The overall priming process is fast and accurate, even the handle has a nice grip and plenty of leverage.
The tool comes with 2 primer rods (large and small) and 2 primer feed tubes for both large and small primers. And filling these tubes is the most time-consuming task because you will need to first use a tray to get all in the correct orientation, then flip them over and finally use the soft plastic side to fill up the feed tube. Luckily we can use the Frankford Arsenal Vibra-Prime to eliminate most of the tedious process and increase efficiency. But you will need to buy the Vibra-Prime separately, which adds up to the already expensive primer tool.
Once you have filled the feed tube and inserted it in the bench primer, you are ready to prime. Ohh! you will need shell holders as they do not come with the primer kit. Well, maybe a positive side is that it accepts shell holders from LEE as well as Hornady. So if you have some lying around use those, or you will need to buy shell holders separately for this primer. This adds more to the price of an already expensive bench primer.
When you finally begin priming it's quite easy because all you have to do is push the handle all the way down to place an active primer on the primer punch. Release the pressure, add a case in the shell holder and push down until you get the "feeling" that the case is properly primer. Usually, the "feeling" is quite accurate as there is plenty of leverage with this tool and you end up with a primed case ready for reloading.
Occasionally there are situations where the primer protrudes from the case, to fix that all you have to do is place the case again on the shell holder and prime a bit more. But if you seat the primer too deep, well, there is no going back and you will have to remove the primer. Don't use that for reloading as it increases the chances of damaging the gun barrel during firing.
So which steps does this primer automates?
The step where you don't have to move your hand from the handle to load a new primer in the primer punch. This task is performed by gravity on all hand primers.
Verdict ?
The primer tool is durable and is sturdy on the bench, it is a reliable tool with safety features in mind. But it takes time to prepare to begin reloading. And for the same price, I have a better option in the market. Hence in my Honest Opinion, I would avoid this priming tool.
2: RCBS 88501 APS Bench Mounted Priming Tool Review
The APS in the name stands for Automatic Priming System, and it achieves that "automatic" function using the APS Priming strips to bring the primer in position without the touch of a hand. It is a big unit and requires substantial space on the table. The main selling point for RCBS here is that you do not tarnish the primers by touching them with your hands or fingers. How does it achieve that? More on that later in the article.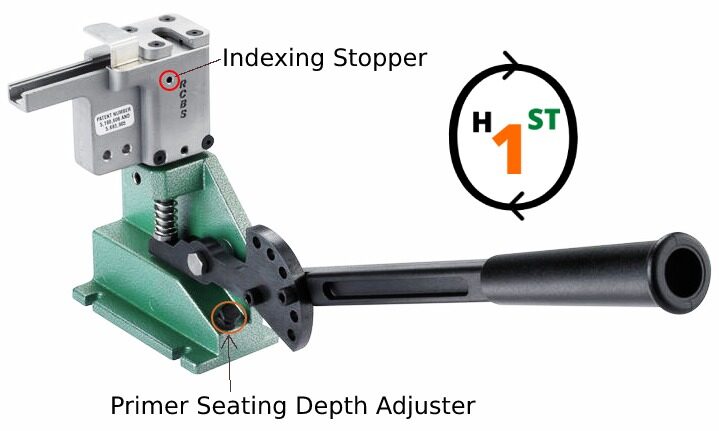 Pros
Durable and Stable.
Includes seating depth-adjustable function.
Handle height can be adjusted according to need.
Fast and accurate priming tool
The design enables to prime cases without touching any primer with fingers.
Handle height can be adjusted according to need.
Cons
Expensive Priming Tool
APS Strip is not included in the kit
APS Strip reloader needs to be bought separately
Primer seating in the strip is time-consuming
Adjusting primer seating depth requires disassembling the handle first.
The Primer tool comes more like a kit than a single package. There are some small parts, hence extra caution is required while unboxing the package. In the package you will receive, the APS unit, Handle, large & small bushing, large & small primer plug, lock pin, 2 hex key wrenches (3/32 & 3/16), and 2 head cap screws. And always remember even though the Lock Pin looks useless it has a very important use – we will discuss that in its relevant section.
This press like the previous one is also very stable and durable, has 4 mounting cutouts. And a long handle for plenty of leverage for effortless priming. Unlike the previous primer, in this primer, you can manually adjust seating depth. But operating the depth adjuster is a bit of a hassle. Because the adjustment nob is sitting right under the handle. You either disassemble the handle to have access to the seating screw or grind short that particular Allen range.
The handle has a cool feature, you can adjust the handle slope from vertical to horizontal and 4 intermediary steps. Hence, reloaders can choose the position according to preference.
Like I mentioned above it uses the APS Priming Strips to align the primers for priming. As shown in the picture, these plastic strips are designed to hold 25 primers (large or small size). And the strips come in 5 different colors, to help remember if you use multiple types of primer.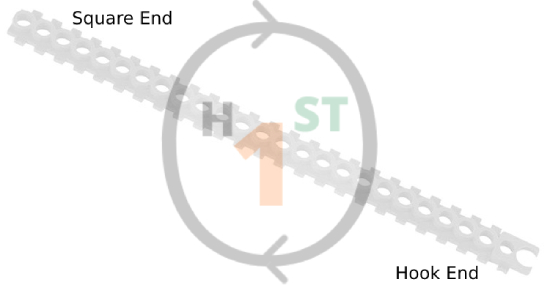 To load the APS Priming Strip you need an APS Priming Strip loader, because, without it, you can't load the strips. The Priming Strip Loader is not included with the press, you need to buy that too. With the priming strip loader, you can load up to 25 primers at once. Making reloading easier and faster than the feed tube.
Remember the selling point of RCBS? It was about not getting any human contact with the primers. Well they achieve that using the APS priming strip loader and primer strip. But this feature comes at a price range, few are ready to pay willingly.
Once the strips are loaded with primers, you can begin reloading. You begin by inserting the hook end of the strip in the primer left side. Not inside that tempting channel but above that over the tracks. You will hear 1 click sound to confirm that it has been correctly placed. Insert your case and begin priming.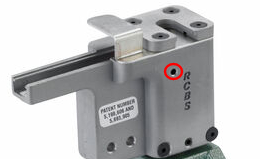 Check the primer seating depth, if the depth is correct all good. And if not, well now you will need that lock pin. To change the seating depth, first, insert the lock pin (a tiny & shiny small rod) in the small hole shown in the picture with a red circle. The function of the lock pin is to stop indexing the primer strip, i.e. to stop the primer strip to move forward with each stroke of the handle.
Once the lock pin is in place, use the depth adjuster dial to tweak around to reach the desired depth. Turn the screw clockwise for seating the primer deeper and anticlockwise (counterclockwise) for less depth seating.
Once the desired depth is reached remove the lock pin and continue priming. The manual (linked) has detailed instructions on how to set up the APS to begin priming.
Verdict ?
The RCBS 88501 APS Bench Mounted Priming Tool is a fast primer, with a consistent depth of primer seating. With plenty of leverage and variable handle position, it is one of the most convenient priming tool in the market. But the convenience comes at a very high price. And even then you will need other accessories besides the primer tool to even begin priming. The primer is expensive and for a beginner reloader could be a little problematic to use.
Next in the list is:
LEE Auto Bench Priming Tool Review
For Lee, I'm going to discuss both of their bench mounted priming tool.
3. LEE Auto Bench Priming Tool Review
The 3rd bench priming tool in this list is LEE Auto Bench Priming Tool. And even this tool has the "Auto" in the name but like all others on this list, the "Auto" is misleading. But it definitely is the simplest to work with when compared with other bench-mounted priming tools in this list.
Pros
Dirt Cheap for its functionality
Durable and stable to an applied force.
Easy to switch between primer rods.
Can primer thousands of rounds with little effort.
Amazing tray design
Designed to point away from body parts during detonation
Primer channeling design help reduces chain detonation.
Cons
No depth adjuster
Requires specially designed shell holders by LEE
The flow of primers from tray to punch is non-consistent.
The frame is made of metal and once mounted is quite durable and stable to pressure applied. The V design is easy to operate as the lever is pivoted at the bottom of the "V" and is almost effortless to seat primers. You can just use a thumb or index finger to primer cases.
Lee has made switching between large and small primer seaters easier with this device. To switch between primer punch, all you have to do is remove the shell holder. Pull out the whole priming system, and insert the priming system you need. And to secure it in position place, insert the required shell holder.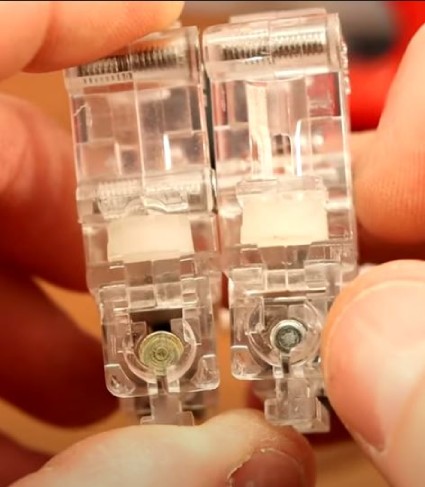 The Tray provided by LEE is a flipper tray, i.e. when closed it becomes a triangular-shaped tray, which saves space and nicely directs the primers, and when opened it has a rectangular shape that has enough space to place the primer box and flip 100 primers easily.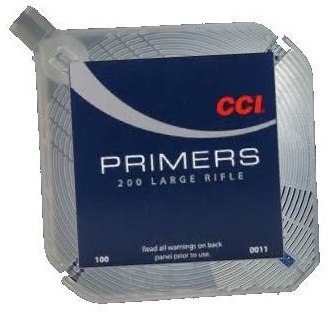 This & other hand primers by lee use a unique type of shell holders that only lee manufacturers. They are cheap but you need to buy them separately. One good thing about this is that you don't have to constantly shift shell holders between primers and reloading press.
This tool provides plenty of leverage for priming. Priming 1000s of shell holders can be accomplished without straining the fingers or hand. And due to the design if a primer does burst while seating it is usually faced away from the body and other primers in the channel. You also don't have to rely much on the depth "feel" as it usually does not over seat the primers.
The only negative aspect of this primer is that the tray has not smoothly supplied primers on the punch and quite often you will have to press the handle blankly to bring in a primer in position to prime.
Verdict ?
This is the best cheap bench-mounted priming tool. And the review is short because the tool is simple to use. Even a beginner with practically no experience can begin priming using this tool. With this ergonomic tool, it is possible to load even thousands of rounds without breaking a sweat.
4. Lee Automatic Case Primer Review
By now you may already have a mental benchmark on what to expect from any or all bench priming tools. And may also realize that the "auto" is a huge misleading coz none of them are actually auto. But I have one last review here and I have saved the best for last.
This device is called LEE Automatic Case Primer (LEE ACP). It is the latest priming tool on the market. It's hard to begin reviewing a product that is one of its kind and performs far better than any of the other bench priming tools on this list or in the market. The primer tool looks & operates a lot like a single stage reloading press. It has functionalities that other bench primers are not even designed for. In short, it is a one-stop for all your priming operations.
Pros
Does not require a shell holder.
Primers can be viewed for the wrong alignment
Does not require a "feel" for depth seating of primers.
Easy alignment of cases.
By using a case feeder it becomes fully automated.
Plenty of leverage of the long handle.
Can be used for depriming as well.
Safety metal sheet in front of primer tray to avoid damaging body parts and tool in case of tray detonation.
Comes with a square tray.
Cons
Expensive
Case feed needs to be bought separately.
Requires a blunt slim tool to remove the unused primers from the ACP connecting link.
This primer does not require any shell holder, because the "Finger Guide" positions the cases for priming, this finger somewhat positions the case in the correct place, and claw-like collets sitting just below the breech lock prime die perfectly aligns the cases with the primer and punch. It is a unique feature and it helps avoid crushing primers and it saves cash because you do not need to buy specific shell holders.
The priming tool can be used for both pistol & rifle brass. The tool can prime any cases whose length does not exceed 2.5 inches. It can even deprime cases with the depriming kit (bought separately). By installing the feed spring you can automatically remove the operated brass in the bin with the push of the handle. This feature completely eliminates the chances of double priming the same case.
Usually, in most priming tools, you need some practice and with the trial and error method find out the sweet feeling for perfect seating depth. And it usually gets wrong when you plan on priming huge amounts of brass (because senses get dull when it gets comfortable or tired). So to avoid these issues the LEE Automatic case Primer uses a "Dead-Length" technique to seat all and any type of primers to their required depth.
This model from LEE uses the same flipper tray as all other lee primer tools but it goes some extra miles in terms of safety with the metal in front of the tray to avoid injury in case of a tray detonation. And it has a long primer connecting link, where you can visually check for any out of orientation primers.
The long ambidextrous handle provides plenty of leverage. By default, you will receive a power grip but you can upgrade it to a roller handle.
The initial setup is a bit lengthy and LEE provides sufficient guidelines in its manual to help reloaders set it up and begin using it.
Verdict ?
This is an expensive priming device, but with the stability, functions, efficiency & consistent seating depth, this device far outweighs its cost. It actually automates the case priming and greatly increases the case priming speed of any reloaders.
Article Summary
We review the old and the latest bench primers in this article post. The reviews were focused on ease of priming, cost, hidden cost, extra needed accessories, accuracy, and other available functions.
We reviewed RCBS's APS system, Auto priming tool & Lee's Bench Priming too & ACP. When compared in between them with the above factors. We found out lee generally make better bench mounted priming system and RCBS.
If we compare the Lee Bench Priming tool with RCBS Auto Priming Tool. Lee beats RCBS's Auto priming tool in every aspects and cost about half.
And if you are worried about the depth setting then again Lee ACP beats the RCBS APS system. Overall in my Honest Opinion, LEE's ACP is the best bench primer tool for reloading. No ifs attached. In terms of cost without cutting corners, LEE Bench Priming Tool takes the spotlight. But the choice is yours, I'm here only to pass on what I would do if I were in your shoes.
Which One?